07.23.12
Gemini version available ♊︎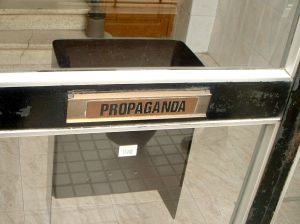 Summary: Microsoft hires another spinner in an age of losses and criminal behaviour that necessitates good PR (to avert prosecution)
MICROSOFT is hardly a technology company. It just knows how to knock off technology companies, drive them out of business, and then distort the market and push into it products which it merely acquired. On top of that, Microsoft has become an extortion company which collects patents and starves competitors by means of racketeering and litigation. On top of these despicable activities Microsoft must run a marketing and PR arm, so it hires journalists to engage in mass deception and increasingly reminds us of Bill Gates' propaganda machine, which operates on a budget of around a million dollars per day (just rigging the press, not allocating funds to anything of substance). It's all about deceiving the public while continuing with a rogue agenda that would otherwise make everyone furious.
"It's all about deceiving the public while continuing with a rogue agenda that would otherwise make everyone furious."Gates has been collaborating with Clinton and also sharing the speech writers [1, 2, 3], who help the propaganda campaign. It is a form of celebrity endorsement, for profit of course.
One of our contributors told us about a "[n]ew spinmeister to cover up bad engineers and pathetic managers." He links to this article which says:
Political operative Mark Penn helped Bill and Hillary Clinton; Tony Blair; and Bill Gates. Can he do as much to help Microsoft?
It is all about spin and Microsoft needs more and more of that. MinceR said that "apparently he is indeed stupid enough to work for Microsoft," to which another person replied: "Only the stupid and/or greedy don't know any better." He already provided services to two famous criminals (one is a war criminal).
Recently, Microsoft spinners deceived when Microsoft had announced losses (links to examples omitted intentionally), making it seem as though Microsoft just had record profits (it suffered a loss). Microsoft's MSNBC called it "first quarterly loss ever" even though it is not true, as we explained before [1 2, 3] (Microsoft uses accounting tricks). An internal confession has just been released from a former insider, who reckons that Microsoft is quite doomed:
For me, watching Microsoft for the past 5 years has been a lot like getting on a train, immediately getting off at the next stop, only to watch it explode 5 minutes later. You see, I was a high school intern there back in the summer of 2008, right before my senior year of high school. What I witnessed there I will never forget for the rest of my life, and continue to consider it the gold standard of how to not run a software development company. I live 10 minutes from Microsoft HQ in Redmond, Washington, and ever since I learned how to program I thought I wanted to work there. Until I actually did.

]..]

After graduating high school and just barely being accepted into the UW by some cosmic stroke of luck, I once again applied to the internship program. I halfheartedly requested to be put in something having to do with DirectX or graphics or high-performance computing, but when I stepped into the interview, I was told I'd be working in the Office division. Despite managing to figure out their retarded brain-teaser question which had absolutely nothing to do with how well I coded, I couldn't bring myself to care. Was this incredibly boring, well-paying job what I really wanted?

I lost the position to a close friend, and that was the end of my Microsoft career. I was secretly relieved, and used the opportunity to throw myself at my stupid little 2D graphics engine. By the time applications for college internships were due, I had realized that any sort of normal programming job just wasn't for me. Years later, it become apparent that I had narrowly avoided a catastrophic trainwreck.
Microsoft has been incapable of acquiring talent. In fact, as we showed in recent years, a lot of the talent quit the company. The acquired company which led Microsoft to a major financial loss had its manager quit Microsoft very quickly; that company used a lot of FOSS and Linux before the takeover. We covered all of this before. █
"He [Bill Gates] is divisive. He is manipulative. He is a user. He has taken much from me and the industry."
–Gary Kildall
Permalink

Send this to a friend