06.05.13
Gemini version available ♊︎
Money talks, the suggested 'reform' is corporate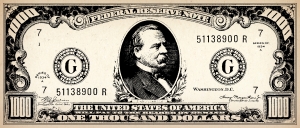 Summary: More evidence showing that in order to eradicate patent trolls, as well as their large equivalents (patent pools and thickets), we must reconsider patent scope, not size of plaintiffs; President Obama is going only after the small offenders
EARLIER ON we wrote about the racketeering operation known as Intellectual Ventures. It is so vast that it has summoned a legion of lobbyists constantly pressuring the government, seeking to legalise (or keep legal) extortion like its own.
"Acacia uses software parents, which Microsoft habitually passes to trolls."To understand what Intellectual Ventures is about (world's largest patent troll bar none; as IP Troll Tracker points out, it's hard to believe anyone is still unaware of this), think of Goldman Sachs and Mr. Madoff. Both are committing more or less the same crime but at vastly different levels of granularity. One gets a bailout (taxpayers' money), whereas the other gets sent to prison. Why? Well, pyramid schemes are only cracked down on by the government if they are small; if the scale is large, then there are lobbyists and more work is required (with the risk of retribution) to convict and arrest the perpetrators. Ask AG Holder why he doesn't convict large banks. He has already said that, fearing prosecution would have a negative effect on the economy, he would rather just let them be. Astounding!
Some days ago we wrote about Microsoft's friends at Acacia (former Microsoft employees in it) apparently taxing GNU/Linux again. Acacia uses software parents, which Microsoft habitually passes to trolls. As this news shows, Acacia's patents are "abstract" (i.e. on software) and therein lies the problem. The article says: "In a 14-page ruling issued on May 29, U.S. District Judge Ronald Whyte granted summary judgment to EMC Corporation, NetApp Inc., and Quantum Corp. in a patent infringement lawsuit brought by Acacia subsidiary Compression Technology Solutions LLC. Whyte ruled that Acacia's patent, which relates to a process of compressing digital data, is an abstract idea. Abstract ideas are categorically excluded from patent-eligibility under Section 101 of the Patent Act, along with "laws of nature" and "physical phenomena."
"Another 'legal' site uses patent trolls as a distraction again. ""In September 2011, Acacia asserted the patent at issue against seven tech companies — EMC, NetApp, Quantum, Hewlett-Packard Company, International Business Machines Corporation, and Quest Software Inc. All of the defendants settled except EMC, NetApp, and Quantum, represented by Ropes & Gray, Goodwin Procter, and Durie Tangri, respectively."
Don't expect David Kappos from the USPTO to pay attention to it. Regarding the latest software patents promotion from Kappos (published in Patently O to make some waves) Pamela Jones wrote: "No, the problem really is deeper than just poor quality patents; the problem is that software never should have been patentable. Software patents are destroying innovation, making it simply impossible to do a thing in software without getting sued. And sued multiple times, if you are successful. To pretend otherwise is to represent the interests of those who are already holding patents, not those who are trying to innovate."
Tell this to the EFF too. They seem to be targeting one patent at a time, still, and especially patent trolls. This is a misguided, short-term approach.
"This current patent crisis has nothing to do with patent trolls, it is about patent scope."Several 'legal' sites, ones that we habitually mention for promoting the views of patent lawyers in news feeds, continue to distort the public debate about software patents in the US. Mondaq pushes a couple of such views and Managing IP does so too, summarising with "Court issues seven conflicting opinions" and "USPTO responds" (the USPTO is defending broad scope for patenting, as we showed before), but that is not a court of law, it is a rogue institute seeking to increase revenue. Another 'legal' site uses patent trolls as a distraction again. This current patent crisis has nothing to do with patent trolls, it is about patent scope. As TechDirt noted the other day, even a student who won the Intel Science Fair got "Threatened With Patent Infringement Claims For Patent Not Yet Granted". Or to put it another way: "So it goes in America. No one's immune from the threat of patent litigation, not even 18-year high school students in possession of an award-winning science project in one of the most prestigious science fairs around." (original article at IDG)
When so many horrible patents get granted and then groomed by patent lawyers' sites it is no wonder we're in this sordid mess. "Seems to me that it is Patent Lawyers who mainly endorse patenting. Makes more business for them," wrote "Anti Software Patent" in Twitter the other day, adding that "Maths done on a calculator isn't Patentable but if you type it into a computer it is? A calculator is a computer as it Computes!" (as noted yesterday in this essay).
"Suffice to say, the White House will be addressing the wrong problem, obeying corporate requests rather than public requests to re-assess patent scope. "Watch how opposition to software patents gets smeared by patent boosters like Martin Goetz, whose sole achievement seems to be getting a patent on software.
Suffice to say, the White House will be addressing the wrong problem, obeying corporate requests rather than public requests to re-assess patent scope. That's what all politicians do. According to this, Obama is still going after the symptoms rather than the root cause. The analysis adequately starts by giving this bit of background: "Back in February, we were a bit surprised during President Obama's "Fireside Hangout" when he appeared to speak out against patent trolls. Historically, most politicians had always tiptoed around the issue, in part because the pharma industry seems to view any attack on patent trolls as an existential threat — and, frankly, because some small time patent holders can also make a lot of noise. However, it's become exceptionally clear that there's political will to take on patent trolls. We've noted five different patent law bills introduced in Congress, all targeting patent trolls in one form or another."
"The issue with patent thickets is showing that trolls are not the real problem. "Yes, it's all about trolls to them. The article carries on as follows: "And now, it's been reported that President Obama is going to come out strongly against patent trolling, directing the USPTO and others to fix certain issues, while also asking Congress to pass further laws to deal with patent trolling. The President will flat out note that patent trolls represent a "drain on the American economy." The announcement will directly say that "patent trolls" (yes, they use the phrase) are a problem, while also talking about the problem of patent thickets like the infamous "smartphone wars.""
The issue with patent thickets is showing that trolls are not the real problem. There is a more fundamental problem and that is what Obama should be tackling. The press coverage only concentrates on trolls [1, 2, 3, 4, 5] (FOSS-friendly sites aside [1, 2]), which re-affirmes our position that President Obama will only crack down on small abusers while ignoring the massive extortion rackets. "The White House Hates Patent Trolls," says this alternative news site, but it sure doesn't hate software patents. Not yet anyway…
The biggest patent abusers are, in the White House's view, perhaps too big to jail, let alone speak about. █
Permalink

Send this to a friend