10.04.15
Gemini version available ♊︎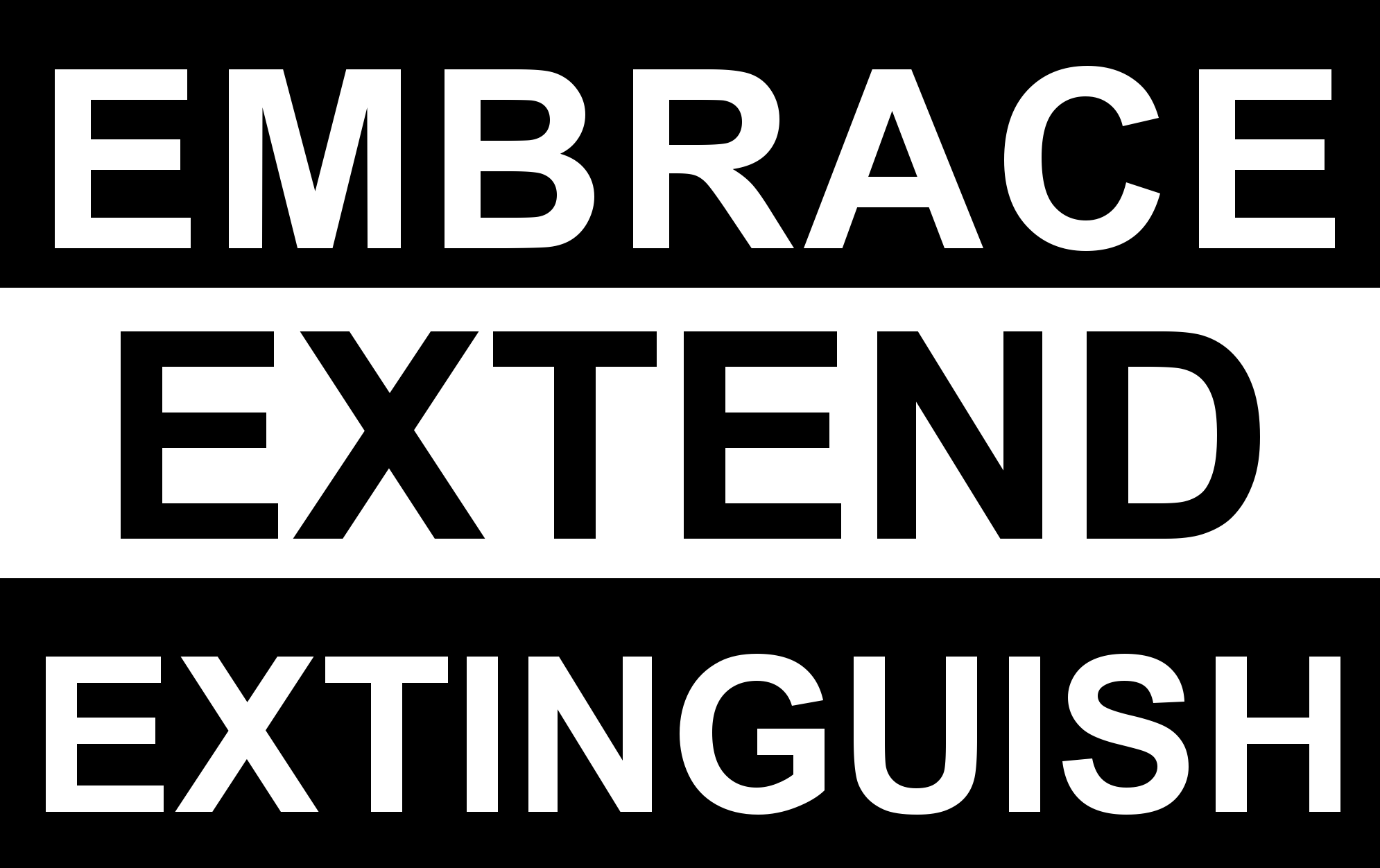 Credit: unknown (Twitter)
Summary: A roundup of news illustrating that Microsoft is still very much in a total war against Android, (mis)using federal regulators and even software patents to get its way
MICROSOFT'S attacks on Linux never stopped. Anyone thinking otherwise must not have paid attention. To make matters worse, Microsoft is manipulating the media into pretending that "Microsoft loves Linux" and that there is "peace". In this post we are going to share some stories of interest to assure readers that nothing has changed except Microsoft's rhetoric and some of the attacks have become more discreet.
"The FTC is wrong about antitrust fears over Android," writes Microsoft's booster Bill Snyder in IDG, summarising it as follows: "Microsoft can't develop a successful mobile operating system, so it's making a crybaby case against Google"
If Android (Free software) is an antitrust violation, what does that make proprietary software? Microsoft and its proxies, as we have shown over the years, were behind these complaints. Remember that back in the SCO days, i.e. around 2003-2005, the Microsoft minions (and few others) tried to frame the GPL itself as anti-competitive. They failed, but it took time and cost money. One of the first questions that the FTC must tackle here is, who is behind the complaints? They may find that it's little more than a Turf War. (Mis)Using Feds as pawns in the battle (a Turf War), as in using the government to derail one's competition (even Free software), should be a crime. It is a waste of resources. When the media claims that Microsoft and Google now have "peace" (on patents) be sure to reminder the reporters of what Microsoft has done to cause Google (and Android) antitrust trouble. It is very well documented and we wrote over a dozen articles touching on this subject alone.
"Tell Mary Jo Foley that this is not a "deal" but an extortion."As we noted the other day (and many people read this article, some news sites even linked to our analysis), Microsoft under Nadella is no different from Microsoft under Ballmer, at least when it comes to patents. The monopolist, under Nadella specifically, has already attacked Samsung, Kyocera, and Dell (over Linux/Android). Where is the love? Does Microsoft have patent peace with Android now? No, of course not. There is no peace even with Google, there is just a settlement in the Motorola case. Microsoft is leaving Motorola aside and is just attacking the OEMs instead, continuing with this latest assault on ASUS. Microsoft is still blackmailing companies, using patents, into bundling Microsoft spyware with non-standards (lock-in). This is extortion. Tell Mary Jo Foley that this is not a "deal" but an extortion. Tell this to others who believed that we have a 'peace' for our time after Google and Microsoft reached one settlement (regarding Motorola).
Android is being infiltrated by Microsoft now. It wouldn't have worked without patent extortion. As Microsoft's Mouth (Mary Jo Foley) put it: "As nearly two-dozen Android, Chrome OS and Linux vendors are doing, ASUS seemingly is licensing Microsoft's patents to cover anything that is in those operating systems which potentially infringes on Microsoft's intellectual property.
"But ASUS also is agreeing, as part of the deal announced today, to pre-install unspecified Microsoft "productivity services" on Android smartphones and tablets. When I asked, a Microsoft spokesperson said the services included the Microsoft Office suite."
"Patents are being used for leverage."So Microsoft is embracing and taking over Android inside ASUS. Remember the ASUS EEE? It used to run GNU/Linux before Microsoft intervened. Microsoft calls it EEE, which also stands for "embrace, extend, extinguish" — Microsoft's currently principal strategy against Android. Mark Hachman chose the headline "Microsoft strikes a deal with Asus: We won't sue if you put Office on your Android devices" (we fought for years against it, starting with the Microsoft/Novell deal). Untimately what we are seeing it is a strategy that first became publicly known after Microsoft had done this to Samsung (earlier this year). Threatening to sue companies if they don't serve Microsoft's agenda is not a new strategy even when it comes to GNU/Linux as a whole, Android set aside. See the Microsoft/Novell deal (2006). Patents are being used for leverage.
The media has hardly covered this scandal. Reuters is busy writing about the Microsoft/Google settlement and Microsoft propagandists are everywhere to be seen. Why does ECT, for example, keep quoting its occasional writer Rob Enderle as an 'expert' regarding Microsoft, which paid him for Linux FUD? It's gross. ETC talks about "Rob Enderle, principal analyst at the Enderle Group." It's a one-man group and he gets paid by ECT and Microsoft. Why is he approached for his views on Android and Google? Do they think the readers are this dumb? Here is some promotional Microsoft messaging found therein: "There's strong, scientifically verifiable evidence indicating Microsoft's move to join the rest of the tech world in open source and collaboration was propelled by a compelling force: the Nadella effect. While tech analysts and reporters had fun with CEO Satya Nadella's odd "cloud first, mobile first" mantra last summer, his much less concise — yet more encouraging — message has been one of collaboration, and meeting consumers on their terms. For example, Microsoft pushed Office 365 to all major platforms."
ECT quoted Enderle not just once but at least twice last week, in both cases regarding Linux matters, e.g. in this article titled "Microsoft Pushes Deeper Into Linux, Containers, IoT". In it, ECT asks Hilwa, who used to work for Microsoft, about Microsoft and Linux (no disclosure in the article about his Microsoft background). Rob Enderle, who also worked for ECT and is notoriously close to Microsoft, is simply described by ECT as "Rob Enderle, principal analyst at the Enderle Group."
"Rob Enderle, who also worked for ECT and is notoriously close to Microsoft, is simply described by ECT as "Rob Enderle, principal analyst at the Enderle Group.""What a sham. Richard Adhikari basically interviews Microsoft moles regarding Linux when he's not busy writing his lots of anti-Android articles (usually regarding security). Al Hilwa and Rob Enderle being his "sources" tells us a lot more about him, perhaps his agenda too. Well, to be fair and to give him the benefit of the doubt here, quite often when it comes to so-called 'analysts', everywhere you look it's proprietary software (e.g. Microsoft) and its minions. Even Dana Blankenhorn, who used to cover Open Source for ZDNet (sometimes being an apologist for Microsoft), has just said in the financial press that "Microsoft has stopped fighting with open source" .
Well, that is complete and utter nonsense. It didn't stop, Microsoft still does all sorts of things to both Linux and Android. Other financial press says that Microsoft "has finally succumbed to the free OS Linux" because Microsoft copies Linux code, raising all sorts of GPL-related questions and potential issues [1, 2].
the bottom line is, don't believe for even a second that Microsoft is some gentle aging giant. It's a vicious abusive monopolist, as its actions against Android (in particular Android because of the platform's market share) continue to demonstrate. █
Permalink

Send this to a friend