06.30.16
Gemini version available ♊︎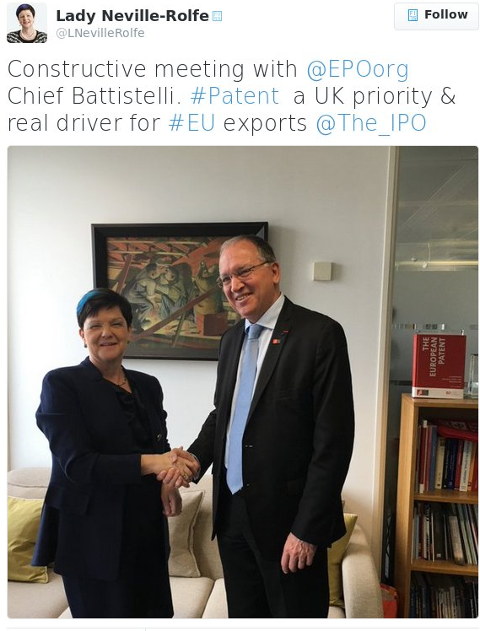 Summary: The UPC appears to be a dead end, much like Battistelli's career, not only in the UK but in Europe as a whole (it has been all along designed with London/England/UK in mind)
LAST night's post about the UPC (second that day about the UPC and tenth among eleven about the EPO) showed that even proponents of the UPC were more or less giving up. It's just too much of a mess right now, as they too admit.
This morning we found several dozens of so-called 'analyses' of 'Brexit' [1, 2, 3, 4, 5, 6, 7, 8, 9, 10, 11, 12, 13, 14, 15, 16, 17, 18, 19, 20, 21, 22, 23, 24, 25, 26, 27, 28]. These came from law firms for the most part and they helped highlight the fact that 'IP' firms are truly in a panic over 'Brexit'. Also see the many comments in IP Kat these days. Total panic. It's not just them who are in panic (see this for example) and the question of patents isn't even on top of the list of worries (nationally and EU-wide). The only upside here, as far as Techrights is concerned, is the demise of the UPC, which threatened to bring software patents to Europe (among other things).
"The legacy of EU harmonisation," as IP Kat called it today, may be a dead legacy of patent harmonisation ("harmonisation" is how they used to market UPC almost a decade ago, well before it was even called "unitary"). This may actually be beneficial to Europe as a whole because, as one comment put it earlier today: "It is highly irresponsible and opportunistic to come up with such a unrealistic proposal. This once again amounts to pure lobbyism from the patent profession. The whole system is moreover not worth saving it. It's whole architecture is full of deficiencies and the system is intrinsically unattractive for SMEs contrary to what is propagated by the Commission and the EPO."
They must be alluding to proposals like that which came from Prof. Tilmann.
Battistelli's special friend Baroness Neville-Rolfe has apparently just reinforced the great uncertainty surrounding the UPC because in her own words: "I know that many of you will be particularly concerned about the potential implications of the Referendum result for the Unitary Patent and the Unified Patent Court. Again, I am afraid that there is not much I can say at this stage. As you will know, we will have a new Prime Minister in early September who will need to take key decisions on our overall approach to negotiations on trade with the EU."
"You may be interested in this speech," one person noted, "delivered yesterday [...] "Baroness Neville-Rolfe addresses the British group of the Union of European Practitioners in Intellectual Property" [i.e. preaching to the choir]" (Neville-Rolfe has a reputation for this). █
Update: MIP now has a report about this too. It says (behind paywall): "Baroness Neville-Rolfe has said that the UK's position on the UPC and Unitary Patent system will not be known anytime soon. The Minister has also invited UK stakeholders to be involved in the discussions which will lead to a decision" (in other words, she seemingly urges the conspiracy of lawyers to just carry on).
Permalink

Send this to a friend