08.09.17
Gemini version available ♊︎
The more we have of PTAB, the better, argue lobbyists of technology companies (as opposed to law firms)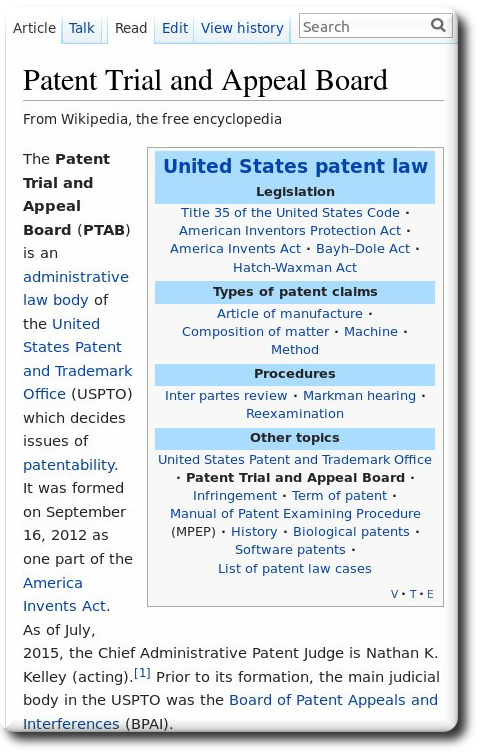 Summary: A look at the latest progress from PTAB, which is dealing with almost 2000 petitions to invalidate patents every year
THE large pool of patents on software (those granted by the USPTO, estimated to be hundreds of thousands in number) are on very shaky ground right now. It has been several months if not half a year since we last heard about a high US court accepting a software patent; and we watch these things closely…
"It has been several months if not half a year since we last heard about a high US court accepting a software patent; and we watch these things closely…"PTAB too is going strong, not just the courts. Michael Loney's latest report with statistics says that "filings [to invalidate patents] fall," but they're about the same as in prior years (same period of time) and are still relatively high.
Perhaps neglecting to account for the fact that it's summertime (people on holiday), Loney said: "Petition filing at the Patent Trial and Appeal Board (PTAB) fell to 139 petitions in July, down greatly from 206 petitions in June and below the monthly average of 167.4 petitions for the year so far."
But these things ought to be compared year-to-year, month-to-month. Either way, in another new article (behind a paywall) it's said that PTAB is making Athena Automation v Husky Injection Molding System precedential:
The Patent Trial and Appeal Board's October 2013 decision determining that the doctrine of assignor estoppel is not an exception to Section 311(a) is the ninth to be deemed precedential

The PTAB has designated the Athena Automation v Husky Injection Molding System decision as precedential.
Earlier today, in a paid press release, a defendant said that the Court of Appeals for the Federal Circuit (CAFC) had "affirmed the Patent Trial and Appeal Board's (PTAB) February 2016 decision invalidating all three patents"; these seem to be software patents. As the statement puts it, "Audatex, a unit of Solera Holdings, Inc., sued Mitchell in February 2012 alleging that Mitchell's WorkCenter software infringed three Audatex patents."
"…universities should not be immune from PTAB as they often sell their patents to trolls (not only in the US) and thus deserve no shielding from scrutiny."That's 5 years of legal bills because of just 3 bogus patents on software. Imagine the cost. What if the examiners simply rejected these patent applications?
Also today there's this so-called 'international report' (advertisement) from IAM, titled "Public universities are immune from [PTAB] inter partes review, but are their patent co-owners?"
No, universities should not be immune from PTAB as they often sell their patents to trolls (not only in the US) and thus deserve no shielding from scrutiny. We wrote about this quite a few times in the past. █
Permalink

Send this to a friend