03.14.19
Gemini version available ♊︎
Maintaining salaries this high requires "Big Tech"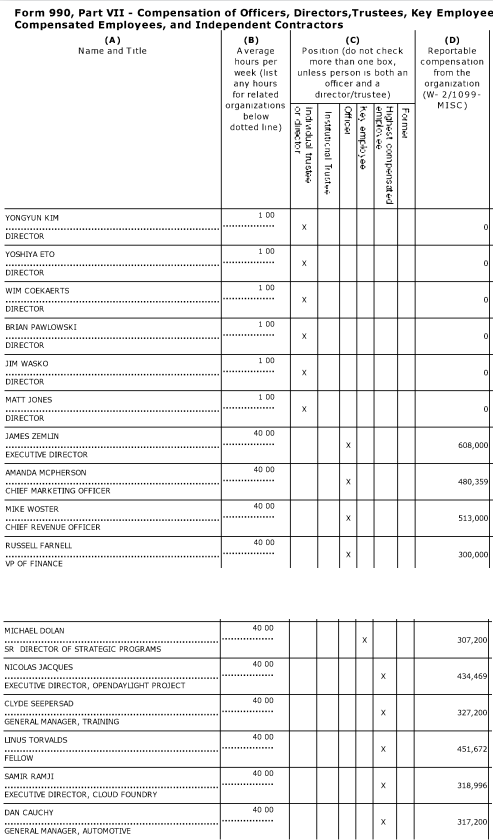 Summary: After disbanding community participation in the Board (but there are Microsoft staff on the Board now) the "Linux Foundation" (or Zemlin PAC) continues to take Microsoft money and polishes or launders that as "community"
TTHERE has been not a single word from the Microsoft-funded Zemlin PAC since it turned out that Microsoft continues to blackmail Linux (using software patents). We have, by now, seen nearly a dozen news reports about it. Shouldn't an organisation that goes by the name "Linux Foundation" say something?
Well, Zemlin has been netting Microsoft money from more and more sources (membership, sponsorship of events, sibling/offspring companies and so on). When we started covering EPO matters we sadly lacked the time to cover examples of this, but the latest (context below) shows another example of it. There has been one blog post and two press releases (see [2] below, "Linux Foundation Announces Funding with GitHub"), saying it will operate "to Help Sustain Open Source Communities [...] to advance sustainability, security, and diversity in open source technology."
"But hey, Microsoft is an Open Source company now (finally!) because GitHub has calculator code with spying in it."Who gets to decide who receives the money and based on what criteria? This can become very political — one thing that that the PAC of Jim Zemlin has always been (he even told people how to vote in the 2016 Presidential election and issued purely political statement in the Foundation's — not his personal — site).
The FS Conservancy — a real non-profit which believes it was defunded by the Zemlin PAC because a serial GPL violator and a Zemlin funding source, VMware, asked to curtail GPL enforcement efforts — has been cited [4] for its response to it [5], which was later posted also in the personal blog of Mr. Kuhn. He notes that "LF's Community Bridge is a proprietary software system." Just like GitHub. But hey, Microsoft is an Open Source company now (finally!) because GitHub has calculator code with spying in it. █
Related/contextual items from the news:
Permalink

Send this to a friend