10.16.19
Gemini version available ♊︎
Even GitHub itself is proprietary software!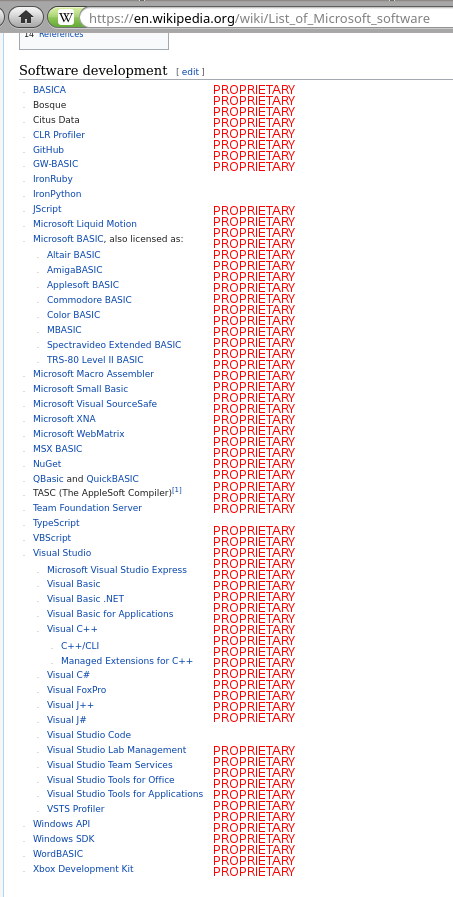 Summary: The world's biggest proprietary software companies want to be seen as "open"; what else is new?
MICROSOFT IS A company full of lies. Lots and lots of lies. See this morning's article about Satya Nadella. "Microsoft through the years," according to our associate, is this:
1970s programs
1980s systems
1990s marketing
2000s lobbying
2010s cult
Never mind if many of the above "programs" are ripoffs, licensed, or worse. Microsoft was never ever an honest company. This is why so many geeks never did and never will trust Microsoft. Last night we were alerted that Jason from Forbes (their best technology writer by the way), who had been manipulated by Microsoft (maybe the publisher participates in it!) again reprinted the 'Microsoft ❤️ Linux' and/or 'Microsoft ❤️ Open Source' lies. Jason knows these statements aren't true, so his headline contained quotes: "Microsoft To Linux Community: 'We Are An Open Source Company'" [sic]
What's the point even printing this? The summary says: "17 years ago ex-Microsoft CEO Steve Ballmer called Linux a cancer. Is it finally time to let that comment go?"
They're just hiding it better. They recently approached this blogger in an effort to change his mind, as we noted some weeks ago.
"To be most frank, Jason might be better off writing independently, not for Forbes, a publication that works for Bill Gates and spins for Bill Gates (he desperately needs spin right now)."Quite frankly, he should ignore them and focus on facts. Other Microsoft liars such as Bogdan Popa pushed (once again) the same lies/lines without even as much as scepticism. Jason doesn't need to 'help' them. These people will spread whatever lies Microsoft thinks are essential to spread. Microsoft used to do lots of that through its pedophile, Microsoft Peter, who spread all these lies to the point where the Open Source section in Ars Technica was literally nothing but Microsoft lies. He did that even days before he was arrested and the publisher collapsed. Is Softpedia next? Popa is doing "Softpedia News" no favour every time he's relaying Microsoft lies from Microsoft staff. This cannot possibly be good for the site in the long term…
To be most frank, Jason might be better off writing independently, not for Forbes, a publication that works for Bill Gates and spins for Bill Gates (he desperately needs spin right now). █
Permalink

Send this to a friend