02.09.21
Gemini version available ♊︎
Summary: The Raspberry Pi Foundation did a really awful job handling its so-called 'community', which it ended up insulting instead of apologising to
THE thugs from Microsoft (a "cult", according to former insiders) are ruining Raspberry Pis and the Raspberry Pi Foundation. As usual, it's about money. We know who always ends up on top.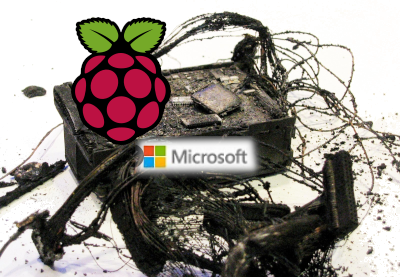 In Part I, Part II, and in Part III we covered as slowly as possible the known facts, seeing that the media does a really lousy job, unless its sole job is spin and clickbait.
"They (RPT and RPF) can definitely recover from this," an associate told us (the one who was first to discover and report this blunder), "but only if they put in massive effort to do so. The longer they wait the harder it becomes. If they wait long enough, then at some point it will become impossible."
"Raspberry Pi OS has turned into spyware for M$," one developer wrote. "This isn't the first time that the #RaspberryPi Foundation changed your sources.list without asking…"
Noteworthy is this bit from another person: "Raspbian(.org) was started by Mike Thompson (long gone) and DD 'plugwash', who is still maintaining the archive which provides most packages for #RPi, after all these years."
The incident alluded to is described as follows: "JFC. If you want to have Bluetooth on your #RPi (3B+) device you apparently 'need' to install the pi-bluetooth package, which requires the raspberrypi-sys-mods package which rewrites your /etc/apt/sources.list! Without asking."
"Microsoft trolls and apologists abound," an associate told us about comment threads such as these and less than a day ago we saw full-time Microsoft propagandists publishing puff pieces in the media (about this incident, but spun completely for marketing purposes).
Whatever others say, even if they're salaried by Microsoft to say that, all we can do is repeatedly highlight verifiable facts.

$ sudo apt source raspberrypi-sys-mods 
Reading package lists... Done
E: Unable to find a source package for raspberrypi-sys-mods

What was done by the Raspberry Pi employee/s is truly mischievous not just because it's Microsoft but because of how it was done. They had planned this for a while and we guess there's a Microsoft deal (of some kind) they don't wish to talk about. Because they keep totally silent (the Raspberry Pi team has not collectively issued any statement).
"Some people whom we spoke to had started looking into Raspberry Pi alternatives (many exist).""In case you [are] still looking for how [this] gets on the rpi," one reader told us the other day, "it comes with "Setting up raspberrypi-sys-mods" package; the corresponding commit can be found here: https://github.com/RPi-Distro/raspberrypi-sys-mods/commit/655cad5aee6457b94fc2336b1ff3c1104ccb4351 [It] Is even worse than you described, because it adds also /etc/apt/trusted.gpg.d/microsoft.gpg and comes back with every update."
Although it may be device- and region-dependent, it seems like silently the Raspberry Pi team worked to clean up the mess by basically hiding it.
"This is not the outcome we hoped for when breaking this story, but the handling of the blunder was really poor and bodes badly for the Foundation. It resorted to Stalinist censorship in its own forums and it even insulted those whom it had injured (words like "Microsoft bashing" only inflame them)."Mogz was really unhappy about those shady practices. "I agree," she said, "seeing plenty of people saying about switching distro … the maintainer's determination, despite that, says a lot; they and Microsoft should urgently and actively be cut off, for sure. At least linuxers are having a strong reminder that Microsoft doesn't love linux/privacy, so further news should get an even more attentive reception."
We're far from done with this series. The Microsoft deal — whatever its nature might be — is still there. There needs to be a statement from the people responsible for it. Microsoft has already collected a lot of data and tarnished the reputation of the Raspberry Pi. Some people whom we spoke to had started looking into Raspberry Pi alternatives (many exist). This is not the outcome we hoped for when breaking this story, but the handling of the blunder was really poor and bodes badly for the Foundation. It resorted to Stalinist censorship in its own forums and it even insulted those whom it had injured (words like "Microsoft bashing" only inflame them). █
Permalink

Send this to a friend