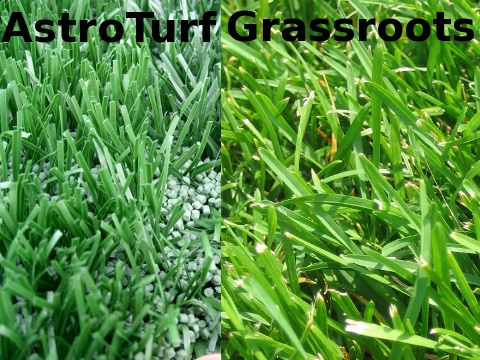 Summary: The anti-Google AstroTurfers are at it again, helping Microsoft to daemonise Google which promotes Linux at Microsoft's expense
LAST MONTH we wrote about Google and GM putting Linux in cars to counter Ford's relationship with Microsoft. How depressing for Microsoft it must be that Ford puts Google in its cars right now, probably at Microsoft's expense. Nothing works well for Microsoft these days, especially in devices but also on the desktop (Microsoft's crown jewel).
In
the previous post
we showed that Microsoft FUD was targeting both Google and Linux (at the same time). Another new pattern of FUD has something to do with background images in Web pages. To clarify, search engine pages have had background pictures well before Microsoft. There is nothing new here, but Microsoft boosters are distorting it by claiming that Google 'copied'
Bong [sic]
by adding experimental background images one year after Microsoft. It ought to be obvious that images in the background are not "innovation", so why spread
FUD pieces like this one
? There are
rebuttals of sorts
, but Tim of
OpenBytes
says
that "Microsoft rejoices":
Its been widely reported Google's experiment of having a background picture for the front page of its search engine. I think its safe to say that the experiment was not well received and for most users I have spoken with it failed on two fronts, firstly because the simplistic "actually do the job" front page is exactly what users want and secondly because some people were reminded of Bing when opening their search engine of choice, Google. After lasting only 14 hours of the planned 24 period and It being reported that "Remove google background" was the 5th biggest trending topic for that period on Google
There is nothing to see here really. Microsoft did not 'innovate' rich background in a Web page, either. In SERPs it's just too distracting, so there is little value in it at all (search bars and toolbars replace or complement the search query homepage).
"The media needs to ignore "Consumer Watchdog", knowing based on evidence that it's clearly an AstroTurfer pretending to be a consumer group."Google's own problems right not are nothing to do with wallpapers though. We wrote about this two weeks ago when Google received bad publicity and increasing levels of scrutiny from many directions (more and more countries and groups align against Google [1, 2]).

One particularly aggressive group is not really a group that's a watchdog or even a consumer group. It's just more provocation from the AstroTurfer called "Consumer Watchdog" [1, 2, 3]. It's the same group that wants Google split and now it wants to portray Google as another Microsoft (or worse, despite lack of compelling evidence). Why is it quoted by The Hill? The media needs to ignore "Consumer Watchdog", knowing based on evidence that it's clearly an AstroTurfer pretending to be a consumer group. "Google is a bunch of criminals" is the type of headlines this AstroTurfer helps generate.

Another group, Privacy International (PI), has been accused by Google of being a front group for Microsoft and here it shows up again:


Google is "almost certain" to face prosecution for collecting data from unsecured wi-fi networks, according to Privacy International (PI).
Here is more coverage [
1
,
2
] (the latter article says "Google Wi-Fi Data Capture Unethical, But Not Illegal") and
Google's response
. "Consumer Watchdog" is definitely an AstroTurfer (we gave proof), but we cannot show if/how Microsoft is funding it. These AstroTurfers are structured in complicated hierarchical ways that hide the flow of money. As for Privacy International, the group denied being an AstroTurfer and also accused Google of using smear campaigns after Google had alleged that Privacy International works for Microsoft.
The bottom line is that there is more to the Google backlash than meets the eye. To Microsoft, it isn't just about search.
⬆
"Every time you use Google, you're using a machine running the Linux kernel."