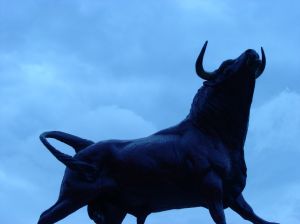 Summary: Apple loses a key patent, secrecy and market cap following a new series of events
A patent which is essential to Apple's battles against Android has quite inevitably just died (tentatively), but Apple fans sites (calling themselves a cult) spin invalidated as "discredited". More to come perhaps: "US Patent #7,479,949, claiming a "[t]ouch screen device, method, and graphical user interface for determining commands by applying heuristics," essentially covers iOS's ability to respond when a user is trying to scroll vertically in a document, or trying to move around within the document in multiple directions. It also covers iOS's ability to discern the difference between swiping among images in a gallery, or panning or zooming within the image."
Pamela Jones
wrote
:


Apple's '949 patent, "Touch screen device, method, and graphical user interface for determining commands by applying heuristics", the 7,479,949 patent, has just been preliminarily ruled invalid by the USPTO, claims 1-20. This is a pivotal patent for Apple's legal strategy, trying to carve out ownership of what it called the "Distinctive Apple User Experience" in the HTC-Apple settlement agreement.
This news could not come at a much better time because Apple is
to present a list
which depends on the patent. Jones adds:
Apple claims Samsung is trying to correct a mistake, and there is a long song and dance about how horrible Samsung is acting, trying to fix the error. The judge may well agree, but on the other hand, Apple is asking to ban Samsung products from the US entirely, and that's a serious matter for Samsung, so one might argue that it surely doesn't hurt to get it right and have all the evidence on the table to make a correct decision. I'll show you Samsung's reasons for asking to submit the supplemental declaration as well.


Some sites are
advocating lawsuits by Apple
, whereas others, including
Judge Koh
[
1
,
2
]
are
calling for peace
(it is up to Apple at this point). As
one reporter put it
: "Apple and Samsung met again during an appeal hearing on yesterday to argue over the $1 billion that was rewarded to Apple over the summer after Samsung was accused of patent infringement. Judge Lucy Koh is currently reviewing the jury's $1.05 billion verdict against Samsung, but had some things of her own to say to the two companies bickering back and forth: "global piece.""
"She should talk to the lawmakers then,"
wrote Ondrej Michalek
. Here is
coverage of the need for transparency
:


The court quickly granted Samsung's request and has now gone a step further, saying that the agreement itself should be made public, except for pricing and royalty terms. Bizarrely, it was actually Samsung who sought to have the information about what patents were included under seal -- such that it could see it, but the public could not. Either way, the judge has made it clear that the patents need to be made public as there's no compelling interest in keeping them secret.
Here are
the details
:
Apple-HTC settlement unsealed: No "cloned products," no helping trolls



[...]

The 143-page settlement [PDF] is heavily redacted, and no financial terms are revealed. Still, certain parts of the document are revelatory. The document outlines an arbitration process that Apple can initiate if it believes HTC has created a "Cloned Product" that apes Apple's too closely. It gives specific examples of similarities that would be acceptable and others that would be verboten. "Pinch to zoom" is OK; "slide to unlock" is OK, but only if it looks different.
Jones
covered
what is
clearly a one-sided deal
. Apple and Microsoft try to crush Android with patents before Apple becomes just another Nokia. Google is
building a patent arsenal
, considering in the process a purchase of patents together with Apple. This
report
about
Kodak
patents says: "Niki Fenwick, a spokeswoman for Mountain View, California- based Google, said the company doesn't comment on rumor or speculation."
If true, then Google is still becoming part of
the cartel
-- one that the
USPTO
facilitates along with
dubious agencies like FTC
and
ITC
which like to discriminate against Android players like
Motorola
. Perhaps a punishment for not being part of the cartel?
In all fairness to Google, it
does actively try
to
stop software patents
and as
LWN
put it
:
A brief has been submitted to the US Court of Appeals; signed by Google, Facebook, Red Hat and several other companies; stating that the combination of an abstract idea and a computer should not be eligible for patent protection
After Apple got downgraded and all that bad news came in its
stock fell
:
Today, Apple shares fell 6.43 percent to 538.79, which represents a $34.8 billion market cap write-off. Analysts have been looking for reasons for the drop all day long without finding a single one that stands out. They forgot about the long-term perspective.

During the past 12 months, Apple shares have been up 42.7 percent, mostly due to two new products, the iPhone 5 and the iPad mini. With a new CEO and no new product in sight, volatility kicks in. The smallest downturn leads to a huge stock drop. Reporting about stock variations often means focusing on short-term activities.
This is why Apple is suing. Android stole its thunder.
⬆