Vista 8 Continues to Fail, But Succeeds at Suppressing GNU and Linux Installs
Dr. Roy Schestowitz

2012-12-11 10:30:34 UTC
Modified: 2012-12-11 10:30:34 UTC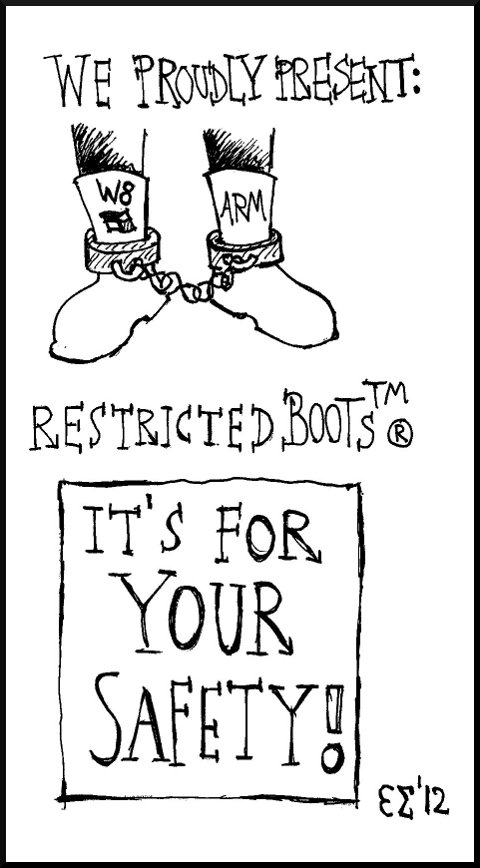 Summary: UEFI horror stories written in conjunction with stories from people who reject Vista 8
The Vista 8 fiasco is understood by many who constantly rant having actually used it. One blogger from Harvard called it a Xmas gift for someone you hate. Here is an aspect which Pamela Jones says might be due to Apple patents:
What is the best feature of iOS on the iPad? A permanent hardware Home button. It isn't as convenient as going "Back" on Android but at least it facilitates re-navigating to wherever you were. The closest thing to a full-time Home button in Windows 8 is the "windows" key on the keyboard (but the whole idea is that the keyboard is not always available/required).
Vista 8 is not suitable for desktops because it was not truly designed for them. This leaves an opening for real desktop operating systems such as Ubuntu, but Sam Varghese says that
Vista 8 makes the migration to Ubuntu harder
using
UEFI
:
It is difficult to recall, in the recent past, a new technology about which there has such an avalanche of uninformed writing, misinformation or secrecy than secure boot.

Secure boot is one feature of the Unified Extensible Firmware Interface, or UEFI, the replacement for the BIOS on common hardware devices like PCs and laptops. (This is commonly referred to as the UEFI BIOS and I shall use this term right through this article).

Microsoft has implemented secure boot in a certain manner and since all hardware manufacturers will be following suit, any vendor of an operating system other than Windows has to follow Microsoft's system to get their operating systems to boot on machines on which secure boot is in operation. All devices that come with Windows 8 pre-installed have secure boot turned on.
This is not a coincidence and it has
little to do with security
if the following is true:
The UEFI interface can enroll the hash of the Linux kernel to be booted securely and he has no need to sign anything…
Well, Vista 8 is
not selling based on some new numbers
and Carla Schroder
does allege that UEFI may be part of an anticompetitive plot
:


I think UEFI Secure Boot is a shuck and a bald-faced Microsoft anti-competitive tool. I'll get to my reasons in a moment, because my most important point comes first:

Every purchase of a Windows license is an attack on Linux. Linux has not won, and Microsoft is as dangerous as ever.

[...]

Those are just two out of many hundreds of possible examples. And now we come to the UEFI Secure Boot. A lot of people are all excited over the phrase "Secure Boot" because it sounds like a good thing. Sure, who wouldn't want a secure boot to keep all those pre-boot malwares off their nice Linux boxes?

What Linux pre-boot malwares? If you're multi-booting Linux and Windows, then you're at risk for everything. If you're not running Windows I can't promise that you're immune. But your risk is magnitudes lower.

The biggest flaw in Secure Boot is the spec requires a single Platform Key. You can add more keys, but they must be signed by the Platform Key. This is the cause of all the woe from Microsoft requiring all Windows 8 systems to ship with Secure Boot turned on-- if you want to multi-boot Linux and Windows 8 you have to disable Secure Boot, or figure out how to generate keys for Linux that are signed by the Windows Platform Key. You cannot easily use Secure Boot for Windows 8 and disable it for Linux.
Carla posted a
correction
, but her main points stand unchallenged. Microsoft is playing dirty again because
Vista 8 just won't sell
. Here is a new report:
Jefferies Reins In Global PC Sales Expectations, Lowers Microsoft Estimates & PT



Jefferies' Peter Misek has a note out today on global PC sales, and it isn't optimistic.

Misek maintained his below-consensus 2012 estimate of -4% year-over-year for branded PCs, with fourth quarter shipments down 5% year-over-year. He notes two main reasons: "1) Jefferies HK/China Technology analyst Ken Hui believes component pull-in by PC OEMs was 10% below forecast in October, with Lenovo and Asus relatively better. 2) Jefferies Japan Computer Hardware analyst Masahiro Wakasugi believes the HDD production forecast should be closely watched. HDD production forecast for CQ4 that was made in early Oct was 141-142M units but in mid-Nov was revised to ~136M since the initial reaction of Windows 8 PC by consumers was not as strong as expected. If sell-through during Black Friday is weaker than expected, HDD production forecast would be cut again in mid-Dec, which should be closely monitored." Misek also notes that U.S. consumer holiday PC sales are down as much as 20% year-over-year.
Bill Gates-funded press airs Microsoft friends like Dina Bass, who
also cannot spin this positively
. Also see [
1
,
2
,
3
]. Don't let Microsoft get away with Linux sabotage just because its own product is botched. Microsoft may think that Windows is just
entitled
to survive, no matter the methods; let them know what you think.
⬆