TPP is Patent Expansionism (Exporting US Patent Law)
Dr. Roy Schestowitz

2013-11-23 21:57:03 UTC
Modified: 2013-11-23 21:57:03 UTC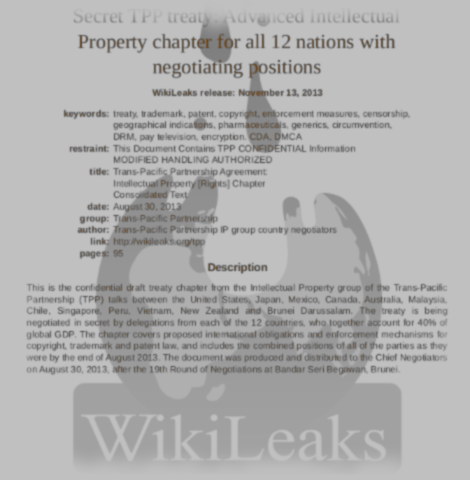 Summary: TPP helps the killing of people (whose access to patented drugs and generics will be impeded) and helps an inane class of patents become applicable in more countries
THE recently-leaked Trans-Pacific Partnership (TPP) document helped show that the copyright cartel runs governments [1], not just in the US but also abroad [2]. This even affects how people use their phones [3]. Analysis continues to come [4], including a longish peep at the impact on patents.
In order to understand what TPP means in practical terms, watch how Apple extorts a Korean giant that promotes Linux/Android [
1
.
2
]. Billions of dollars are at stake and it's buyers that pay this money (to Apple, even if they never buy Apple). One company even
rewrites the history of encryption
in an attempt to extort businesses using patents. "Once-secret details of a mass-lawsuit operation are revealed in Texas courtroom," says the author, who is one among several that
address the problem
. Remember that Apple actually copied a lot of companies but right now it rewrites the history of gadgets in order to extort money out of the real innovators.
What's needed right now is acceptance that software patents are inadequate and that patents in general do nothing but serve large corporations like Apple. That's what TPP is for. It's protectionism for monopolies. We might return to covering patents in the future (
running Tux Machines takes a lot of time
), but the important point is, TPP has a lot to do with patents. TPP needs to be crushed.
⬆
Related/contextual items from the news
: