Google Should Boycott ECMA, Not Pay ECMA
Dr. Roy Schestowitz

2013-12-26 10:15:29 UTC
Modified: 2013-12-26 10:15:29 UTC
Too many hirings from Microsoft?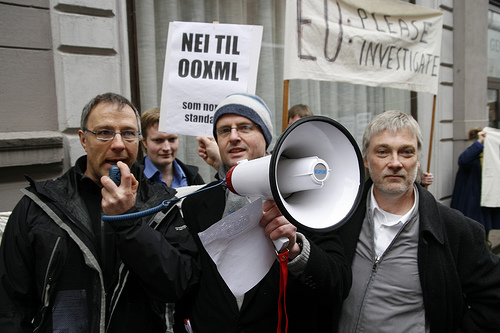 Summary: Google is paying the very same people who helped Microsoft's OOXML crimes, having also started using OOXML by default
TECHRIGHTS spent a lot of time showing that ECMA is seriously corrupt (we still have an "ECMA" category filled with stories about this laughable organisation). It basically is the moral of equivalent of a regulator who receives a bribe to not only turn a blind eye but also to publicly go to other regulators and glorify the one who bribes. So why would Google, a former ODF promoter (not anymore), pay ECMA money?
One has to recall what ECMA did back in the OOXML days -- the time when Microsoft was going around the world bribing just about everyone in the process (business and governments) in order to rig votes, shame the opposition, etc. Microsoft showed a deeply criminal nature at that time. Now we're left with FRAND-laden 'standards' which are basically not compatible with FOSS, as Andy Updegrove (Linux Foundation) explained the other day [1]. It is clear why we need standards that everyone can implement [2] (it is good for manufacturers and purchasers, not for monopolists) and ODF is one such standard that still makes some headlines [3] and finds selective support from governments (even here in the Microsoft-centric UK [4]).
Google should really be promoting ODF, but
it doesn't
. This is one of the areas where Google
disappoints in a very major way
and adding insult to injury, Google pays ECMA right now [5]. What has happened to the Google we knew until about 5 years ago? Except many hirings from Microsoft Google has hired many patent lawyers and done other dubious things.
⬆
Related/contextual items from the news
: