True quotes from Microsoft below, click to read in full.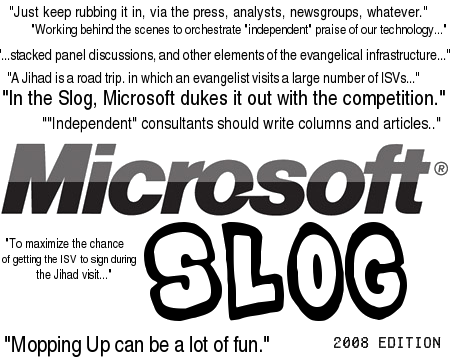 Summary: Microsoft has bullied or cleverly bribed enough technology-centric media sites to have them characterise Microsoft as a friend of Free/Open Source software (FOSS) that also "loves Linux"
THE CORPORATE media is not in the business of informing the public. To the mainstream media the public is not the client; corporate partners are the clients whereas audience (the public) is the product on sale. It was just so easy to be reminded of this trivial observation because Microsoft is a good example. It was so easy to see it since Monday morning when the media decided to herald all sorts of utterly absurd claims. But let's go a little further back than 2 days and see just how Microsoft games the media and tries to fool the whole world, or merely to aggravate/rile up the opposition, which in itself can work magic, as long as journalists are willing to play along at risk to their reputation.
Earlier this month we wrote about
the latest FOSS event that Microsoft had infiltrated
, essentially
stealing the show
. The media only spoke about Microsoft; the event was supposed to be about something else. Days ago we also learned about Microsoft
infiltrating All Things Open again
, as it had done in previous years (we covered that at the time). Watch an eyewitness account from
FOSS Force
:
Actually, I enjoyed watching Microsoft's spokesperson squirm while trying to make the case that "Microsoft is an open source company" before an audience that was politely not buying it. I also found it somewhat enlightening to watch an open core company show its true colors, revealing itself to be a proprietary firm merely riding the open source bandwagon. As for Oracle, developer level technical discussions on Java and MySQL can only be beneficial.
Microsoft will never get tired of lying; it probably aims for/targets low-hanging fruit, i.e. people who "want to believe" or Microsoft partners who really wish to think that Microsoft is now ethical. It's a PR charade and it is utterly shameless. It's a disservice to everyone except Microsoft; it's an insult to truth.
Watch how
Information Week
, a Microsoft-friendly media site,
smears FOSS these days
and
helps
Microsoft's
EEE (Embrace, Extent, Distinguish) of Docker
. This is utterly preposterous, but if repeated often enough it may end up fooling the gullible. This is perhaps the ultimate goal.
Around the same time we noticed Maria Deutscher
writing this pro-Microsoft puff piece
titled "Microsoft continues open source love affair with Apache Storm endorsement". Here is the opening part:
Colorful Sonoran Desert StormMicrosoft Corp., the poster child of proprietary software, has developed a sudden appetite for open-source technologies. Barely three days after revealing plans to make future versions of Windows Server compatible with the Docker container engine, which currently only runs on Linux, the Redmond giant is rolling out support for Apache Storm for its Azure infrastructure-as-a-service platform.
No, Microsoft is trying to close down (or "contain", to use the terminology of Docker) what's open inside a closed/locked-down, proprietary environment with surveillance and back doors. That's what's happening. Non-technical journalists are easier to fool and they just blindly print whatever Microsoft says. Deutscher later wrote
another pro-Microsoft puff piece
. It is titled "Microsoft expands open source reach", but lest we forget Steve Ballmer stating: "I would love to see all open source innovation happen on top of Windows."
Windows is proprietary. Microsoft just loves power and money, it does not love FOSS and it never will. It's an anathema to Microsoft. But one can always count on Microsoft boosters to support the narrative that Microsoft now "loves" FOSS and "loves" GNU/Linux, which Microsoft merely wants contained (to contain Linux, like a farmer contains sheep for the imminent slaughter).
Several
shallow
reports
, including some from Microsoft boosters like
Microsoft Peter
and
Jordan Novet in Redmond
, actually stated that Microsoft "loves Linux", presumably quoting the liar in chief, Mr. Nadella (more of his lies we will cover in a separate post another day).
IDG
went as far as posting the click bait
"Microsoft (hearts) Linux" and "Microsoft now loves Linux."
This is not journalism; it's entertainment. Some of these entertainment-type headlines came from
Microsoft-friendly
news sites
which were previously paid by Microsoft. The corporate media has seemingly turned to fiction, satire, clickbait etc. and much of it is known to be tied to Microsoft itself.
"Microsoft has been steadily making adjustments to its processes and preferences to become more open," wrote one person from Redmond, "and to move more quickly to support technologies that could be of interest to its many customers, even when they're not Microsoft-built."
That's done in order to bring them to Microsoft and make them locked in and spied on, by Microsoft and
its special partner the NSA
. Here we have the corporate media distorting reality, portraying the company that is threatening, blackmailing, suing and slinging mud at Linux as "loving" Linux. There is not even much of a potent attempt to challenge these claims. It's like an abusive husband explaining to a court that he beats up his wife because he loves her. Any decent person would interrupt such nonsense and wouldn't just let it go unchallenged.
Speaking of massive failure by the corporate press, see
this new garbage
from Kate Bevan at the British bankers' media (
Financial Times
), suggesting that Microsoft should hijack Android:
Here's a blue-sky suggestion for Mr Nadella: sit down with Jeff Bezos at Amazon to develop a good fork of Android. Microsoft has a compelling services offering but an almost non-existent platform for these services, despite the quality of the Lumia handsets. Amazon has compelling content with its Prime video but seems unable to get consumers to buy its Fire devices.

For smaller providers, a Microsoft-Amazon-style joint venture would be a great way to become part of an ecosystem out of Google's reach. I suspect consumers would find that attractive. How about it, Satya and Jeff?
How low can the
Financial Times
stoop? This is not journalism, it's Microsoft jingoism disguised as analysis. Sadly, today's corporate media is full of such nonsense and in the next post we will show how the press likes to demonise FOSS over security matters while totally ignoring the issues with proprietary software having back doors 'baked in'.
⬆