Techrights and Modularity
Dr. Roy Schestowitz

2020-04-13 09:33:19 UTC
Modified: 2020-04-13 09:35:49 UTC
The downtime was not scheduled; but it was long needed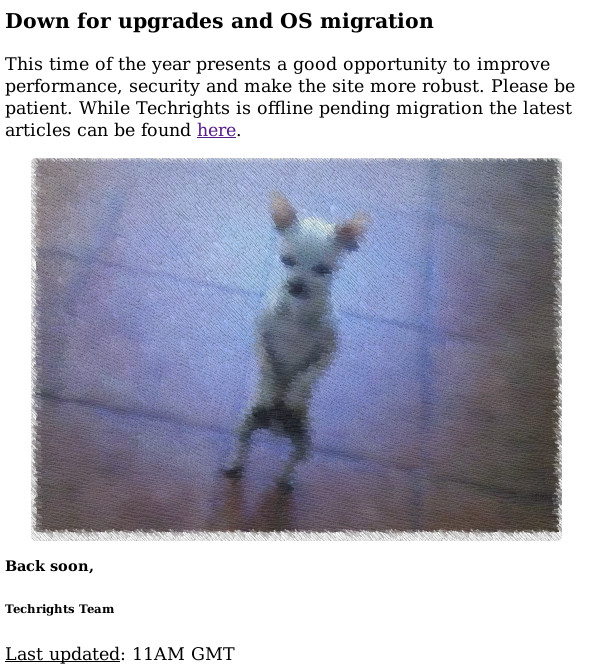 Summary: Why the Web site was down most of yesterday and why we focus only on a particular set of key topics, which we've assessed closely for many years
LAST night we rebooted the site's hypervisor for the first time in over 500 days, i.e. since the site's epoch on this server. Software updates and upgrades were applied and it now run the latest Linux kernel. It's Alpine Linux by the way. We also set up a container for the databases (Techright has three) and distanced it from the main site, which will also be moved to a container some time soon. With automatic/unattended updates we hope to enhance security; performance is already improved as abstraction layers are changed and components separated. Downtime should be reduced. Some time later this month we may also add "https" (TLS) support -- something which was hard to do over the years because the CentOS version we use lacks some key packages, which would be risky to install forcibly.
"It helps to have some redundancy and modularity."The long downtime yesterday was not planned; but since we've long encountered reliability issues -- partly if not mostly due to lack of disk space -- the migration was well overdue. We planned to do it this past Christmas, but instead it got done on Easter (Sunday). We'll do further work later this week, so more maintenance-related downtime will be very likely (we can't tell the exact time). In case the site is down, the latest articles (with up to 3-hour time gaps) can be found here. Better to have a mirror than nothing at all, right? This mirror is under our control (privacy), but it is separated from Techrights. It helps to have some redundancy and modularity.

Interest in our work is growing; over the past month a lot of people have linked to our investigations of Bill Gates (because he's running a PR campaign, piggybacking a pandemic for self-promotional purposes although he's not a doctor, not an expert in that domain and he never even graduated from college). We also received inquiries expressing interest in doing internships with Techrights. The number of people involved with the site continues to grow. Last week the site became unavailable about 10 times, mostly around the middle of the week, due to what seemed like a deliberate sabotage effort or DDOS. We have good defenses in places and intend to improve these later this month with packet-level filtering.


"What's most important is accuracy."Many sites write about the pandemic at the moment; it's estimated that over 90% of news and 'air time' this past month was devoted to COVID; we try not to write too much about it -- not because it's not important but because it's an area already widely-explored. For instance, TechDirt did some good work -- publication on how patents that came from the EPO's favourite fraud were used against COVID tacklers in France. It's like the EPO wants to help COVID spread faster and further. There's also that COVID 'Pledge" (in effect openwashing patents), national exemptions from patents (using emergency provisions) and various other interesting developments that we file under "Monopolies" in our Daily Links. We intend to focus on areas we know best, such as internal affairs of the European Patent Office (EPO) and Software Freedom. We always focus on matters we understand very well as it helps keep our record of accuracy. What's most important is accuracy. We're not COVID experts; we don't rely on cranks with a YouTube channel to explain it to us, either. Heck, we don't trust anything the famous criminal from Microsoft says about it. If he says something that the experts told him, then why don't TV channels invite those experts to be on the air instead? (Clue: those experts don't have the budget to bribe the media, giving it money with strings attached)

As noted hours before the downtime (maybe some readers missed it), in my 'home office' I've settled things. I moved everything to another laptop as my 11-year laptop had died a week beforehand. I probably wrote well over 10,000 posts using that laptop; it wanted to rest in peace and I could no longer salvage it (too many components thoroughly damaged with no pragmatic workaround). ⬆