02.01.12
Gemini version available ♊︎
Will today's students become producers or paper pushers?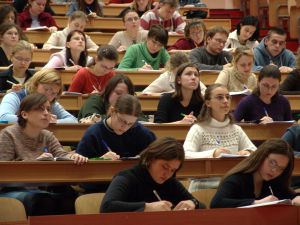 Summary: How the patent system, controlled for the most part by lawyers, raises a generation of leeches rather than a generation of engineers
WE VERY often emphasise the fact that the patent systems' main cheerleaders are patent lawyers. Well, Tim has just published a thought-provoking article that starts with a very suitably rhetorical question: "Does Innovation Revolve Around Patent Lawyers?" Here are some bits from his analysis:
A patent attorney named Daren Gibby was kind enough to send me a copy of his new book Why Has America Stopped Inventing? As you'd expect from a book written by a patent attorney, it's a pretty strongly pro-patent book. I didn't expect to agree with the book's arguments, but I thought it would be a good opportunity to engage with the "other side" of the patent debate.

The bulk of the book is a meandering narrative about America's great inventors—Eli Whitney, Samuel Morse, Charles Goodyear, and many others—and their struggles to enforce their patents against infringers. Whitney, for example, almost completely failed to prevent infringement of his cotton gin patent, and as a consequence made very little money from his invention.

After a few chapters, I began to wonder what the point of all these anecdotes was. After all, the book bills itself as an explanation for America's alleged decline in innovation. But it wasn't clear what these blow-by-blow descriptions of the patent enforcement efforts of great 19th century inventors had to do with the modern patent system. Indeed, aside from some hand-waving about the lack of cancer cures and flying cars in chapter 1, the book never makes a serious effort to substantiate the claim that the pace of American innovation has slowed down.
Watch how products are being taxed behind closed doors. The externality is all of us who are not part of this private deal.
"Here's a post explaining that proprietary codecs drive up the costs," wrote to us a reader today. It's a tax on ideas and here is one way to tackle it along with Phoronix's analysis.
The first three adhere to the standard Linux library API's, so should be a straight forward swap in for applications that use them. OpenMAX IL does not have a standard API at this stage, so is a custom implementation. All these libraries are as supplied by Broadcom, the SoC (System On Chip) provider.
In another new post from Mike Masnick he explains how 3D printing is being held back by patents. Innovation anyone?
We've seen this before, but here it's a modern example: work simply wasn't done on many of these efforts in part because there was no competition. And, in fact, there are still a few patents that really do hinder things, and this is a problem. Considering just how much good these 3D printers can do — especially as they provide more power, do multi-color, and a variety of other features, it kind of makes you wonder just how much we've lost by having tons of researchers just sitting on their printer projects out of a fear of getting sued.
Separately, according to some "legal" blog, US judges ("legal" folks) permit software patents. To quote:
Ever since the U.S. Supreme Court spoke on patentable subject matter in Bilski v. Kappos, 130 S. Ct. 3218 (2010), Federal Circuit panels have taken a variety of approaches to the subject. The latest approach is seen in Dealertrack, Inc. v. Huber, No. 09-1566 (Fed. Cir. Jan. 20, 2012). It brings back the notion of preemption as a test for patentable subject matter (also known as patent eligibility). The notion of preemption was briefly touched on in the original In re Bilski opinion, 545 F.3d 943 (Fed. Cir. 2008) (en banc).
This is a European blog. The lawyers in Europe wants software patents simply because it means more business to them, at the expense of buyers of products and engineers themselves. The Bilski case , like all cases, was decided on by lawyers, not scientists, so it is not surprising that they expand their own territory at the expense of producing industries.
In this week's news we discover that Wipro seeks US monopolies on software, possibly because in India it is hard.
Facebook too is mentioned in this context:
As it prepares for one of the biggest IPOs ever, Facebook is coming under the same fierce attacks being waged against other big technology companies: patent lawsuits.
Facebook itself is also launching patent attacks. Going back to Wipro (a close Microsoft partner like Facebook, but from india), its new patents are leaving room for doubt. Another Microsoft partner, Quest the villain,
gets a patent and brags about it. To quote: "Quest vWorkspace 7.5 delivers low cost desktop virtualisation via patent-pending scalability enhancements, direct Hyper-V integration, fast provisioning, and advanced desktop virtualisation load balancing and provides direct support for Microsoft Hyper-V, including FREE Microsoft Hyper-V Server."
Here is another update from the patents arena:
Fiserv this month filed a lawsuit in federal court against rival IBM i banking software provider Fidelity National Information Services (FIS) and its Metavante subsidiary over alleged violation of its patents relating to online payments. The alleged violations involve patents held by Fiserv's subsidiaries, CheckFree and CashEdge, that describe online financial activities, such as conducting account-to-account transfers, creating electronic transaction "pick lists," and making payments on behalf of others.
And another new one:
Not that it was simple to create. The research began more than a year and a half before USF applied for the patent in 2006. It arose from a project on people's transportation behavior.
Even search algorithms are being patented:
Melbourne-based researchers are looking to commercialise a search algorithm that analyses networks to identify the most easily exploitable vulnerability chains.
One last example shows us that software patents are out of control in the US and as long as lawyers run the system (politicians and judges) we are unlikely to see much change, only change for the worse. Here is what seems like business methods. Bilski didn't help much, did it? It's business as usual. █
Permalink
Send this to a friend