01.09.13
Gemini version available ♊︎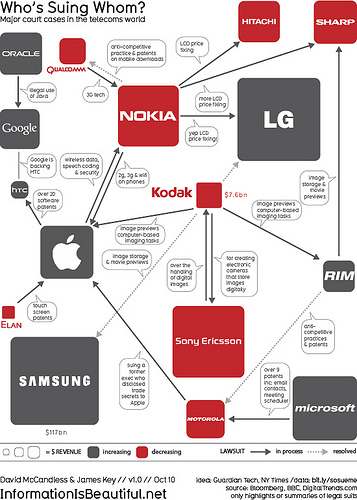 Summary: Apple uses the protectionists' office — a monopoly henhouse guarded by wolves — to ban competition at home and away
At the USPTO it's all about quantity (money or monopoly on words and ideas), so no plans of reform are sincere. The USPTO offers fake choice on the subject of software patents and a debate in Slashdot shows FOSS-oriented comments. The debates are rigged by design from the get-go. Now, some columnists downplay the view that software patents should just be dumped while others put out there the news about consultation from developers:
The world of software patents is a strange, confusing, inefficient place. There's a pretty serious question as to whether or not software patents should really even exist. Now, the USPTO is making moves to at least step in a better direction by calling out to software developers anywhere and everywhere for advice on fixing the whole thing up.

The call for advice will take the form of two round table events in February, one in Silicon Valley, the other in New York City. Seats are limited but pretty much any developer can attend if they RSVP by email and include some credentials. The events will also be webcast, and any developers/spectators who can't/don't want to attend can also just send in written comments.
Remember that they are allowed to debate software patent "quality", not abandonment. So the panel omits the view that many if not most developers hold. Here is another article:
The United States Patent and Trademark Office is seeking input from the software industry about the performance of the patent system. A pair of February "roundtable" events—one in Silicon Valley and the other in New York City—will give members of the public an opportunity to comment on how to improve the quality of "software-related patents."

"Each roundtable event will provide a forum for an informal and interactive discussion of topics relating to patents that are particularly relevant to the software community," according to a notice in the Federal Register. "While public attendees will have the opportunity to provide their individual input, group consensus advice will not be sought."
How many people — if any — will speak for the view that software patents must all go away? Watch what patents are doing for Apple against Linux:
Apple was supposed to have won big in the suit against Samsung in a massive series of claims of patent infringement. This was the apparent result of a jury verdict last August in which there were charges of attorney misconduct, juror misconduct and trial errors before the ink was dry on the decision.

But a few weeks later, the U.S. Patent and Trademark Office (USPTO) invalidated one of the key patents that Apple used to win its case. This is the patent in which a menu or other screen item will bounce back if it's scrolled past the end.
According to Wired, Tim O'Reilly, seemingly a software patents opposer who likes Apple, says about Apple that "They're clearly on the wrong path. They file patent suits that claim that nobody else can make a device with multitouch. But they didn't invent multitouch. They just pushed the ball forward and applied it to the phone. Now they want to say, "OK, we got value from someone else, but it stops now." That attitude creates lockup in the industry. And I think Apple is going to lose its mojo precisely because they try to own too much."
Apple's patent strategy goes ahead and trademark confrontation too is at the core of this branding company:
A California judge says Apple can't bring up false advertising claims against Amazon in a case between the two companies.
The problem is not trademarks per se but particular trademarks which go too far (broad, not narrow). With Kindle Fire, Amazon has become a major rival to Apple. It's not just the digital stores. Apple continues to rely on monopolies in shoring up its badgeware. Apple's main competition is Android/Linux now. █
Permalink
Send this to a friend