05.28.14
Gemini version available ♊︎
Steve Ballmer's strategy with a new face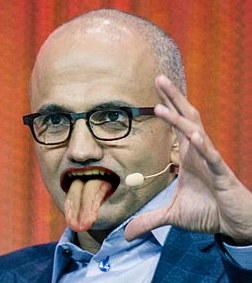 Summary: Job advertisements reveal that Microsoft is looking for some more moles to help portray Microsoft as part of Free/Open Source software (FOSS)
Microsoft-tied groups such as Xamarin or Black Duck represent one of Microsoft's most effective strategies for undermining FOSS. Microsoft is trying to occupy FOSS like it occupied Nokia for years (it took over at the end, leaving Nokia's patents for Android-hostile patent trolls to exploit).
Microsoft's strategy of infiltration, moles, bribery etc. is not new. It has gone on for decades and there are many examples. FOSS is just one of those rivals that Microsoft can't seem to destroy or to buy. It is amorphous. Microsoft tried to hire Jono Bacon and several other people in the FOSS communities (the OSI's President Simon Phipps openly complained about this) in order to fracture the community and confuse/mislead people. There is a lot of Microsoft openwashing this year, including the examples we gave earlier today [1, 2] and earlier this month [1, 2, 3, 4], not to mention in earlier years [1, 2]. Microsoft likes to call FOSS people to join Microsoft's payroll and then pretend that Microsoft is a FOSS player. They are basically paid to lie. They sell out. And now, based on this report, Microsoft is doing much of the same in secrecy, using CSI. As a recap: "This is a subtle yet important shift for CSI, which was formed during the heyday of Microsoft's controversial 'Get The Facts' campaign against Linux, which ran from 2002 to 2007. While CSI has kept a low profile in recent years, Microsoft has posted job listings that suggested the team is still fighting against open source.
"In a CSI job posting in December, Microsoft said candidates would need to be able to "Win share against Open Source Software (OSS) in the cloud, on devices, and in traditional workloads by changing perceptions of Microsoft and winning the socket."
"In a separate CSI listing in February, Microsoft said it's looking for candidates who can "positively change perceptions" about Microsoft's support for open source software. "The core of this role is to win mind-share so that Microsoft can win market-share," Microsoft said in the job listing."
Notice terms like "change perceptions" — terms that are rather telling. It's propaganda and it's part of the openwashing strategy used by the company that is suing Linux and trying to control, spy on, and extort GNU/Linux users, even under the supposedly 'new' leadership [1, 2, 3, 4].
Microsoft is an aggressor and a vandal. It is a mole. Just look what Microsoft did to Nokia. The sooner Microsoft goes bankrupt, the better. █
Permalink
Send this to a friend