10.22.19
Gemini version available ♊︎
Litigation was never the intended purpose of patent systems. Litigation 'industries' or "Big Litigation" just took over the systems.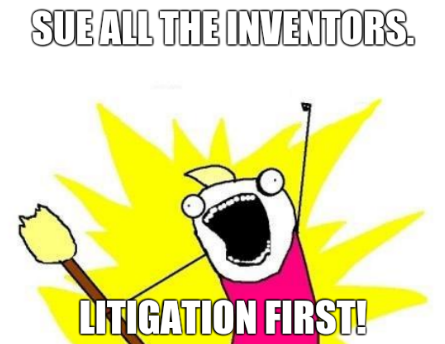 Summary: The current situation or the status quo where legal professionals are advised not to even look at patents means that patents aren't for "information" and "innovation" anymore; moreover, calling them "intellectual property rights" (or IPRs) is spreading a malicious lie
"Patent" means not a "right"; it does not mean "property" either. It might be the product of intellect, but calling it "IPR" is a deliberate lie. A patent is, in effect, a temporary monopoly, granted by an authority like some government in exchange for sharing of original ideas (not thought of or attempted before). Patent systems have become so misguided that they actually teach people never to read patents (whose whole purpose was to disseminate knowledge!) and then they resort to calling patents a "property" and a "right" — as if to imply those defying the monopoly are "thieves" who "steal" like "pirates". We reject that sort of nonsense. Go back to the genesis of patent systems and study their original purpose. Their 'mission statement', so to speak…
"Go back to the genesis of patent systems and study their original purpose."Now that monopolies are being sold to rogue actors the concept innovation is all lost. So-called 'patent trolls' clearly weren't envisioned by people who conceived the system. A lot of people rightly argue that passage of monopolies from one person/entity/company to another should be verboten.
"A survey by Patent Scholar found that 37% of researchers in the electronics and software space reported having been instructed not to read patents," Stanford Law said this week, citing this report about another Gilstrap case. From outside the paywall:
A recent ruling in the Eastern District of Texas has called into question the practice of not reading patents as a way for companies to shield themselves from claims of willful infringement, potentially putting some businesses in a Catch-22.

The ruling from U.S. District Judge Rodney Gilstrap came in a lawsuit Motiva Patents brought against HTC accusing the electronics maker's Vive virtual reality system of infringing several patents covering technology for tracking a person's movement.

While deciding a motion to dismiss, the judge found HTC's alleged policy of prohibiting its employees from reading patents can support a claim for willful infringement…
Even the most overzealous judges/activists cannot deny that software patents are worthless (even if they're activists looking — by their own admission — to attract patent trolls) should simply accept that the patent system has gone all wrong/rogue in the Eastern District of Texas. Gilstrap's rejection of 35 U.S.C. § 101 and SCOTUS caselaw notwithstanding, what we have here is what the article abve calls "Catch-22″. The way things nowadays work may mean that actively dodging or working around known monopolies would cause damage to oneself. Therefore, people no longer read patents; they actively refrain from such an activity. So what on Earth is even the point of this system? Patent offices like to speak in terms such as "patent information", but if such information is just a liability and a legal landmine, who would even bother? █
Permalink
Send this to a friend