Clown Computing Means Security/Data Breaches, Not Just the Outsourcing Itself (They Get Cracked, Too!)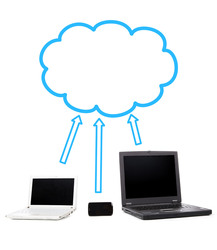 Reprinted with permission from Ryan Farmer.
The Capital One Data Breach settlement hit my bank account this morning.
It was enough to….pay off some credit cards.
(I don't carry a deficit from month-to-month, which credit card companies call "balances", as if it was money you had.)
But how did it get here?
Well, several years ago, Capital One decided to make me an Amazon user without my consent, like so many companies and government agencies do.
They put the personal information of their customers into Amazon AWS, and then like Microsoft's Azure "cloud" also usually does, it spilled everything out in a data breach.
Another Microsoft Azure breach at the US State Department recently had the attacker net 60,000 sensitive E-Mails.
These "Cloud" companies make it impossible to secure your data. They can't even secure theirs!
Microsoft was a victim of their own setup, spilling out over 40 TB of company secrets.
In the case of Capital One and Amazon AWS, it's just yet another way the bad guys will have my personal information forever.
I was expecting maybe $10-20 and it ended up being a lot more than that. You almost never get any amount of money for these things. They just comply with meaningless "regulations" from the government about informing you and giving you "credit monitoring" for a year. So I'm surprised they paid anything at all.
When I woke up and got the E-Mail about the size of the check I was….well, you always need money, right?
Unfortunately, the terms of the settlement did not require them to ditch Amazon AWS and develop some method of storing data that has some security to it, so there's nothing preventing it from happening over and over again.
Microsoft Azure is hardly a choice either. After endless breaches, for its part, Microsoft usually screams that its customers are to blame for misconfiguring Azure.
If Microsoft can't even configure it to protect Microsoft's own trade secrets, who can?
The only reason companies choose these "solutions" is because they get to outsource from having proper IT and it sounds good to a bean counter, and it's your information they're exposing anyway.
Microsoft overbuilt and loses money, and burns through excess capacity with "AI", and even that comes up to bite the user in the ass.
Bleeping Computer ran a story the other day that says "Chat with Bing" is now putting ads in that redirect the user to malicious software.
So have fun with that ransomware if you click on the Chaff Bot nonsense. I'll just be over here with my actual search engine.
(SearXNG through Searx.be)
Hey, at least Windows 11 is so bloated that it lets you play a video game during the two hour install.
Unfortunately, the "game" is an advertisement for Microsoft Edge. █