08.26.08
Gemini version available ♊︎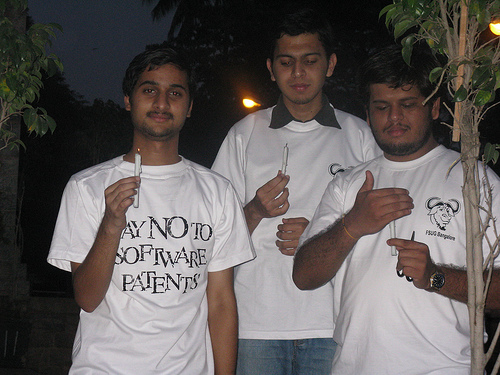 Intellectual monopolies are insane and more so with software patents, which pertain to thoughts, not just devices or actual implementation. Béranger illustrates just how mad the USPTO has gone with an excessive number of patents and a lenient set of requirements. Would anyone believe that it takes 9 special 'inventions' to merely produce a cardboard box? He ranted about this before.
39 years after the man was on the Moon, a bloody cardboard box is still covered by 9 patents!
But anyway, that's a distraction and merely some timely reminder of how far patents can go. We wrote about the situation in India quite a lot over the past month [1, 2, 3, 4, 5, 6, 7, 8, 9, 10]. FSF India has finally released its official response to new attempts at software patents from the back door. Microsoft, along with its local and American allies, are largely responsible for the changes. It's not too later to water them down.
Even if other countries made such provisions, India as the world's largest democracy should not create an society where people at large are excluded from participating in creative engagements. As a country with a large human resource, we have a bigger challenge of harnessing more creativity among the country, and that will happen by bringing each and every citizen under creative participation and not by bringing each and every invention under allowable patents category. India should lead the rest of the world by clearly stating in the manual that computer programs are not patentable in India by any other way and are per se protected only under copyright.
Having reviewed an early draft of this letter, I hoped that the letter (sent on behalf of the FSF) will become an open one at some stage. It contains insights that can be generalised and then used to squash other deform [sic, not reform] attempts. India is not alone. █
Further references:
Those interested in reading the Full text of Section 3(k) relating to software patents can check:
http://osindia.blogspot.com/2008/08/full-text-of-section-3k-relating-to.html
The full Draft Patent Manual is at:
http://ipindia.nic.in/ipr/patent/DraftPatent_Manual_2008.pdf [PDF]
Various comments Received for the Draft Manual (Including Pro Patent)
http://www.ipindia.nic.in/ipr/patent/manual.htm
Permalink

Send this to a friend