02.25.11
Gemini version available ♊︎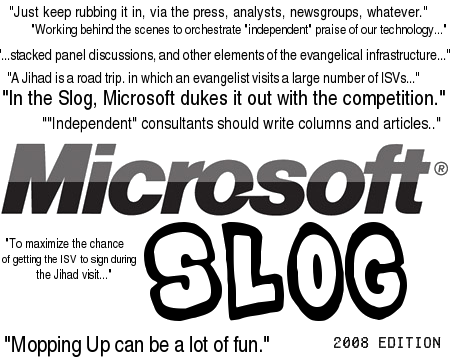 Summary: The latest action against Google comes from 1PlusV while AstroTurfing group 'Consumer' 'Watchdog' carries on with the anti-Google agenda, this time with the "somebody, think of the children!" tactics
GOOGLE deserves a lot of scrutiny, but much of the scrutiny is fake, or at least greatly exaggerated by Google's rivals to whom Google is not significant threat as a search engine but as an operating systems and office suite competitor.
Over the years we have written dozens of posts that show Microsoft's role in antitrust action against Google. Microsoft cannot compete fairly and it has a lot of influence through former partners and employees — those who enable Microsoft to cheat.
The MSBBC has some superficial coverage that can also be found elsewhere [1, 2, 3, 4]. The latter article adds information of interest: "Guillard also stated that Google's actions meant that another site operated by 1plusV, Eguides.fr, had lost a contract with the French national library to help make its resources available online.
""Because of the traffic collapse" the French library "understandably thought that Eguides.fr was no longer a suitable partner and signed an agreement with Microsoft," 1plusV said."
There is no evidence to suggest that antitrust in this particular case is tied to Microsoft, but based on a lot of references that we accumulated, Microsoft does — by all means — use other companies to create a stir and daemonise Google, then troubling Google's business. Sometimes the attacking company receives its bribe from Microsoft well after the attack starts, suggests evidence from the SCO case, TurboHercules, and more. Mark Hachman from IDG mentioned Techrights in his new article which mentions the role of 'Consumer' 'Watchdog', an AstroTurfing group whose sole focus appears to be anti-Google agenda:
But Consumer Watchdog has also been accused of being unfairly critical of Google, especially after a mammoth video advertisement against Google appeared in Times Square. TechRights.org has gone so far to claim that the organization has been hired by Microsoft to attack a competitor.
The article is about 'Consumer' 'Watchdog' using sentimental blackmail (children) to daemonise Google. That's the latest strategy and it is similar to their portrayal of Google's CEO as some kind of paedophile selling ice cream.
These AstroTurfers are using government officials now, characteristically using parts of the system that are Microsoft's last resort. And then there's Murdoch's Google witch-hunt [1, 2], which goes a long way back [1, 2, 3, 4, 5, 6, 7, 8, 9, 10, 11, 12, 13, 14]. █
Permalink

Send this to a friend