09.08.11
Gemini version available ♊︎
"We've always been shameless about stealing great ideas."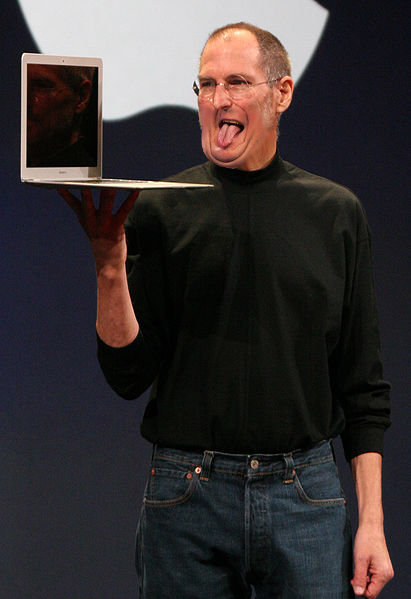 Original photo by Matthew Yohe, modified by Boycott Novell
Summary: The marketer/integrator called Apple (which cannot even get antennas working properly) sees its attempt to sue Android out of the market backfiring, with the possibility of 'i' devices imports from Asia getting blocked
THE branding company from California (designing products in the fashion sense) is having a hard time now that its producers in Asia find Linux and use that to make competition for the company with the fruity logo. Apple tried suing when iOS was ahead of Android, but it didn't work out too well. Not only has Android cruised past iOS within less than a year, but HTC is now suing Apple (the same company which has "always been shameless about stealing great ideas") for patent violations.
Revenge and deterrence are key here. Bloomberg has an early report (blogs aside) and Slashdot summarises as follows: "Apparently to stay viable in the IP wars, HTC secured some patents from Google (who purchased them originally from Palm Inc., Motorola Inc. and Openwave Systems Inc.) on the 1st of September. The patents were used to fire a new salvo of shots across Apple's bow today, September 7th. HTC filed infringement claims against Apple in federal court in Delaware, suing based on four of those patents that originally were issued to Motorola. Additional complaints were filed with the US ITC based on the other patents."
An Android fans site writes: "It's about time we saw a manufacturer fire back at Apple's extraneous patent lawsuits. I suppose it doesn't surprise me that HTC fired the first shots today. That's right, HTC has filed several patent lawsuits against the fruity corporation. In the past year, Google obtained nine patents, from Motorola, Palm, and OpenWave Systems. On September 1st, they transferred the patents to HTC for use. It didn't take long for the Taiwanese company to use these as a weapon against Apple."
From Bloomberg:
HTC Corp. (2498), Asia's second-biggest smartphone maker, is using nine patents bought from Google Inc. (GOOG) last week to pursue new infringement claims against Apple Inc.

Google had taken ownership of the patents less than a year ago, with four of the patents originating from Motorola Inc., three from Openwave Systems Inc. and two from Palm Inc., according to U.S. Patent and Trademark Office records. Jim Prosser, a spokesman for Mountain View, California-based Google, wouldn't discuss reasons for the nine transfers to HTC.
Robert Pogson calls Apple "the Second Pariah of IT" and gives a list of the reasons, preceded by:
No one likes a bully. I think that applies to monopolists and would-be monopolists in IT who do other than compete on price and performance to interfere with markets.
Apple is together with Microsoft in this. They want their duopoly back. Avoid everything from those companies in order to make development, innovation, and progress a lot faster. █
Permalink

Send this to a friend