04.23.14
Gemini version available ♊︎
Nothing Substantial to See in Motorola Solutions-Microsoft 'Patent' Deal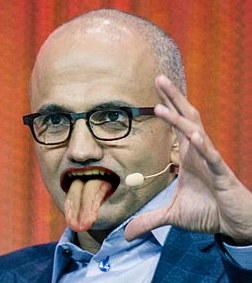 Satya Ballmer
Summary: Nadella continues Ballmer's campaign of intimidation and alienation, showing that nothing has changed at Microsoft, not even the FUD
"USEFUL idiocy" (or wishful thinking) associated with the "Nadella" label was soon interrupted by evidence that Microsoft will use attack ads/FUD against competitors and also continue patent extortion, first with a Dell deal and now Motorola. So much for change. Change we can't believe in…
According to this one article: "Motorola Solutions has become the latest maker of Android and Chrome OS devices to license related patents from Microsoft, joining dozens of other companies that have entered into similar agreements with Redmond.
"Note, however, that we're not talking about Motorola Mobility, the Android smartphone maker that Google bought in 2011 and recently sold off to Lenovo.
"Rather, this is the other half of the old Motorola that was left after Google acquired the company's consumer device business. You can think of it as analogous to the parts of Nokia that will be left over once Microsoft completes its gobble of the Nokia Devices & Services division on April 25."
Here is the key part: "Typically, Microsoft keeps the details of its Android patent licensing agreements secret. In a blog post announcing the latest deal on Monday, it didn't disclose what sort of payments Motorola Solutions would be making, although most such deals are believed to involve royalties."
This is probably more to do with PR (promoting the idea that Android is infringing) and not much with actual payments, for the OIN's CEO told us that deals like that mostly involve FAT patents and Google was abandoning ActiveSync, which was another extortion vector, a couple of years ago. Google probably knows what this deal really involves (it has many patent lawyers now) and quite sincerely we don't think that this part of Motorola does anything significant with Android or Chrome OS. It's more to do with PR for Microsoft, namely being able to name "Motorola" as part of the racket. It almost gives the racket some legitimacy because many associate Motorola with Google, Android's patron.
Microsoft was unsuccessfully pursuing a similar deal with a Chinese rising giant, Huawei ((unlike ZTE but more like the part of Motorola now managed by Lenovo). Some years ago and the press reported about Huawei discussions and nothing has happened since then. It's the one big fish Microsoft can't get ahead of and enlist for the FUD campaign.
If this is Microsoft's principal strategy, then it will find itself portrayed as a villain and a racketeer/criminal (correctly so), alienating many developers, OEMs and in turn losing focus on its own products (if any are left which are viable).
In short, when reading about this Motorola patent deal we should assume that it's more noise than substance, and Microsoft continues its disgraceful, Free software-hostile campaign of intimidation. There is no "reform" at Microsoft, just aimless pursuit of aggression. █
Permalink

Send this to a friend