09.22.15
Gemini version available ♊︎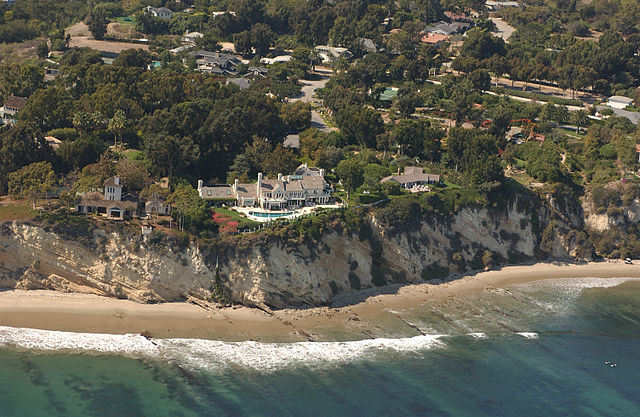 The infamous Streisand estate. Copyright (C) 2002 Kenneth & Gabrielle Adelman, California Coastal Records Project.
Summary: The management of the European Patent Office (EPO) is still trying to suppress negative messages about managerial failures, violations and abuses, thereby serving to only increase media coverage (newspapers, radio, television) of increasingly well-known and widely-covered scandals
THINGS have been rapidly heating up and escalating at the EPO as of late. The public pages of SUEPO are almost self-explanatory, but some context and background are needed. This post will attempt to summarise the latest developments.
The management of the EPO has chosen not to listen to staff, instead attacking not only staff but also journalists. Benoît Battistelli's right-hand gangster, Željko Topić, has said that "SUEPO has no standing in this office. SUEPO has no role to play in this office." These people are obviously not qualified to manage, as they don't treat their staff like a treasure, an asset, or even a "human resource" (to use gradually more demeaning terminology) but as a nuisance. It's no wonder they are driving a lot of the talented people away. These are highly qualified people. They're not a dime a dozen, not even a million (euro) a dozen (per annum).
Certain SUEPO leaders are now formally responding to the menacing messages from the wife of Battistelli's INPI buddy, titling this episode "SUEPO publication concerning an investigation" (too gentle a term). To quote the statement from the public site: "Ms Bergot, Principal Director Human Resources at the European Patent Office, has sent highly threatening letters to Mr Michels, SUEPO Central Chair, and Ms Hardon, SUEPO Munich Chair, following a SUEPO publication concerning an investigation in which Ms Hardon was summoned for interrogation as accused.
"Ms Liesbeth Zegveld, SUEPO lawyer, represents Mr Michels in this matter and Ms Hardon in the investigation. She has sent two letters of reply to Ms Bergot.
"A copy of the reply on behalf of Ms Hardon can be found here and the reply on behalf of Mr Michels can be found here."
In case of (un)expected takedown demands (this happened before), we are making local copies of the PDFs:
Yesterday morning SUEPO finally shared (after suppression by legal threats from the EPO) this article in German. Benoît Battistelli's oppression/suppressions have clearly become major IT news (it's not about labour rights anymore). A lot of people in the media finally become involved these days and the EPO's management tried to prevent staff from reading journalists' work. How pathetic is that? As SUEPO put it, "Heise Online comments on the censorship imposed on SUEPO's website by the management of the European Patent Office. The article recalls former unusual measures such as the covert surveillance with keyloggers and cameras of semi-public computers within the Office."
"EPO leadership [is] out of control," wrote Florian Müller, "now SUEPO has even had to remove a link to Heise, Germany's most-read IT news site." When news is treated as treasonous and there is a taboo, then the institution itself is built upon lies and corruption. The EPO was strongly in favour of the press when it effectively bribed Les Echos to become its "media partner" (i.e. shameless PR), but it blocks/censors links to Heise (German IT) because there is objective analysis there. There are no EPO payments (from taxpayers) on the table and no strings attached.
Any external observers ought to early see who's the bad side here. The management of the EPO is now censoring information using self-censorship tactics. This self-censorship is motivated by fear, due to active intimidation and expected retribution (reign by example). This is probably why SUEPO does not link to Techrights so often (the only site to be completely banned all around the EPO's networks, for the first time ever). There would be a lot more damning information about the EPO's management out there if it wasn't for reprisals. These people are thugs and they are using the same tactics that thugs are using.
Days earlier SUEPO took note of further media coverage of these scandals, reaching even European radio. As we shall show at a later date, this also became a television topic (Benoît Battistelli was being ridiculed on European television after becoming somewhat synonymous with "villain" in central Europe).
Suffice to say, patent lawyers sometimes continue to support Battistelli. One 'magazine' with its most shameless patent maximalists does some victim-blaming (blaming EPO staff) in this article and this accompanying tweet which says: "There are problems at the @EPOorg, but the staff union's relentlessly confrontational approach is getting nowhere."
Who is being "relentlessly confrontational"? The staff or the management? Someone surely missed the full story.
SUEPO now calls for "Supervision of Data Protection at the EPO," having discovered that data protection at the EPO is an utter joke (even visiting patent lawyers are under surveillance, not just staff). "Recently," it explained, "a letter from Ms Andrea Vosshoff (Bundesbeauftragte für den Datenschutz und die Informationsrecht) to Ms Renate Kunast (Vorsitzende des Ausschusses für Recht und Verbraucherschutz) came to our attention. In this letter Ms Vosshoff asks for attention to certain weaknesses in the data protection set-up in the EPO. She asks the above mentioned committee for support in addressing the issues.
"SUEPO intends to write a letter in support of this initiative, requesting to be heard in the matter. An aspect that seems thus far to have been overlooked is that Art. 20(1) EPO PPI seems to provide for a cooperation with the "competent authorities" in health and safety regulations and "similar regulations". The latter would seem to cover data protection regulations."
Given the EPO's record of taking down material using threats, we have decided to mirror this here as well:
Lastly, SUEPO's views on "ILO-AT workload" ( Administrative Tribunal of the International Labour Organisation) were expressed 5 days ago. "The number of ILO-AT member organizations continues to increase totalling 60 today as opposed to 25 in 1990 and 40 in 2000 – thus raising concerns about the continued capacity of the Tribunal to carry out its responsibilities effectively."
It's too slow to protect staff and also, to make matters worse, the EPO's management won't obey rulings, orders, laws, etc. The management led by Battistelli views itself as acting with impunity or operating above the law.
"The ILO intends to hold a debate," continued SUEPO, "and prepare a guidance paper highlighting any difficulties encountered by the Tribunal in managing its workload. In preparing this paper, the ILO has submitted a questionnaire to be filled by all stakeholders.
"SUEPO's answer to the subject questionnaire can be found here [see below]. It represents the views of SUEPO and was prepared with the input from the following staff associations/unions: FICSA, WHO, WTO, WIPO, WMO, OPCW, IFAD, BIODIVERSITY INT, ESO, CERN and EMBL." Here is a local copy of it:
In the coming days we intend to highlight some more media coverage of these affairs and we will work to ensure that SUEPO cannot and will not lose its voice due to bullying by Battistelli and his circle of aggressors. The more adamant they become and the more aggressively they crack down on information, the more this information will spread (with additional copies thereof). Required reading. █
Permalink

Send this to a friend