05.08.16
Gemini version available ♊︎
[Background for the uninitiated]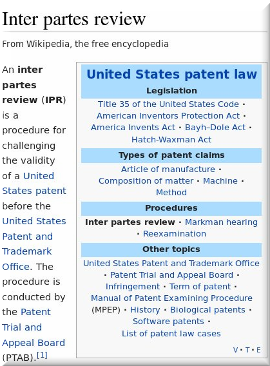 Summary: A growing level of coverage for what has become, especially over the past year or two, something which patent maximalists (such as lawyers) call "patent death squads"
THE rise of PTAB as destroyer of software patents, especially after Alice, was mentioned here a while back. IAM 'magazine' is daring Chinese firms to waste more time and money on lawyers (for PTAB paperwork), as this is what the target audience (mostly patent lawyers) probably wants. To quote IAM regarding Korean giants: "In many cases there is a close correlation between the number of reviews that a company files and the number of infringement suits that have been filed against it in district court. Not surprisingly, therefore, the likes of Samsung and LG, who are among the most targeted companies in US cases, also feature among the most active at the PTAB as they look to knock out the patents they have been accused of infringing. Samsung for instance filed 64 reviews last year and was a defendant in the same number of new US lawsuits (the most for any company) according to Lex Machina's data."
IAM makes it sound like some kind of popularity contest, having gone with the headline "Chinese companies still have some way to go to catch up with Asia's leaders at the PTAB" ("catch up" with "leaders" implies competition on paperwork, not production and innovation).
What we're attempting to highlight here is not just IAM's bias but also a bizarre mentality, in particular as far as it relates to invalidation of patents. The so-called 'IP community' has lost sight of what this system was supposed to be all about (or for).
In the US, and also right here in the UK, almost every patents-centric site now speaks about Cthe uozzo case, which we covered last month [1, 2]. As one writer put it, "the U.S. Supreme Court will determine which standard the PTAB should apply." Within broader context: "Importantly, the PTAB standard used to review patents in IPRs is different from the standard used by District Courts and may result in more patents invalidated. The PTAB standard is the "broadest reasonable interpretation" of the claims, whereas the District Courts use a plain ordinary meaning standard. In Couzzo Speed Technologies v. Lee, the U.S. Supreme Court will determine which standard the PTAB should apply. Either the Supreme Court will decide that the PTAB should apply the same standard as the District Courts, the "plain ordinary meaning standard," or the Supreme Court will require application of the "broadest reasonable interpretation" standard."
Associate Justice Stephen Breyer is quoted as saying the following: "You could look at this new law as trying to build a little court proceeding. If I thought it was just doing that, I would say you were right [that the PTAB standard should be the same as the district court's standard]. But there is another way to look at it. And the other way to look at it … is that there are these … patent trolls, and that the Patent Office has been issuing billions of patents that shouldn't have been issued; I overstate, but only some. And what happens is some person in business gets this piece of paper and looks at it and says, 'Oh my God, I can't go ahead with my invention."
Not too shockingly, patent lawyers are upset by Breyer's words (which we mentioned here a week ago). One commenter says: "The quote from Associate Justice Breyer is simply stunning." Another commenter says in response: "You are stunned that invalid patents have been issued by a patent office?"
There are even ruder comments about Breyer in other sites, including Patently-O. Every judge or official who stands in the way of patent maximalists is typically discredited, demonised, declared incompetent. We covered several examples of that in recent weeks. They're being bullied or marginalised for saying the truth while holding a position of power/influence (such as the Supreme Court).
MIP's coverage of the Couzzo case said: "Patent Trial and Appeal Board (PTAB) observers are split on whether the Supreme Court will allow the broadest reasonable interpretation (BRI) claim construction standard used by the Board in inter partes review (IPR) to survive, following oral arguments in Cuozzo v Lee on April 25.
"The Supreme Court was considering two questions: whether the PTAB can construe claims according to their BRI rather than their plain and ordinary meaning and whether the Board's decision to institute an IPR proceeding is judicially unreviewable by the Federal Circuit."
Another article about PTAB (also from MIP) said:
Managing IP reveals the biggest petitioners and most-targeted entities in April and year-to-date at the Patent Trial and Appeal Board. HP and Apple had a busy month, while Finjan and Nike were on the receiving end of the most petitions

Patent Trial and Appeal Board (PTAB) filing was up to 148 petitions in April, according to data from the Docket Navigator database.

This consisted of 136 inter partes review (IPR) petitions, 10 covered business method (CBM) petitions and two post-grant review (PGR) petitions.

The number of petitions in April was up from 118 in March and compares with other figures so far this year of 150 in February and 99 in January. The number of petitions filed in April this year were roughly comparable with the 146 petitions filed in April 2015.
Finally, this article from Patently-O said: "Gregory Dolin and Irina Manta argue in a forthcoming article that the Leahy-Smith America Invents Act (AIA) effectuated a Fifth Amendment "taking" by enhancing the mechanisms for challenging issued patents in administrative proceedings. Initial data do indicate that patents are more likely to be found invalid in the new inter partes review (IPR) and covered business method review (CBMR) proceedings than in district court actions or through the IPR and CBMR's administrative predecessors. Patentees' have even complained that the filing of individual IPR petitions has affected their stock prices."
Further down the author adds: "In any case, we think that, given this regulatory backdrop and the existence of administrative review proceedings for over thirty years, patentees could foresee—or reasonably should have foreseen—that the government would continue to actively regulate patent rights without "just compensation."
"Together, these arguments persuade us that the AIA is not a taking. Nevertheless, the authors' article is a thought-provoking and educational analysis of the constitutional implications of Congress's recent efforts to reform the patent system. We thank them for reopening the door on this area of scholarship."
And going back to MIP we have this: "While granting Tire Hanger's motion to amend, the Patent Trial and Appeal Board approved "grouping prior art references together according to their particular teachings" and "discussing only a representative few in its motion to amend". This may provide guidance to other patent owners seeking to amend claims" (so as to maintain borderline invalid patents).
What's worth noting, based on all the above sites (patent maximalists), is that there is growing concern about systematic elimination of patents that the USPTO should never have granted in the first place. This erodes confidence in (and perceived value of) patents that are of poor quality, notably software patents in the post-Alice era. █
Permalink

Send this to a friend