05.14.16
Gemini version available ♊︎
They want us to believe that 90% of patents will be eliminated unless SCOTUS is stopped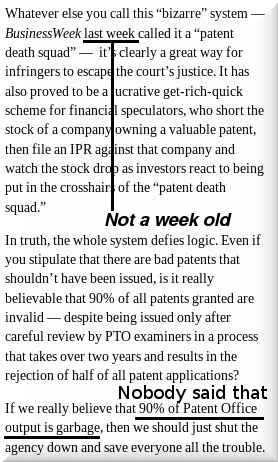 Summary: The corporate media resorts to more personal attacks on SCOTUS Justices, unnecessary drama, and framing of PTAB as "death squad"
EVERY now and then we find some jaw-dropping nonsense about patents. It often comes not from misinformed tiny blogs but from large 'reputable' corporate media, where facts don't matter as much as agenda (and it's obvious whose).
The Cuozzo case, which we mentioned earlier this month and last month (beginning and end), got mentioned in "A World Without Patents" — an article from a rich people's outlet (owned by the rich to promote their agenda) which said:
Late last month, the United States Supreme Court heard oral arguments in the most consequential case you never heard of. On the surface, Cuozzo Speed Technologies v. Lee is about whether the Patent Office (PTO) can use a different standard in hearing…
The author says "I write about how intellectual property" because in his view these can "enhance corporate success." Maybe he thinks of large corporations which use patents for protectionism. The purpose of the article is to bemoan bogus patents being invalidated. To quote:
But the larger issue in Cuozzo is this: Has the U.S. government made it too easy for companies to invalidate the patents of their competitors?

To judge from the evidence, the answer is yes. Of the 4,288 patent challenges brought to PTAB since the September, 2012 inception of these IPRs, nearly 90% have resulted in the cancellation of patent claims. Not surprisingly, 70% of those challenges have been brought by defendants facing patent infringement suits in U.S. district courts.
Now watch the author showing his laughable inability to comprehend mathematics (like software patents) and statistics:
In truth, the whole system defies logic. Even if you stipulate that there are bad patents that shouldn't have been issued, is it really believable that 90% of all patents granted are invalid — despite being issued only after careful review by PTO examiners in a process that takes over two years and results in the rejection of half of all patent applications?

If we really believe that 90% of Patent Office output is garbage, then we should just shut the agency down and save everyone all the trouble.
90% of patents challenged is not the same as 90% of patents granted. Any high school student would easily manage to tell the difference, but not Forbes… because it has an obvious agenda that's hardly even cryptic.
"It is possible, for instance, that upon proper examination/scrutiny with § 101, 90% of all software patents would be deemed invalid and thrown in the ashtray of history."Speaking of agenda, watch what other rich people's (billionaires) media is doing. "In an effort to protect its innovation investments in highly competitive areas such as mobile and analytics," says Wall Street's mouthpiece (Rupert Murdoch's Wall Street Journal), "banking giant J.P. Morgan Chase & Co. filed at least 22 patent applications in 2015. And the number of patent filings so far this year is running 50% higher than last year, Daryl Wooldridge, head of intellectual property management at J.P. Morgan, tells CIO Journal's Kim S. Nash."
The headline says "J.P. Morgan Intensifies Tech Patent Drive" and it tries to convince the reader that more patents are indicative of greater success. Nothing could be further from the truth. Patently-O, by contrast, a more scholarly site, takes design patents as an example and says: "Some commentators have suggested that design patents, being sought and accumulated differently from utility patents, are not likely to stimulate much PAE interest."
These so-called 'PAEs' are essentially patent trolls (they cannot be sued, that's why they sue as an intermediary, a loophole) and they typically use software patents. We generally need to eliminate software patents to eliminate patent trolling and therein lies the pool of patents that PTAB keeps invalidating at amazing rates (see above). It is possible, for instance, that upon proper examination/scrutiny with § 101, 90% of all software patents would be deemed invalid and thrown in the ashtray of history.
"If programmers fail to get involved in this public debate, they may lose everything and be taxed by everyone."Meanwhile, FOSS-hostile software patent thickets are being promoted by a software patents advocacy site, which is also perpetuating the myth that startups need patents from the large corporations-led USPTO (it's a waste of time and money as they will likely get sued to trolls and intermediaries, not large corporations such as IBM).
We are sadly besieged by a media of patent lawyers, patent trolls, and large corporations like IBM (which use patents offensively to eliminate the competition). If programmers fail to get involved in this public debate, they may lose everything and be taxed by everyone. █
Permalink

Send this to a friend