11.04.17
Gemini version available ♊︎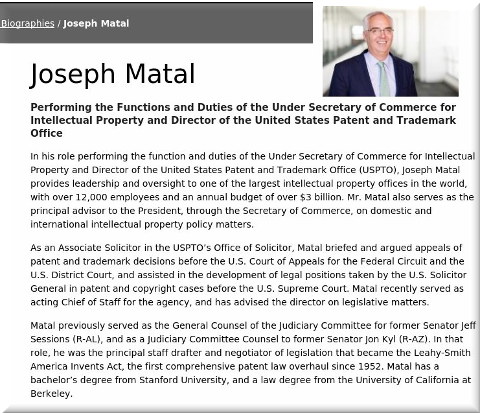 Source: Joseph Matal's official page
Summary: The United States Patent and Trademark Office (USPTO) has been managed by Joseph Matal for a number of months and his handling of constant pressure and attacks from the patent trolls' lobby suggests he can maintain Michelle Lee's reformist legacy (which he had played a role in)
THE latest announcement from the USPTO, echoed by Patently-O a couple of days ago, suggests that the Office is trying to deal with those "who fail to comply with the USPTO's standards for ethics and professionalism."
Generally speaking, months after Matal took over (following a malicious smear campaign against Michelle Lee) he has done a pretty fine job and did not cause much controversy/stir among the patent rationalists. From this latest announcement:
The Department of Commerce's United States Patent and Trademark Office (USPTO) is initiating a two-year Diversion Pilot Program for patent and trademark practitioners. Implemented by the Office of Enrollment and Discipline (OED), the program aligns USPTO with the practices of more than 30 state attorney discipline systems. It will help OED accomplish its mission of protecting the public from practitioners who fail to comply with the USPTO's standards for ethics and professionalism.

[...]

"We're hopeful that this pilot program will align our agency with best practices established in other states while allowing practitioners a fair chance to rectify previous misconduct and allow them to move forward in a productive manner," said Joseph Matal, Performing the Functions and Duties of the Under Secretary of Commerce for Intellectual Property and Director of the United States Patent and Trademark Office.
This makes us wonder; why not leave Matal in charge, after he promoted AIA and helped shape it up? We were sceptical/apprehensive at first, but over time he turned out to be more or less a continuation of Lee.
IAM (patent trolls' lobby) still thinks Andrei Iancu will head USPTO; that would be devastating. From a blog post it wrore the other day:
There's much we still don't know about how the US government will shape IP and antitrust in the next few years, but outside of the USPTO Director's appointment — which, barring any accidents is due to be Andrei Iancu — Delrahim promises to have arguably the biggest impact on the IP community of any recruit to the Trump administration. The Obama White House set a far more activist tone when it came to the application of competition laws to IP, recommending, for instance, a change of approach for standard setting organisations which led to the IEEE introducing a new patent policy that several large SEP owners have refused to support.

That approach has led to some sharp criticism from some quarters. Earlier this year former FTC Commissioner Joshua Wright, who is now a law professor at George Mason University, told an IP industry event in Washington DC that: "It is my view that there is no more important area with respect to competition policy for the incoming administration than the intersection of IP and antitrust." He went on to add: "In my view current antitrust IP policy at the DOJ and FTC is off the tracks." To what extent Delrahim charts a new course for that policy will have significant implications for patent owners worldwide.
What they are pursuing is basically patent maximalism and extremism. They just want a whole lot of trouble for everyone involved in creation, for the enrichment of those in the 'business' of litigation. █
Permalink

Send this to a friend