08.05.20
Gemini version available ♊︎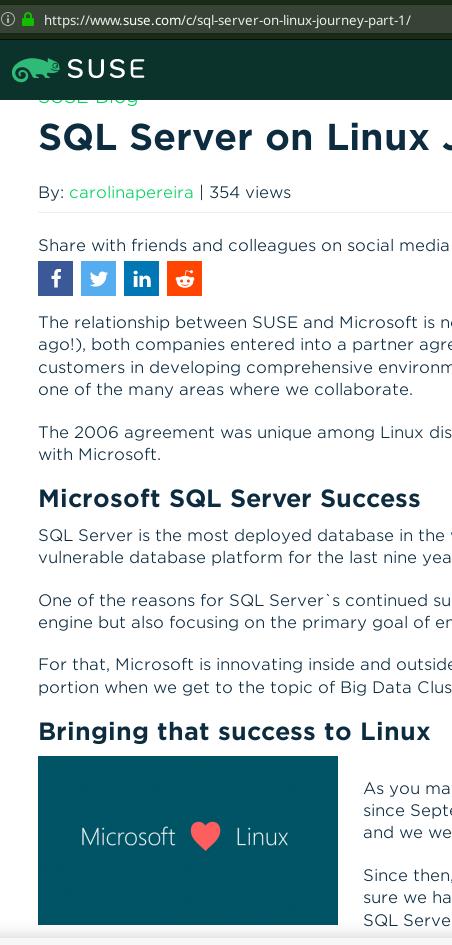 Summary: SUSE seems to have learned no lessons after the aftermath of its (or Novell's) Microsoft patent scam, which had been negotiated partly by Miguel de Icaza (now working directly for Microsoft) before causing Novell to collapse and offload its patents to Microsoft ('TikTok operandi' or asset stripping); the past cannot be left behind if SUSE — like Novell — celebrates and perpetuates that past
THE demise of Novell did not mean the demise of the relationship with Microsoft. SUSE still works closely with Microsoft and it constantly promotes SAP's proprietary software (twice so far this week).
In a lot of ways, we're left with no choice but to assume that the deal prevails to this date, making SUSE somewhat of a 'favourite kid' of Microsoft.
"Putting "Microsoft loves Linux" banners in this blog post from SUSE isn't helping…"Yesterday we saw Carolina Pereira (SUSE) promoting Microsoft's proprietary software. "First date" was in the headline (there's more to come) as if this is a love story. "As you may remember," it says, "Microsoft has been supporting [sic] Linux for SQL Server since September 2017 in the spirit of giving customers more choices of platform and we were quick to jump on the "Microsoft LOVES Linux" wagon."
Actually it doesn't really support GNU/Linux. DrawBridge makes that less than a native (real) port. Putting "Microsoft loves Linux" banners in this blog post from SUSE isn't helping, nor does this opening paragraph:
The relationship between SUSE and Microsoft is not so new. It is exciting to think that back in 2006 (almost 15 years ago!), both companies entered into a partner agreement to collaborate on interoperability, providing greater choice to customers in developing comprehensive environments. And today, it is amazing to see that SQL Server on Linux is only one of the many areas where we collaborate.
Let's wait and see what "Part 2″ says…
SUSE isn't helping itself; it won't redeem its name if it acts like Novell's management and celebrates a patent collusion which was an attack on the GPL and on GNU/Linux as a whole (an attack which failed by the way, partly because boycotts worked).
It's hard to put behind the harm done to the "SUSE" brand, especially if the official blog of SUSE publishes stuff like the above. Only some hours ago Linux Magazine released this new interview about the "openSUSE/SUSE relationship" and Gerald Pfeifer (behind paywall) is said (by the author/interviewer) to believe it's a "win-win for both the company and the project."
Well, actually, the association with SUSE has long been somewhat of a liability, mostly because of the Novell relationship with Microsoft, which is perpetuated by the SAP and Microsoft cordiality of today. From the introduction:
It's been a rough couple of years laced with uncertainty for the German-based SUSE and its flagship open source project, openSUSE. Linux Magazine talks to Dr. Gerald Pfeifer about where openSUSE is going and its relationship to SUSE.

OpenSUSE [1] was once one of the leading open source RPM-based distributions and one of the handful of distributions that operated under the auspices of a for-profit corporation. While SUSE had been marketing Linux for the enterprise since the '90s, the openSUSE project began in 2005, a couple of years after the company's acquisition by Novell. The last decade, however, has been very turbulent for SUSE, which has changed ownership several times.

At the Open Source Summit in Lyon, France, in 2019, I caught up with Dr. Gerald Pfeifer [2], who is the CTO at SUSE and chair of the openSUSE board. Despite the multiple changes of ownership and the resulting apprehensions from the community, Pfeifer assures that the openSUSE project continues unabated. Pfeifer has been actively involved in the open source community for several years, contributing to various open source projects, including GCC, Wine, and FreeBSD. In our conversation, he explains the current status of the openSUSE project and how its relationship with SUSE's Enterprise offering is a win-win for both the company and the project.
At one point the project considered a name change (removing "SUSE" from it). At this moment, SUSE the company does a fine job tainting the brand even further, associating it with patent blackmail and "Microsoft loves Linux" (a lie designed to help Microsoft besiege and attack GNU/Linux!). █
Permalink

Send this to a friend