01.24.21
Gemini version available ♊︎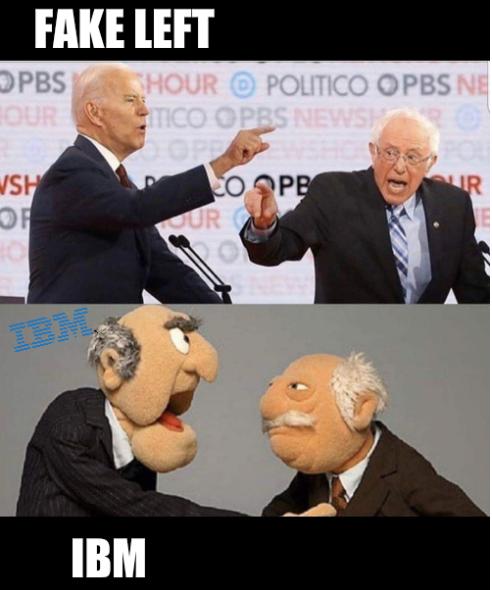 Summary: Fedora doesn't care about software freedom and its steward (or parent company) is sometimes imposing proprietary software on staff; they've quit caring
IBM has already driven away some Red Hat employees who were put off by proprietary software IBM was imposing on them. They talked about it, sometimes publicly. It's not like before Slack Red Hat was so insistent on Free software either; for instance, many Red Hat/IBM/Fedora projects had been outsourced to Microsoft and are still managed on Microsoft servers, using proprietary software. We may soon show that IBM/Red Hat would go as far as spamming people (by E-mail) to promote .NET because that's just IBM… never truly a foe of Microsoft. They colluded for a number of decades, so why stop now?
Watch this response I received in Twitter (where my Diaspora posts get automatically copied) a few days ago.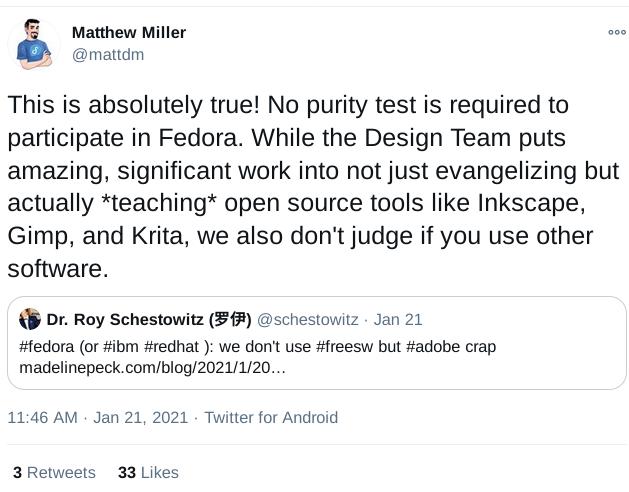 For a little bit of context, it's about madelinepeck.adobe.com (cited here) and the only regret I have is the choice of the word "crap". I generally think it's important to replace Adobe's proprietary software and if Free software projects build their sites (among other things) using proprietary software, then it's like the Linux Foundation producing "Linux" reports using Macs and Microsoft Windows with Adobe stuff.
"It's understandable that Fedora is failing to attract volunteers after the IBM takeover and that terrible decision about the fate of CentOS certainly isn't helping. But opening one's arms to proprietary software is a desperate compromise which would only take Fedora further astray from its original goals."What the manager of Fedora cannot or does not want to understand is, when a company is run by people who use proprietary software they'll impose (by peer or top-down) that software on colleagues and end up outsourcing stuff to companies like Microsoft. Red Hat's last CEO (real CEO, not a virtual one) and current IBM president isn't even using GNU/Linux and that's a problem. Companies that refuse to 'dogfood' or embrace their own products are sending the wrong message to people.
IBM was never truly a friend of Free software; it was all along more of an openwashing affair, which is why IBM talks about "Open Source" and never mentions the "F word" (freedom). Fedora also doesn't stand for freedom, based on its leader, Matthew Miller. It's understandable that Fedora is failing to attract volunteers after the IBM takeover and that terrible decision about the fate of CentOS certainly isn't helping. But opening one's arms to proprietary software is a desperate compromise which would only take Fedora further astray from its original goals. █
Permalink

Send this to a friend