10.08.22
Gemini version available ♊︎
Matthew Garrett's employer, Aurora, is nearly valueless and looking to be acquired by Microsoft.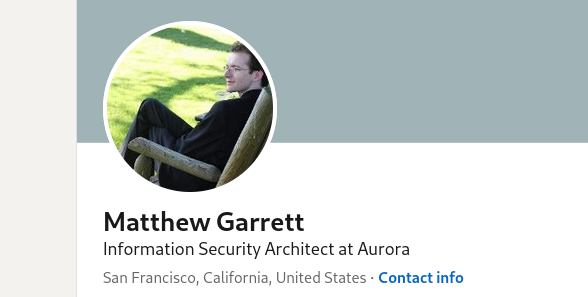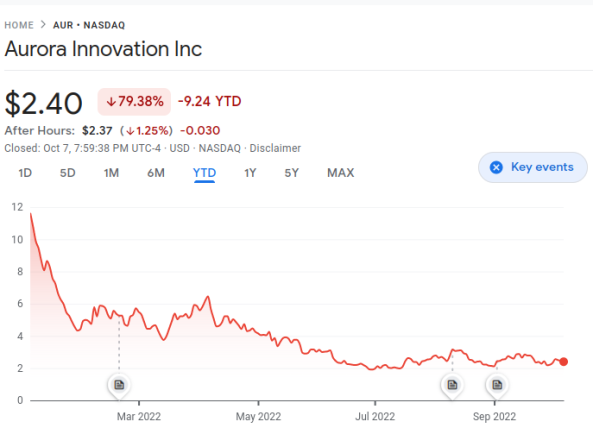 Reprinted with permission from Ryan
Matthew Garrett is the person who put Microsoft's "Secure Boot" into GNU/Linux (which is designed to give Microsoft control over whether you can use a different OS on YOUR PC).
Almost like something from the Terran Empire Universe of Star Trek, the Free Software Foundation gave him an award for promoting Microsoft's PC sabotage.
Garrett is a person who spends a lot of his free time essentially harassing Techrights, both in the IRC channel, and spouting what I feel is misleading information, outright lies, and negative propaganda about us on his Twitter account.
He works for a "self-driving" car company called Aurora Innovation, Inc.
We're led to believe, according to Garrett, that he left Google (a stable company that makes money) to work at Aurora of his own volition.
Today I learned that Aurora is in deep shit.
This is what happened to their stock this year. Down nearly 80%.
I'd have to say it's probably due to the recession and the rising interest rates at the Fed that investors are not in the mood to keep throwing money at this. Money that is getting a lot more expensive to borrow.
I noticed this when I came across a Bloomberg article about the bottom falling out of the self-driving car bubble.
"It's a scam," says George Hotz, whose company Comma.ai Inc. makes a driver-assistance system similar to Tesla Inc.'s Autopilot. "These companies have squandered tens of billions of dollars." […] Aurora Innovation Inc., a startup co-founded by Chris Urmson, Google's former autonomous-vehicle chief, has lost more than 85% since last year and is now worth less than $3 billion. This September a leaked memo from Urmson summed up Aurora's cash-flow struggles and suggested it might have to sell out to a larger company.

-Bloomberg Article
When I went to look up the share price to take a picture, the related news had the following, which appears to corroborate the Bloomberg story about the leaked memo, and says that Aurora is seeking a takeover from "Microsoft or Apple".
Report: Aurora ponders possible sale to Microsoft or Apple amid other options
A few months ago, I laughed and called self-driving cars a pipe dream.
I also said anyone working in this field should be keeping their résumé updated because nobody wants it and it doesn't actually work.
Earlier in the Bloomberg story, it spoke of a woman in San Francisco that had to go to CBS news because Google's Waymo cars kept breaking the law and using her driveway as a turnaround dozens of times a day.
Other "self-driving" car companies have had to pay out money for running over pedestrians and saying the software thought they were a shopping bag, and in many cases the owner of the car is held liable for doing stupid things like riding in the back seat while the Tesla runs into a parked police car.
There's other examples, but the technology just obviously isn't going anywhere soon. █
Permalink

Send this to a friend