Eye on on Rotten Products: Apple is Facing Many Lawsuits, E.g. for Antenna Design and hypePods Catching Fire
Dr. Roy Schestowitz

2010-08-04 12:39:25 UTC
Modified: 2010-08-04 12:39:25 UTC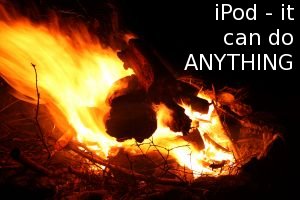 Summary: Our contributor "Malroy" shares the following two news links
●
Another Bite out of Apple
Here we go again, yet another lawsuit against Apple – and their main telco service provider AT&T. This time, the suit involves the less than wonderful antenna design for the iPhone 4. Users have swamped Apple and numerous law firms across the U.S. over the past few weeks demanding action and filing actions in federal court. The gist of the complaint is that Apple knowingly released the iPhone 4 with a serious and pretty basic flaw.
●
Overheating iPods: Japan Orders Apple To Act
Apple has been ordered to explain to Japan's industry ministry what it plans to do about cases of its iPod Nano music player overheating and catching fire.

There have been at least 27 incidents of the device overheating while charging.
Recent Techrights' Posts
A straitjacket or lobotomy won't solve this issue

Links 02/12/2023: Pfizer Sued for Lies About Efficacy, Censorship of Scientific Dissent, More Pfizer Layoffs

Links for the day
by Richard Stallman

[Meme] Screenshots of Web Pages (Relevant to One's Article) Are Not Copyright Infringing Anywhere in the World

bullying and hate crimes
IRC logs for Friday, December 01, 2023
been a year!
The circus goes on and on

Links 01/12/2023: Facebook Infested With Malicious Campaigns by Imposters, ACLU Gives Advice on Doxxing and Online Harassment

Links for the day

Just Like Its Budget Allocation, the Linux Foundation Devotes About 3% Of Its Latest Newsletter to Linux, Devotes More to Linux's Rivals

It's just exploiting the brand
Links for the day
GNU/Linux news
Over 30,000 fired this year? More?

It's Cheaper to Pay Bribes (and Produce Press Releases) Than to Pay Fines (After Lots of Negative Publicity)

Does the UK still have real sovereignty or do corporations from overseas purchase decisions and outcomes?
ChromeOS+GNU/Linux combined are about 7% of the "market"

New Report Provides Numerical Evidence That Google Hired Too Many People From Microsoft (and Became Malicious, Evil, Sociopathic)

"Some 12,018 former Microsoft employees currently work for the search and data giant"
Do you still trust "clown" storage?
IRC logs for Thursday, November 30, 2023

Links 01/12/2023: Many Suppressions in Hong Kong and Attempts to Legitimise Illegal and Unconstitutional Fake Patent 'Court' in EU (UPC)

Links for the day
Gemini numbers still moving up, the protocol will turn five next summer
Links for the day
pages are served very fast
Abusing people into abusing the English language is very poor diplomacy
not a resolved issue
"Nowadays I use gender-neutral singular pronouns for a person whose gender I don't know"
IRC logs for Wednesday, November 29, 2023
GNU/Linux news
Links for the day

Links 30/11/2023: Google Purging Many Accounts and Content (to Save Money), Finland Fully Seals Border With Russia

Links for the day