Software Patents Slammed; Microsoft Brought Up in Lodsys Case
Dr. Roy Schestowitz

2012-03-19 14:28:50 UTC
Modified: 2012-03-19 14:28:50 UTC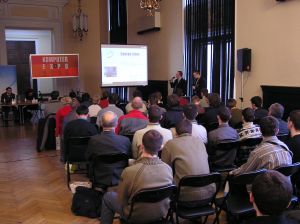 Summary: Some patent news and a special surprise from Microsoft
THE SIMPLE fact is that "Most Innovations in Most Fields Are Not Patented," says this new post from the Against Monopoly Web site, linking to this page which says "AEI held a session on patents and patent reform building off Launching the Innovation Renaissance. I opened and Judge Paul Michel, Chief Judge, United States Court of Appeals for the Federal Circuit (retired), James DeLong of the Convergence Law Institute and Michael Abramowicz of George Washington University School of Law all offered comments."
Simon Phipps, writing in an article from
InfoWorld
,
explains why software patents are evil
:
No programmer I've ever met refers to software patents, for two reasons. First, they aren't written for programmers to learn from -- they're written for patent lawyers to sue against. You'll find software patent filings contain no sample code and few technical descriptions. When I worked at IBM, I asked a patent lawyer at the company what was needed to file a patent. I was told "a rough idea -- we can fill in the details for you -- and then all the ways you can think of by which we could tell if someone else is using that idea."
Over at
Groklaw
, more Microsoft-Lodsys connections are shown, in addition to the
Intellectual Ventures
connections that we know about. Pamela Jones
writes
about this software patents case:
Well, well, what have we here? Yet another Lodsys case, a new one. Same stupid patents, same M.O., though. But here's a new element, the latest target, Ryonet, filed its complaint for declaratory judgment [PDF] in Washington State, on March 8, and here's why Ryonet thinks that's the right place:

18. Plaintiff is informed and believes and on that basis alleges that, Lodsys agents and/or employees executives have made numerous trips to the State of Washington related to the Asserted Patents, and for licensing negotiations with Washington based companies including Microsoft Corporation, Smilebox, Inc. and Photobucket Corporation (formally Photobucket, Inc.) among others, and potentially Intellectual Ventures.

19. Plaintiff is informed and believes and on that basis alleges that Lodsys has engaged in, and continues to engage in, substantial licensing and other relationship, contracts, and financing in the State of Washington and with residents of the State of Washington.

20. Plaintiff is informed and believes and on that basis alleges that Lodsys conducts business and engages in contracts and other substantive contact in the State of Washington, and by such extensive conduct, resides in the State of Washington.

Are there any hideous patent lawsuits any more where Microsoft isn't in the shadows somewhere? Ever since the SCO saga began, that's where I look first, personally. It was Microsoft which entered into a licensing arrangement with SCO if you recall, for copyrights and patents, paying millions which enabled SCO to sue the world and its dog, despite SCO having no UNIX patents or any copyrights either, as it turned out. Talk about your easy money, or your lack of due diligence, or maybe a nonchalance because it was never about copyrights or patents in the first place. So, if Microsoft turns out to be a licensee, when did it license from Lodsys, I can't help but wonder?
Microsoft works in mysterious ways. Often enough it also
works by proxy
.
⬆