Red Hat Does Not Want to Defend Its Position on UEFI
Dr. Roy Schestowitz

2012-07-20 15:36:02 UTC
Modified: 2012-07-20 15:36:02 UTC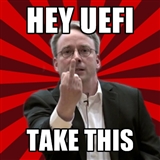 Summary: Red Hat dodges questions about the consequences of its UEFI dealings with Microsoft
A few days ago we received a lot of press coverage for explaining the UEFI scheme of convicted monopolist Microsoft. One person wrote to get our attention and show how Fedora/Red Hat dodge a legitimate point of criticism. Here is the crux of it all:
When we ran our original report, we noted that Fedora did not mention once ARM or Windows RT. Obviously, Windows RT is the elephant in the room. While Windows 8 will have an off switch to Secure Boot, allowing anyone to bypass these operating system restrictions… Windows RT is quite the opposite.

Windows RT will only run operating systems that are signed by Microsoft. Microsoft, has refused to comment on if any operating systems other than Windows will be permitted to run. Including, Fedora. And, they've told OEMs to expect the worst.

Apologists for Microsoft, including people like Ed Bott and Paul Thurrott, have chastised PhoneNews.com directly for challenging Microsoft on this walled-garden position. Their position is that Microsoft is doing no different than Apple, and Apple has been allowed to lock down iOS without any reprisal from regulators, let alone consumers in general.

[...]

We followed up with Mr. Garrett, asking him if it was Microsoft, or Red Hat, that refused to entertain a signed version of Fedora for Windows RT. Unfortunately, Mr. Garrett declined to comment, directing us to Red Hat media relations.

After contacting Red Hat media relations multiple times, we were promised a clarification. Unfortunately, after repeated re-requests, Red Hat's media relations department has become unresponsive. We will be happy to follow up if we do hear back from Red Hat, and will continue to ask them for an answer.

The burning question does remain though, did Microsoft tell Red Hat that it would be barred from offering Fedora on ARM-based Windows PCs? Or, did Fedora opt-out on their own, for some unknown reason? It is hard to remain independent, and not accuse Microsoft of the former.

There is little evidence to indicate that Red Hat would simply choose to not offer Fedora on ARM systems, and only on x86 machines. Fedora currently runs on a broad range of ARM systems and chipsets. All evidence points to Microsoft refusing to allow ARM signatures for Fedora, and Red Hat choosing a half-agreement for x86 PCs and tablets.

[...]

Regulators in the United States and European Union are taking another look at Windows RT. Sources report the primary reason being that, in general, consumers will not be able to differentiate between an ARM-based desktop and an Intel-based desktop computer.

If Microsoft accomplishes this two-processor approach, where x86-PCs will be allowed to run Linux, and ARM-PCs running Windows RT will not be allowed to run Linux, the results will likely be devastating to the Linux platform.

One thing Microsoft will achieve, if successful, is blocking users from migrating over to Android. Google has stated their intentions to unveil a unified Android-Chrome OS unification as a transcending operating system. Android 4.0, Ice Cream Sandwhich already makes significant improvements, aimed at making it a palatable desktop operating system.

PhoneNews.com can confirm that future versions of Android able to run native code on-par with Windows and OS X, and that the goal is a pressing matter inside Google. It's only a matter of time before Android enters the desktop operating system wars. If Microsoft is successful, it will be difficult to tell which Windows 8 RT computers can be migrated to Android, and the task will likely be too difficult for the average user to accomplish on their own.

With ARM-based desktops only likely to increase, the only way to migrate a Windows RT machine to Android, will be to drag it to the Recycle Bin. And that's the awful choice that Microsoft wants.
Microsoft must be very worried that manufacturers increasingly turn to Linux-powered operating systems (mostly Google's), so it is trying some subversive means to hack the market. At Microsoft, a delusion prevails that
Windows 95
hype can be reproduced for
Vista 8
. To quote the VAR Guy:
But 1995 was seventeen years ago — when Microsoft disrupted PC software rivals and Unix rivals, and defined the client-server age. Today, Microsoft is the market incumbent trying to find off cloud and on-premises rivals while the PC market delivers flat growth.
Microsoft is trying to subject 'Linux companies' to deals which favour Microsoft and in the process, in the case of Novell, it also polluted the kernel, Linux. It polluted OpenOffice.org as well, but that's the subject of the next post. Staying on the subject of the kernel,
Microsoft put "big boobs" it in
. Here is
some lengthy coverage about it
:
Geeks are known to be obsessive about things. At times that tendency can go overboard, resulting in them looking rather silly and foolish.

A classic case came to light a few days ago when Red Hat developer Matthew Garrett blew a fuse over what he characterised as "male childish humour".

Some background is needed: Garrett, once one of the more volatile developers in the Debian GNU/Linux project (he quit sometime back), has over the last few years taken up the cause of women in general. At times, his campaigning is on target; at others, like the instance that follows, he appears to be flailing at flies.
As usual
,
Network World
spins with
an apology from Microsoft
(
here it is being spun as an apology
).
Red Hat oughtn't come to depend on Microsoft. It doesn't need to; Microsoft just doesn't have the same leverage it once had. Red Hat made a mistake. It should have learned from Novell's death.
⬆
"Booming Steve Ballmer, Gates's number two, said the company had received an outpouring of mail from customers, much of it saying that the company was too arrogant."
--Barbarians Led by Bill Gates, a book composed
by the daughter of Microsoft's PR mogul