Los Medios de Comunicación Dominados por las Grandes Corporaciones Deberían Dejar de Pretender que el Personal de Microsoft son Ahora FOSS y Linux ¨Analistas¨
Dr. Roy Schestowitz

2016-01-14 23:42:01 UTC
Modified: 2016-01-15 12:22:02 UTC
Original/English
Publicado in FUD, GNU/Linux at 6:18 am por el Dr. Roy Schestowitz
Sacando a la luz el aberrante y engañoso modelo de los presentes Medios de Comunicación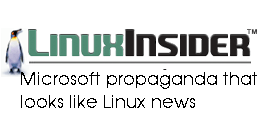 Summario: Un sitio llamado Linux Insider, que mucha gente asume ser un sitio de noticias de Linux, esta RELLENO de material HÓSTIL a Linux proveniente de personas asalariadas de Microsoft
El ¨cancer¨ (en la Red) que es IDG (dominante cubridor de tecnología en muchos lenguajes y usualmente atacando a GNU/Linux mientras al mismo tiempo ACEPTANDO DINERO de Microsoft y Apple) está oficialmente a la venta por contrato, pero al mismo tiempo vemos que no sólo sus ¨periodistas¨ pero también sus otros empleados (ejemplo IDC) están produciendo propaganda hóstil a FOSS. Esto tiene que acabar. Un montón de gente todavía se queja acerca Gale Gruman (incluso en nuestros canales IRC) por sus últimos ATAQUES ENGAÑOSOS GRATITOUS contra GNU/Linux, pero el problema es mucho más amplio que esto y hemos estado escribiendo acerca de ello por cási una década.
"Linux Insider ¨Propaganda de Microsoft que ´parece´ noticias de Linux¨."Richard Adhikari, quien por un número de años ha publicad muchas piezas anti-Linux (or anti-Android) como esta, usualmente alrededor de líneas como el tema de ¨seguridad¨, está hablando a Hilwa de Microsoft. Bueno, no es tán malo como hablar al trístemente célebre Enderle (lo que ECT hace frecuentemente, permitiéndole TIRAR BARRO A LOS COMPETIDORES DE MICROSOFT sin revelar sus lazos con Microsoft) (y también lo han hecho otros) Esta vez él ayuda a promover el marketing de Black Duck, una firma anti-FOSS que proviene de Microsoft. Para citar partes de esta pieza promocional de Adhikari, (PROMOVIENDO TEMOR A FOSS E INCREMENTAR las ventas de Black Duck):
¨Los containers han capturado la imaginación de los desarrolladores por que proveen convenientes paquetes para el desarrollo,¨ dijo Al Hilwa, un director de investigación en IDC. ¨Hemos estado esperándo una variedad de herramiéntas de desarrollo para agregar apoyo a containers, y en este contexto, tiene perfecto sentido ver líderes en scanning de código como Black Duck apoyar Docker containers,¨ dijo a LinuxInsider. [...] Herramientas de escáneo nos permite mayores seguras implementaciones, pero los desarrolladores todavía tienen que tomar acción, Hilwa de IDC dijo. La tecnología de código scanning es análoga a software para scanning de virues, continuó. ¨Un repositorio de metadata para vulnerabilidades o firmas tiene que ser mantenida, y el código es scaneado basado en esto.¨ Hilwa said. ¨The role of the software para scanning es para mantener esta metadata actualizada.¨
¿Sabe Adhikari de dónde proviene Black Duck? ¿Chequeó de dónde Al Hilwa viene? Esto fué publicado en un sitio llamado Linux Insider, (A todos nuestros GNU/Linux usuarios en España y LatinoAmérica urgimos NO desperdiciar so dinero y tiempo en sus publicaciones), pero es anti-Linux huevada PROMOVIENDO A UNA FIRMA CONNECTADA A MICROSOFT, usando puntos hablantes de un ¨ANALISTA¨ conectado a Microsoft. Demuestra mucho lo MAL que están los medios de comunicacion cuyos dueños son grandes CORPORACIONES. Agradescamos que Jack Germain todavía escribe por Linux Insider y a diferencia de Adhikari él no escribe artículos atacándo a GNU/Linux.
â–ˆ