It's really just a topological trick and it is barely unprecedented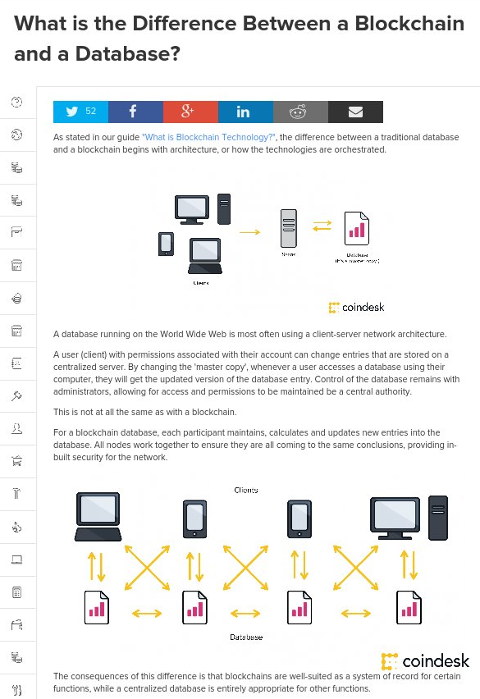 Reference: What is the Difference Between a Blockchain and a Database?
Summary: A lot of software patents are being declared invalid (or not granted in the first place); having said that, using all sorts of hype waves (like calling databases "blockchains") firms and individuals manage to still be granted software patents and sometimes patent trolls hoard these
T
ACKLING software patents is a process which takes
a lot
of time. There are many such patents out there and software patents aren't typically marked as such. At the
EPO
they keep coming up with new buzzwords and the
USPTO
allows software patents as long as their abstract nature is disguised somehow. Patent lawyers now make a career out of manipulating or fooling examiners. Examiners oughtn't find that amusing because it takes its toll on the reputation of examiners, not these mischievous law firms' reputation. The presumption of honesty just isn't there anymore. Closer and longer scrutiny of patent applications may be needed. We have said all this before, so rather than repeat ourselves let's look at examples from the past week's news.
The OSI's Simon Phipps was
a feature story/item in Linux Journal some days ago
. Here is the part about software patents:
Software patents represent one of several areas into which OSI has been expanding. Patents have long been a thorny issue for open source, because they have the potential to affect not only people who develop software, but also companies who merely run open-source software on their machines. They also can be like a snake in the grass; any software application can be infringing on an unknown patent.
OSI has been rather disappointing in the sense that it did virtually nothing on the subject; to be fair, that's not a unique problem because the Linux Foundation, OIN and others are equally culpable. How can they keep promoting Free software (which they misname "Open Source") without talking about the perils of software patents? The FSF is perhaps the exception here; it still habitually talks about such issues. We'll come to that in a second, in the context of the Linux Foundation in particular.
There's good news however. Each year that goes by we generally see
Alice
getting further entrenched in the system. Last year, for example, the high patent court (CAFC) accepted virtually no software patents. We've mentioned this many times so far this year. It doesn't mean that workarounds do not exist or cannot be exploited. "Over the Internet" patents, for example, are one common trick for disguising software patents -- a subject we've been writing about for approximately 8 years. Thankfully, such patents
too
are
still
being rejected by courts. Here is an
example
which is only days old. In this particular case the court rejected an "over the Internet" patent under
Alice
/Section 101. Here's the relevant part:
A Federal Court has granted SemaConnect's motion to dismiss a patent infringement lawsuit filed by ChargePoint. The suit, filed in December, accused SemaConnect of infringing four of ChargePoint's patents for technology to connect electric vehicle charging stations to the internet. In a 70-page opinion, U.S. District Judge Marvin J. Garbis agreed with SemaConnect's assertion that there was no infringement. Additionally, the court held that the claims brought by ChargePoint were little more than abstract ideas and did not, therefore, qualify for patent protection under the U.S. Supreme Court's "Alice" opinion (2014), which established standards for software-related patents.
Another day goes by and yet another invalid(ated) software patent shows up in the news, this time in
Morris Reese v Sprint Nextel Corporation et al
. To be fair, it wasn't "in the news" per se but there was a
Docket Report
from Docket Navigator and it said this:
The court granted defendants' motion to dismiss because the asserted claims of plaintiff's caller ID patent encompassed unpatentable subject matter and found that the claims were directed toward an abstract idea.
About a decade ago
we showed how a caller ID patent literally destroyed an 'app' and took it offline
. Probably for good! All it took was a bunch of threats of litigation. That was many years before
Alice
, but still, the cost of litigation for indie developers (even if they win the case) is far too high. Maybe PTAB is almost affordable, but the cost of IPRs rose some months back. Whatever eliminates all software patents would be a godsend to developers. How about software patents on things like databases? Is it enough to call these something like "blockchain" to ride a hype wave which is certainly out of control these days? Watch sci-fi-like headlines, e.g.
"Blockchain in Space"
the other day. There are perhaps
thousands
of articles about something "blockchain" or "blockchainy" things every week. Here's a new one about the
Linux Foundation's Hyperledger project
, courtesy of the Linux Foundation itself. Behind this project there are companies with varying policies, but the main one is IBM, which is hoarding software patents on blockchains. We wrote about this before. Do not expect the Linux Foundation to ever bring up the subject, let alone criticise such patents. Speaking of IBM, which gradually turns into more of a patent troll and feeds patent trolls (we
wrote about that last night
), another one like it is
BlackBerry
. From market dominance it came to trolling. Market penetration grinds to a halt and all they're left with is a massive pile of patents. Just before the weekend the Canadian media published
"Has BlackBerry become a 'patent troll'? Not quite, says Ottawa researcher"
(this is their headline). It's a white-washing, damage-controlling piece. Has BlackBerry become a 'patent troll'? We'd say not yet, or not fully (yet). But it's getting there. People are noticing the trend. BlackBerry nowadays uses broad software patents -- not hardware patents -- to go after companies that do not even make phones but merely develop applications for chatting. The
Financial Post
(Canada) doesn't seem to mind software patents. A few days ago it published
this nonsense
titled
"From blockchain to augmented reality, Canada's big banks aim to patent the future of finance"
(several buzzwords/hype waves in there, including "blockchain" again). To quote:
These are just some of the ideas Canadian banks have been envisioning in public patent filings, which lenders have increasingly made in recent years as banking becomes more and more dependent on technology.

Toronto-Dominion Bank, for example, used to file around one patent application a year. But after ramping up its strategy about five years ago, it now files about 40 to 50 applications annually, according to Josh Death, associate vice president, legal, intellectual property and patentable innovation at TD.
We have been writing about the "blockchain" hype for at least 2 years now, exclusively in relation to patents on blockchains. We're sad to see it spreading even to Europe. Remember that these are all software patents, basically disguised as "blockchain" because it makes these sound innovative and exciting. Many patent examiners aren't familiar with the underlying concepts, which aren't even particularly complicated. Consider this
new press release
titled
"ZK International Ready to Implement Patent Pending Software, IoTs and Blockchain Technologies into its Manufacturing Process and Supply Chain Management System"
and scroll down to the part which says "to implement its patent pending software and blockchain technologies" as if they openly reveal that it's about software. Why would the US patent office grant a patent on such a thing? Why on Earth does EPO grant patents like these as well?
Several days ago we saw articles like
this one
:
Nchain to Offer Smart Contract Patents Exclusively to the Bitcoin Cash Community



[...]

According to the blockchain firm Nchain and its CEO Jimmy Nguyen, the company has secured its first approved patent recognized by the European Patent Office. The patent involves an invention that provides a method for an automated management and blockchain-enforced smart contracts.
This was preceded by
this
, wherein it was revealed that the EPO had been granting software patents disguised as "blockchain". This is a disgrace. To quote:
London-based nChain, a company involved in research and development of blockchain technologies, has announced that it has registered its first patent (#EP3257191) successfully with the European Patent Office (EPO). The patent , granted on April 11, 2018, is for a registry and automated management method for blockchain-enforced smart contracts. nChain has confirmed that it would use technological advancement for the growth of Bitcoin Cash.

The patent titled "A method and system for securing computer software using a distributed hash table and a blockchain" explains a technique that can be applied to any content, including music, video, and even PDF files) with an executable phase. The blockchain will guarantee that a party which possess a valid license gains access to the content. According to nChain, the invention can be deployed by content producers and rights holders to more efficiently perform digital rights management.
European Patent Office patent number EP3257191 shows that the EPO now grants software patents that are disguised using a hype wave, "blockchain". Here is the corresponding press release [
1
,
2
]. "The patent," it says, "European Patent Office number EP3257191 - is entitled "A method and system for securing computer software using a distributed hash table and a blockchain"."
When we brought it up half a week ago the FFII's President
wrote
: "And after that blockchain patent, the EPO will still claim it does not grant software patents?"
"Software patents at the EPO [are] not even disguised as such anymore (or very thinly)," I responded to him. Other people too have noticed that since. Slide in quality of patents at the EPO, including software patents, is being noticed. One person
wrote about it in German
: "Jetzt kann man - überspitzt formuliert - seine #Blockchain beim @EPOorg patentieren lassen... WTF? So werden #Softwarepatente durch die Hintertür erteilt! #swpat // @FFII @zoobab https://www.prnewswire.com/news-releases/nchain-receives-first-patent-grant-for-blockchain-enforced-smart-contract-invention-300628007.html …"
In the next post we'll give some more examples of software patents at the EPO. This is not acceptable and it actually puts European software innovation at peril.
⬆