Linspire Should Be Avoided in 2021 Just Like It Was Avoided 14 Years Ago
Dr. Roy Schestowitz

2021-07-31 14:42:42 UTC
Modified: 2021-07-31 14:45:24 UTC
Video download link | md5sum ab5b8a4ae65a514a3fdcc1898424c8e0
[video width=480 height=340 webm="http://techrights.org/videos/linspire-got-even-worse.webm" poster="http://techrights.org/videos/linspire-got-even-worse.gif"][/video]
Summary: The brand "Linspire" was brought back, but the agenda seems to be more or less the same, namely pushing proprietary software and serving Microsoft's commercial agenda (in 'Linux' clothing)
FOURTEEN years ago we called for a boycott of Linspire for its patent collusion with Microsoft. The same happened with Xandros, which would buy Linspire and temporarily push Freespire. That failed just like Novell and Turbolinux. Where are they today? Nowhere! Making alliances with Microsoft always leads to major blunders... and eventually commercial failure.
"That failed just like Novell and Turbolinux."Well, the name "Linspire" has been repurposed. A few years ago this strange comeback was noticed with a worrisome slant -- a Microsoft-centric "Linspire", pushing Microsoft vendor lock-in, surveillance etc.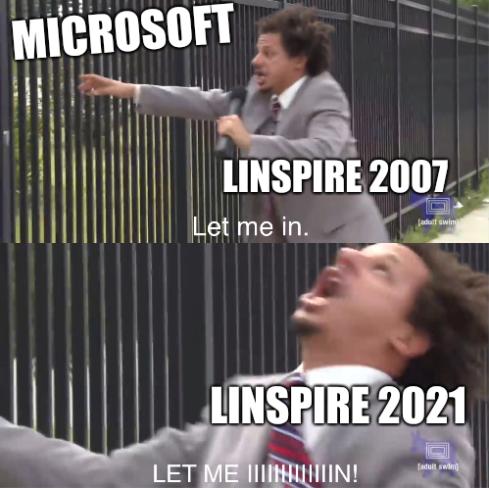 Trying the same thing all over again is assurance of failure
Not much has changed since then. Below we add two new links [1,2] (
comments here
; it's boosted
by Microsoft boosters
who
simultaneously promote other attacks on GNU/Linux
) showing Linspire/Xandros as boosters of monopolies and surveillance, not just by Microsoft but also Google. That's missing the whole point of GNU/Linux, pushing some sort of Microsoft-centric ChromeOS instead. They push Microsoft proprietary software out of the box ("With the Office 365 edition Bing will also be the default homepage and the default search engine in Google Chrome") and brag about
selling
this. Whose agenda is served here? The issue is discussed in the video above.
⬆
______
What started off as Lindows twenty years ago as an easy-to-use Linux-based operating system with great Wine integration and easy application support but then changed to Linspire following a Microsoft lawsuit has had quite a journey. PC/OpenSystems LLC revived Linspire after a multi-year gap following the closure of Xandros and since then it's been a rather peculiar platform. Today they are now shifting focus once again.





For the past year we have internally at PC/OpenSystems LLC launched a project called CLOUD9. The aim of this project was to create an OS that utilized cloud apps in replacement of traditional desktop applications. Some of those manifested themselves into Xandros Cloud but we wanted to bring that to all of our desktop users. Some of the efforts were successful (Xandros Cloud Office 365 was our best seller for our education customers and some of our enterprise customers) But we wanted to make the best Cloud centric OS that we could.

[...]

Xandros OpenDesktop 2021 will come in two flavors. Standard Edition with all the Google services preinstalled and Office 365 edition which will utilize Microsofts web services. With the Office 365 edition Bing will also be the default homepage and the default search engine in Google Chrome. Both will ship with .NET Core, Powershell and Visual Studios Code. Local apps will include, Chrome, Video Player, Rhythmbox, games, Shotwell and Krita for image editing. Both editions of Xandros OpenDesktop will also include all the proprietary media codecs and DVD/Blu-Ray support