01.19.09
Gemini version available ♊︎
"My message to the patent world is: Either get back to the doctrines of forces of nature or face the elimination of your system." —Hartmut Pilch, Paraflows 06
Acacia, a highly active patent troll that attacked Free software [1, 2, 3, 4, 5, 6, 7, 8, 9, 10, 11], has just found a new creature to bite. Dell is paying Acacia some 'protection money'.
Acacia Research Corporation (Nasdaq: ACTG) announced today that its subsidiary, International Printer Corporation, has entered into a settlement and license agreement with Dell Inc. (Nasdaq: DELL) covering a patent portfolio that relates to networkable multifunction printer technology. This agreement resolves patent litigation that was pending in the United States District Court for the Eastern District of Texas against Dell. International Printer Corporation has also entered into a license agreement with Lexmark International, Inc. (NYSE: LXK) covering the same technology portfolio.
This is very disturbing because any conceivable idea that's implemented in software seems to be assigned to someone. Even if the patent is not granted to a patent troll it can easily have its ownership passed. Patents, i.e. ideas, can be bought and sold, which may seem bizarre to outsider. It makes harvesting of imaginary property (or "bubbles") possible and even trivial.
Here is another patent troll getting its way:
Global IP network operator Global Crossing has settled a patent suit relating to interactive voice applications with Ronald A Katz Technology Licensing.
It delivers a dangerous message to the world when these musketeers get their way. It demonstrates that patents abuse pays off; it pays, literally.
One reader has just found another genuine, yet horrible, software patent. Even online dating sites are now a patent minefield. (mind emphasis)
The site and its powerful tools are ideal for all types of single parents who want to give online dating a try. The site allows members to remain completely anonymous and safeguards all personal information, letting members flirt and interact freely through the use of their patented technology. They can use comprehensive search tools to find others. Followed then by chats, messaging and or the VOIP phone and anonymous text messaging service to get the conversation started.
Virtual world too have patents assigned to them, which is rather absurd because they are in many ways analogous to real world situations.
$50,000 Reward Offered For Proof Worlds.Com Patent Lawsuit Is Bogus

Virtual worlds — or more broadly, 3D online spaces — have been around for a long time. But last month, worlds.com hired lawyers to enforce a patent for the idea, claiming they invented the concept back in 1995. The first target for lawsuits: NCSoft, the Korean company behind games like World of Warcraft-wannabe "Guild Wars."
There are many people who want to see the end of this madness. In fact, an entire conference is intended to address the issue of patent reforms.
CONFERENCE ON PATENT REFORMS

26 and 27 March 2009

On 26 and 27 March 2009, TILEC – Tilburg Law and Economics Center – hosts an international Conference on Patent Reforms in Hotel Krasnapolsky, Amsterdam. The conference features internationally renowned speakers and intends to foster discussion on patents, innovation and competition policy between lawyers, economists and practitioners.
How long can a crazy patent system last? Too many people have begun realising what's going on, so this scam may be short lived. █
"Staff at the European Patent Office went on strike accusing the organization of corruption: specifically, stretching the standards for patents in order to make more money.
"One of the ways that the EPO has done this is by issuing software patents in defiance of the treaty that set it up."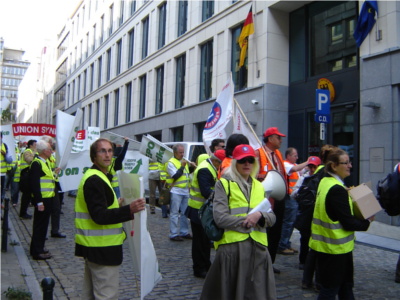 Permalink
Send this to a friend