03.14.13
Gemini version available ♊︎
Some proprietary software giants are ganging up against Android/Linux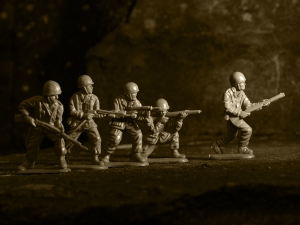 Summary: Some news of interest about patents and lawsuits that target Google and Android in particular
The patent war on Linux/Android, by far the leader of the mobile pack, is led by a bunch of proprietary software giants, one of which is Apple. Here is some interesting news that we overlooked earlier this month:
Apple Inc. (AAPL) urged a federal judge to dismiss a consumer lawsuit alleging the company maintains a monopoly over iPhone applications.

Attorneys who filed the suit in 2011 claim that a monopoly exists because an iPhone user who doesn't want to pay what developers charge for applications available through Apple's App Store can't go anywhere else to buy them. Apple requires iPhone software developers to turn over 30 percent of what they charge for an application, increasing prices and excluding competitors from the iPhone "aftermarket" of applications, they claim.

Samsung Electronics Co. (005930) has doubled mobile-phone sales in the U.S. since 2008. As the company faces anti-dumping measures and a protracted court battle with Apple Inc. (AAPL), its U.S. lobbying bill is growing even faster.
Samsung boosted spending on lobbyists to $900,000 last year from $150,000 in 2011 as it tries to influence the federal government on issues ranging from intellectual-property infringement to telecommunications infrastructure, regulatory filings show. The company also hired Sony Corp. veteran Joel Wiginton to run a new government-relations office in Washington.
In other news, Microsoft too keeps up the pressure. Here is a report about it:
With that in mind, now take a look at the arguments Microsoft raises to try to rob Motorola of a jury trial. This litigation began as two cases. Microsoft started it by filing a breach of contract case in Seattle, this very one, #1823 [PDF], alleging that Motorola was breaching its contractual FRAND obligations by asking for too much for its patents. Then Motorola filed a defensive patent infringement action in Wisconsin, asking for a jury trial, and Microsoft answered with counterclaims that pretty much matched its breach of contract claims in Seattle. Then the two cases got consolidated. It's actually a bit more complicated, but that's the important part.

It wasn't Motorola that wanted to consolidate in Seattle. It filed in Wisconsin after Microsoft filed in Seattle, so it was hoping against hope not to end up with everything being decided there. Nobody wants to go against Microsoft in its own backyard, I think we may assume. And watching this case unfold, I think you can see why. You can read the judge's history of how it all happened in this order, #66 [PDF], which issued on May 31, 2011. In it, the judge notes that when Microsoft filed its answer to Motorola's patent infringement claims, it filed more or less the same breach of contract issues as in its own contract case, and that's why the judge in Wisconsin pushed them together into one case. And there they are.

Somewhere in that process of consolidation, Microsoft seems to think it has caught Motorola having dropped a stitch with respect to asking for a jury trial. Motorola wants a jury trial, and Microsoft doesn't and Microsoft thinks it's found a way to say it's too late to ask for it now.
Google, in response to some of these dubious lawsuits, encourages companies to take action:
Google encourages companies to work together on patent licensing to stop patent trolls

Google has recently been taking a hard line on the US patent system, claiming that it over-rewards the work of coming up with an idea while taxing those who do the work of actually implementing it. The company also takes issue with excessive patent litigation from so-called "patent trolls," and now Google is encouraging companies to work together to cross-license patents to help cut down on frivolous lawsuits. On a new site that Google launched today, the company outlines four different, royalty-free patent licensing agreements that it believes will help protect participants from patent trolls.
The royalty-free patent licensing, or elimination of patents, is imperative for the freedom of Free/libre software.
Here is evidence of Google's hypocrisy when it comes to patents and here is a new article from Glyn Moody, who says that Microsoft is arming in alarming ways:
If Microsoft Shuts Down Google Maps In Germany, How Does That Benefit The Public?

[...]

As the claims make clear, it's exactly what any half-way competent engineer would come up with given the task of providing certain kinds of information local to a geographical location. Moreover, it is of course implemented in software; given that Article 52 of the European Patent Convention explicitly excludes "programs for computers" from patentability, the fact that the EPO granted a patent here is an early example of how it circumvented that exclusion because a computer was used to run that software (well, doh.)
This is an example of rogue elements in the patent system.
Joe Mullin, a patent trolls expert, highlights this lawsuit over GUI, i.e. a software patent or design.
A patent appeals court has revived (PDF) one of the nation's most controversial patent lawsuits—one that looked to be over in January 2012. Originally filed in 2007, Move, Inc. v. Real Estate Alliance Ltd. involves a patent that has become infamous in real estate circles: US Patent No. 5,032,989, issued to Mark Tornetta back in 1991. Tornetta and his lawyers say the patent covers just about any use of a real estate map online that has a "graphical interface" and "drill-down features." Since online maps are ubiquitous in the real estate market, Tornetta and his lawyers believe they're owed money by just about every real estate agent or service in the nation.
"It is a very broad-based patent," said Louis Solomon, the attorney representing Tornetta. "We are seeking reasonable royalties that conservatively run into the hundreds of millions, plus interest. Given that the Federal Circuit has significantly expanded the liable parties, the damages will go up significantly."
Litigation involving the '989 patent began back in 1998 when inventor Mark Tornetta sued Microsoft, which at that time owned HomeAdvisor. Tornetta sued MapQuest that same year. Ultimately, he had to drop both lawsuits because he didn't have the money to see the cases through.
Here is some new commentary about GUI patents in relation to Apple and Samsung:
The recent Apple v. Samsung litigation has consumed the media since August when a California Jury awarded Apple more than $1 billion for infringement. Of the three design patents involved in that judgment, one was for a graphical user interface (GUI). This landmark case is the first time that a U.S. court has considered infringement of a GUI design patent and may be just the tip of the iceberg beginning to emerge within the design patent landscape.
We are living in a time when everything from design to code — which copyrights already cover — are monopolised as concepts, not implementation. Google is rightly worried about it because everyone seems to be aiming at Android. Since Android is an Open Source project (whose head, Mr. Rubin, has just stopped down), it is not compatible with patents. The cartel of proprietary software companies is aware of it, hence the clear strategy that seeks to exploit FRAND and simply tax everything Android. It's a case of patent stacking and it's a collusion that should be ruled illegal. More people should speak out about it. █
Permalink
Send this to a friend