11.22.13
Gemini version available ♊︎
Apparatus of espionage and vandalism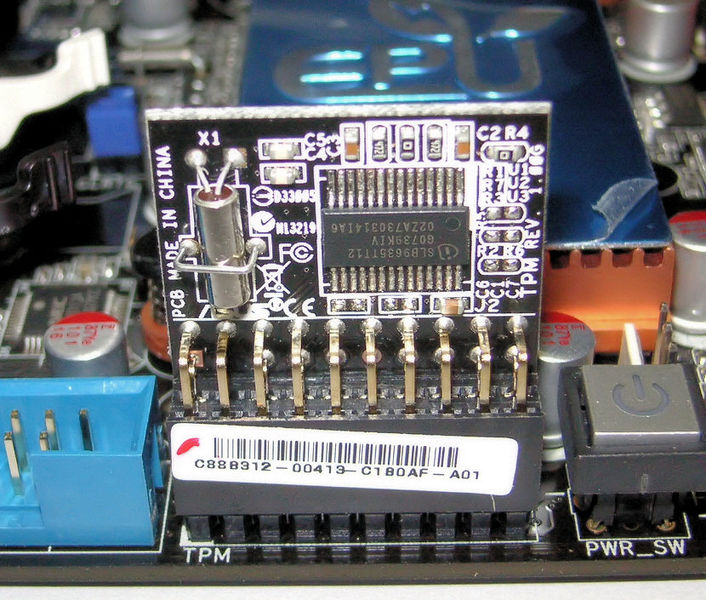 TPM module inside a computer
Summary: The NSA may not have managed to persuade Torvalds to put back doors in Linux, but Microsoft is just too eager to put more and more remote controls (UEFI, TPM, zero-day vulnerabilities, etc.) as new releases of Windows arrive
A REASONABLY SHORT WHILE back Kaspersky spoke about issues like the Stuxnet-ready Windows causing disasters in nuclear Russian facilities, not just nuclear Iranian facilities. The Russian press denied it, but based on translations we got shown by readers, this denial was rather weak. Concurrently there was FUD in some media channels trying to blame GNU/Linux for Stuxnet-type issues. Here is an update on this whole misinformation campaign: "Using the International Space Station as an example of an isolated critical infrastructure, Kaspersky pointed out that despite being in space, it is still vulnerable to attack. In fact, on a number of occasions over the years the orbiting outpost's computers have become infected by malware.
""Scientists, from time to time, are coming to space with USBs which are infected. I'm not kidding," he said. "I was talking to Russian space guys and they said 'yes, from time to time there are virus epidemics in the space station.'""
All the above issues are the fault of the NSA-made Microsoft Windows (Microsoft and the NSA work on Windows together) and it should not be shocking that Vista 8 makes things even worse. As Steven J. Vaughan-Nichols put it the other day, "Windows 8 and TMP [are] said to combine to permit NSA spying on our computers" (as expected, but TMP is a typo).
Techrighs wrote a lot about Trusted Platform Module (TPM) in the past. The notion and implementation is being steered and promoted by large companies with software patents and connections to government spies, so we can pretty much guess who it serves. As Vaughan-Nichols puts it: "The Microsoft fan club is up in arms. Those reports about Windows 8 allowing the government to spy on us? Nonsense, they fuss. It's simply not true that Windows 8 combines with Trusted Platform Module (TPM) to create a built-in back door for surveillance by the National Security Agency (NSA).
"No, no, they whine, the German newspaper Die Zeit had it all wrong when it claimed that the combination of TPM 2.0 and Windows 8.x (German-language article) gives Microsoft complete control over which programs can and can't run, plus access to Windows BitLocker encryption, and the ability to remotely administer devices beyond a user's control."
It is clear, however, what Windows is really for, at least from the NSA's perspective. It's a Trojan horse. We should treat it as such. █
Permalink
Send this to a friend