12.07.15
Gemini version available ♊︎
These are Microsoft's own words (click to see the original PDF):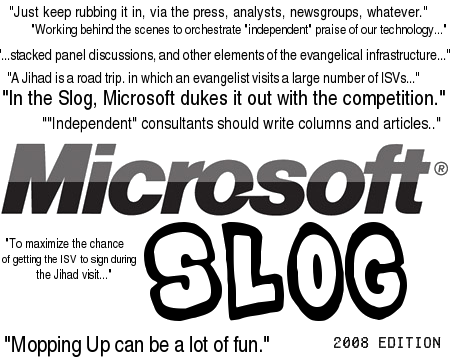 Summary: Just as in the case of privacy and standards (or interoperability), Microsoft pretends that its bad behaviour can be combated by creation of mere publicity stunts, this time a so-called 'antitrust compliance office'
Microsoft has a long history of competition crimes when it comes to Web browsers. The uninitiated should read the Netscape case petition (included in Comes vs Microsoft case) and maybe recall some articles we wrote some years ago, such as:
Microsoft's excuses at the time were remarkable. Nowadays, at work, I am seeing more and more sites that 'break' due to Microsoft's 'new' and 'improved' browsers, which mostly mean that a lot of Web developers need to find new hacks and 'adapt' to bugs in Internet Explorer and its attempted rebrand, "Edge" (total rubbish based on what I've been hearing). It's the same old Microsoft, begging for attention even by openwashing its proprietary browser (by publishing code of some small pieces of it) and rebranding, changing the logo just a mild little bit. How else to get attention? Pretense of security.
"Microsoft has a long history of competition crimes when it comes to Web browsers.""MICROSOFT is giving Internet Explorer users a few weeks to upgrade their browser or become vulnerable to cyber attacks," says this nonsensical article. Prior to it we saw even Microsoft Zack spreading the same kind of Microsoft nonsense. It's truly nonsense as everyone who currently uses Windows is permanently exposed. Security is not the goal at all. Microsoft tells spies how to crack Windows before even patching flaws (and some consciously remain unpatched for many months if not years). Microsoft's marketing people are putting their browser in the headlines again, using lame excuses.
"It's not over until after the furniture is sold and the former employees fined as well."
–iophkMicrosoft, based on this new report, gets away with competition crimes again, appeasing people who lost from this behaviour, having just come up with the "antitrust compliance office" PR.
To quote IDG: "Microsoft on Friday told shareholders that it has settled a lawsuit brought last year against former CEOs Steve Ballmer and Bill Gates, the company's board of directors and other top executives over a $732 million fine that European Union antitrust regulators slapped on the firm in 2013.
"As part of the settlement, Microsoft will set aside $42.5 million to fund an antitrust compliance office for the next five years, and pay the plaintiffs' lawyers at least $7.3 million, according to court documents and a Friday filing with the U.S. Securities and Exchange Commission (SEC)."
Here is a good part of the article, serving to show Microsoft's rather unique attitude:
EU regulators were not amused, and fined Microsoft to the tune of $732 million. "This is the first time we have seen a breech of a legally binding commitment," said Joaquin Almunia, then the European Commission's top antitrust official, in March 2013 when he announced the fine. "This is, of course, serious, whether it was intentional or not."
Our reader iophk said: "It's not over until after the furniture is sold and the former employees fined as well." Well, companies like Microsoft — much like the EPO — believe they are above the law and act accordingly. █
"Life — the way it really is — is a battle not between bad and good but between bad and worse."
–Joseph Brodsky
Permalink
Send this to a friend