10.06.08
Gemini version available ♊︎
Interesting times. The USPT-Oh! might soon implode…
Just the other day, we wrote about IAM's concern over the backlash that's developing and spreading. Now it publishes an entire issue which is focused on Patent Failure.
New IAM focuses on Bessen and Meurer's Patent Failure

The new issue of IAM is now available on-line to the magazine's subscribers. The cover story focuses on Patent Failure: How Judges, Bureaucrats and Lawyers Put Innovators at Risk. Written by James Bessen and Michael Meurer, the book has attracted a great deal of attention across the world because of its central message; namely, that the US patent system is failing to incentivise innovation and, in fact, is actually acting as a disincentive to the inventive process.
There are many reasons for those with vested interests in patents to be concerned. The India press has just gone on the offense as well, criticising the very notion of software patentability. It's part of an ongoing revolt [1, 2, 3, 4, 5, 6, 7, 8, 9, 10, 11] in which Microsoft is involved too (it files applications for software patents over there, even though it's against the law).
Living up to its status as the country's Information Technology (IT) capital, Bangalore played host to a different kind of "software lobby" here on Saturday.

Unlike most lobbies, this one had no vested interests and no hard-line agenda. In a bid to raise awareness about software patenting and generate a debate among stakeholders, the Free Software community from across the country participated in a national-level meeting against software patents.
Digital Majority has the translation of an article that voices similar concerns.
But so far everyone is still trying to reform individual egoism failed, criticized the EU representative Jens Gaster: "We have the egoism of national patent and trademark offices. About half of the patent and trademark offices have too little money and too little work. We have the interests of the European Patent Office and European Patent Organization, which wants to remain autonomous.
Can the EPO ever stand for quality again? Or will it see its status further exacerbated at the hands of the McCreevies of the world [1, 2]? █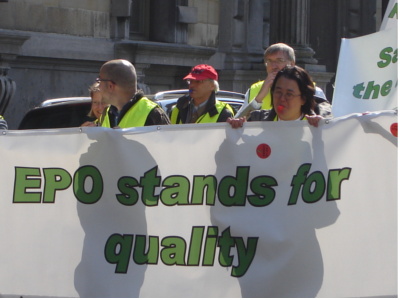 Permalink

Send this to a friend