10.28.10
Gemini version available ♊︎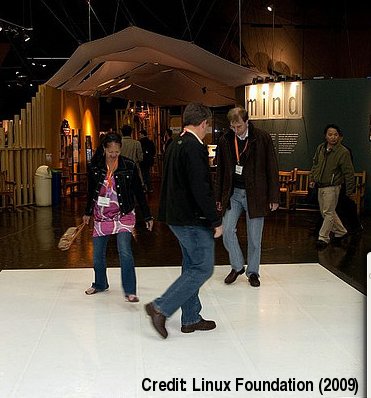 Collaboration Summit/ELC Joint Reception. Markus Rex is on the right.
Summary: New interviews from the OpenSUSE Conference reveal some interesting thoughts on the subject OpenSUSE would rather avoid discussing
There is an OpenSUSE Conference (OSC) going on [1, 2, 3]. Emerging from the meetup we have this group photo (Andreas Jaeger, who was in OSC, published it) and some other stuff like this:
Before and during the openSUSE conference, some nice people (Jens-Daniel, Jürgen, Darix) created the following site for you:

http://rtfm.opensuse.org
Gareth Halfacree spoke to Henne Vogelsang, the project manager of the "OpenSUSE Boosters" and he also spoke to Markus Rex, who preferred not to speak about the EMC/VMB_ware takeover, which still seems inevitable (latest reports suggest only price is being negotiated). From the interview:
Markus Rex, Novell's general manager for open platform solutions, was first to the plate and told us clearly that the company had no new comments to make about its somewhat uncertain future. Discussing what he called "the big elephant in the room," which is to say the rumours of a planned buyout of Novell, Rex explained that Novell's board of directors, "is evaluating its various options, and that has not changed – and had that changed, you would know."
In other news from OpenSUSE (there is not much anymore), OpenSUSE 11.1 already reaches its end of life, Project Bretzn is conceived, and there is this OpenSUSE "Cheat Cube". Too bad the OpenSUSE community is too reluctant to 'cheat' on Novell by forking and becoming independent.
Groklaw continues to organise material from the Novell vs SCO case [1, 2] and it is important to know what happens to Novell because UNIX rights too are expected to be sold. █
Permalink

Send this to a friend