03.28.12
Gemini version available ♊︎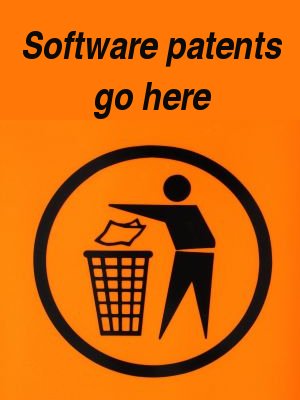 Summary: A roundup of press coverage on the subject of software patents and reasons for optimism
THE software patents backlash surely will increase as we see more and more patent trolls doing what they do best: sue en masse.
According to this article, entire cities are now the target of some patent trolls with software patents (there is a proven correlation between the two):
The crisis that is the American software patent system has reached a tipping point. It's no longer just established companies who are being hit with frivolous lawsuits, it's startups as well. And in a new twist, American cities that are already strapped for cash are getting the shakedown from patent trolls.
Another writer explains why software patents are problematic. To quote:
YAHOO has recently gone to court. Its case: a software patent claim against Facebook, a distinctly profitable social network on the cusp of floatation and at the very centre of the social web. Yahoo was once the Internet's most profitable search engine, an original dotcom boomer from a time when people said "cyberspace" and meant it. Hard times have lead them to pursue a claim that Facebook have been abusing Yahoo's techniques for serving targeted advertising to users.

Software patents have been at the centre of some heavyweight industrial disputes over the last few months, though the patents themselves can seem rather insignificant. Apple is currently locked in battle with Motorola, Samsung and other phone manufacturers, with one recently settled case being to do with code for zooming in to photos. Samsung is suing Apple right back, claiming they infringe a patent that deals with displaying text messages.

To be granted a patent, you must have a concrete invention, not an idea. Is a computer program an idea or a patentable process? Does our patent apply to the description of the process, the code written by a human, or the low-level instructions generated by the machine? Can we enforce a patented procedure across programming languages, across computers with fundamentally different modes of operation? Questions like these highlight the inherent difficulties in patenting pure information.
We still find it disheartening that patent trolls are being whitewashed by the media. Here is a new example of Australian press propaganda, where a patent troll gets called "innovator" instead of "troll". They put it like a fairy tale, which it's not, even if Microsoft is the defendant in this case [1, 2, 3, 4, 5, 6, 7, 8, 9, 10, 11, 12]. The Australian patent maximalists also do this in other sites, Here is the new article titled "LBT Innovations: international patent applications to bolster commercial prospects". Contrariwise, another site says that "sharing patents encourages innovation" (although the notion of "sharing" monopolies is odd). To quote the analysis:
Instead of preventing competitors from infringing on their patents with costly litigation, business researchers now say that patent holders can often profit even more by free-licensing their patents to competitors.
The reality tends to upset patent lawyers, such as Lundberg. To them, all that matters is their own interests. As this new piece puts it, "patent lawyers are clueless about the software industry." The outspoken promoter of software patents (a patent lawyer, Lundberg) is having his message debunked:
A major reason for the recent explosion of patent litigation is that it's hard for software firms to figure out which patents they're in danger of infringing. There are hundreds of thousands of software patents in existence, with more than 40,000 new ones issued each year. Indeed, in a recent paper, Christina Mulligan and I estimated that it's effectively impossible for all software-producing firms to do the legal research, known as a "freedom-to-operate" (FTO) search, required to avoid infringing software patents–there simply aren't enough patent attorneys to do the work. That's a major reason why most software firms simply ignore the patent system.

[...]

So why is Lundberg so oblivious to the realities of the software industry? Julian wrote on Wednesday about peoples' tendency to extrapolate from their own experiences. Lundberg's post is not an accurate description of the software industry as a whole, but it probably is an accurate description of the parts of the software industry he sees on a regular basis. By definition, Lundberg's clients are drawn disproportionately from the minority of software firms with the resources and infrastructure to effectively navigate the patent system. This means he rarely interacts with the vast majority of software-producing firms who only deal with the patent system when they are forced to do so by an unexpected cease-and-desist letter.
Consider, for example, the patent troll Lodsys, which began extorting money from small app developers last year. For the small firms targeted by Lodsys, the rational thing to do is to pay the money Lodsys demands whether or not the target believes he's actually guilty. That's because the legal costs of defending against a patent lawsuit is likely to vastly exceed the amount of money Lodsys is demanding. But because many targets of frivolous patent threats settle their cases quickly, guys like Lundberg rarely interact with them. In other words, Lundberg works with the patent system's winners on a daily basis, but he rarely interacts with the system's losers, even though there are many more of them.

As a result, there's a deep and persistent rift between the community of computer programmers, who are overwhelmingly hostile to software patents, and patent lawyers who seem mystified by all the outrage. The job of a patent lawyer gives him a systematically skewed understanding of how the patent system affects the software industry.
This debate was never about reason, not when it's dominated or monopolised by panels of lawyers. We previously mentioned how even Google was getting occupied by lawyers, especially in light of cases like this one. Google might not be doing evil, but why can it not do good? Why can it not help end software patents? Right now there is a legal case that can help eliminate software patents in the US and while Red Hat addresses the subject, Google does not. Google is too busy indexing patents, which only helps the very same system that harms Android. Groklaw brings us the latest from this important case:
As Dennis Crouch of Patently O earlier predicted, the world-changing Mayo v. Prometheus decision by the US Supreme Court is already impacting the other case regarding gene patents, Myriad Genetics. Today, the Supreme Court vacated and remanded [PDF] the case back to the Federal Circuit, telling it to take another look and come up with a ruling in harmony with their Mayo decision:

ASSN. FOR MOLECULAR PATHOLOGY V. MYRIAD GENETICS, ET AL.

The petition for a writ of certiorari is granted. The judgment is vacated, and the case is remanded to the United States Court of Appeals for the Federal Circuit for further consideration in light of Mayo Collaborative Services v. Prometheus Laboratories, Inc., 566 U.S. ___ (2012)
Techrights will keep track of this case because the #1 priority right now is to eliminate software patents, which can in turn guarantee the triumph or at very least safety of Free software. █
Permalink

Send this to a friend