12.13.16
Gemini version available ♊︎
Battistelli loves to carry out his abuses through London, where Team Battistelli now has an extensive operation more sophisticated than the Mafia's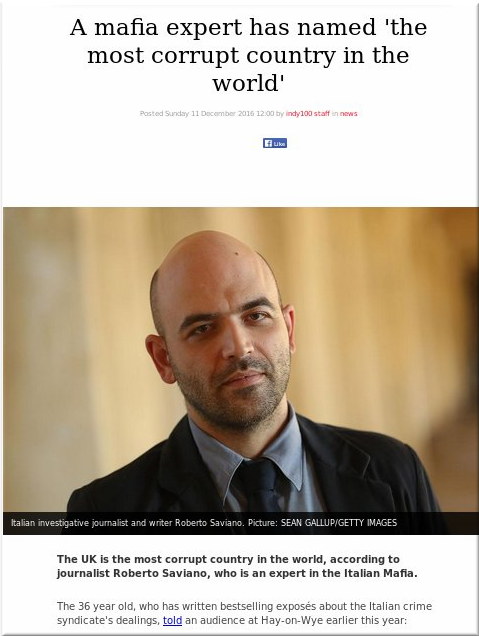 Reference: An article published earlier this week
Summary: The culture of bullying inside the EPO has expanded even to the UK with lobbying, threats, lies, and surveillance by peripheral agents such as PwC, FTI Consulting, Fieldfisher, Wellkom and Control Risks
TRUTH is treason at today's EPO. That's especially alarming because the EPO is supposed to be an institution of science occupied by scientists and serving scientists, to whom truth is paramount, not just justice.
Earlier this year, just in time for the previous Administrative Council's meeting, Team Battistelli had PwC paid generously in order to disseminate a lot of lies. We wrote about these in the following posts:
Considering the business that PwC is in, an attack on truth itself is a serious violation of trust if not violation of law. It would be interesting to see if some PwC executives even get arrested for their sheer dishonesty. A few months ago some of the offending IP addresses hammering on our servers (a growing problem this year [1, 2, 3]) actually came from PwC's network and today we see this report titled "PwC sends 'cease and desist' letters to researchers who found critical flaw," which is rather ironic after what PwC did to our servers. To quote:
A security research firm has released details of a "critical" flaw in a security tool, despite being threatened with legal threats.

Munich-based ESNC published a security advisory last week detailing how a remotely exploitable bug in a security tool, developed by auditing and tax giant PwC, could allow an attacker to gain unauthorized access to an affected SAP system.
So PwC turns out to be managed by bullies, just like the EPO, which also sent us numerous legal threats. Whatever they have in common, it probably ought to include megalomania and lack of ethics. As we noted here before, the legal firm that the EPO asked to send threatening letters is also deeply involved in the UPC, where lying has become so routine that it's just sickening. Sociopaths apparently attract other sociopaths and let's not forget the EPO's PR agency, which lies on behalf of fracking companies and also the EPO's spying agency, which is connected to the Stasi (through Desa) and helped make the false allegations against a BoA judge.
What a gang of thugs!
The Boards of Appeal at the EPO are probably the most crucial part of this whole institution. The EBoA, for example, rules on these key issues and other issues pertaining to patent scope (quality of service). EBoA can actually safely criticise the Office. That's the original ideas anyway. Guess what Battistelli has done to EBoA… it's barely even functioning and staff is terrified, despite enjoying independence from Battistelli (at least in principle).
A few days ago people wondered aloud about the fate of the above judge and one person said that Battistelli "being head of an organistion, whose sole role it is to apply law" does the very opposite. To quote:
The way I interpret the EPC, the AC must renew the contract of the BoA member, just to make a decision.
It would be unlawful to not renew while suspended, or they'd still need to pay all his withheld remuneration, as there was no decision of disciplinary measures. And taking a decision of disciplinary measures while not an employee seems even weirder.

But then, what kind of "Rule of Law" does the head of administration uphold, while being head of an organistion, whose sole role it is to apply law?
"For a BoA member to be renewed," another person said. "he has to be proposed to the AC. By the president. BB will simply not propose the suspended member to the AC for renewal, as he has done (or rather not done) with quite a number of newly appointed or to-be-prolonged members before. So the AC will not be in a position to decide anything."
In response to this one person wrote:
Not true. Under Article 11(3) EPC (first sentence) appointment of Board members requires a proposal from the President. Reappointment (Art. 11 EPC, second sentence) is the prerogative of the Council which is only required to "consult" with the President.

The President has no veto over reappointment of Board members although he could conceivably attempt to manipulate the Council to block a reappointment.

Article 11(3) EPC:
The members, including the Chairmen, of the Boards of Appeal and of the Enlarged Board of Appeal shall be appointed by the Administrative Council on a proposal from the President of the European Patent Office. They may be re-appointed by the Administrative Council after the President of the European Patent Office has been consulted.
"It would only be fair," one person responded, "if the BoA is reinstated, that he/she is allowed to additionally serve the 2 years during which he/she was suspended before his/her 5 years term is considered to expire."
We covered this aspect of the punishment before. The salary in the mean time has already been cut (halved a couple of months ago) and "the responsibility to propose that the BoA member be reappointed," said another person, "is now to be delegated from BB to the new President of the Boards of Appeal. Whether that will make a difference I don't know."
Well, don't forget Battistelli's chinchilla in the Boards of Appeal Committee (BoAC) and the role played in selecting the President of the Boards of Appeal. Remember the connections between Patricia García-Escudero Márquez and Battistelli, as we covered these before. There may be more connections; we just haven't gotten around to exposing these.
Look what a mess the EPO has become. And people daring to say so publicly (even bloggers outside of continental Europe) are being threatened by the long arm of Battistelli and his despicable goons, backed by liars for hire such as PwC, FTI Consulting, Fieldfisher, Wellkom and Control Risks in the UK.
"Surprise , surprise," a person wrote in another comment today, "change of HR tactics , SR's [Staff Representatives] getting suddenly salary increases and promotions. Will the sacrificed SR's be forgotten soon or…"
Staff Representatives are not necessarily SUEPO representatives, many of whom have been threatened, fired, demoted, etc. while the yellow union, FFPE-EPO, has been artificially propped up by Team Battistelli, even in the PwC event (for pretense of staff involvement/endorsement).
The EPO is a sick, sick institution, but sick leave is not allowed under Battistelli. █
Permalink

Send this to a friend