01.02.17
Gemini version available ♊︎
European Digital SME Alliance is legitimate (grossroots), not AstroTurfing like Team UPC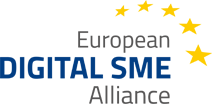 Summary: Another example of UPC promotion from within the EPO (a committee dedicated to UPC promotion), in spite of everything we know about opposition to the UPC from small businesses (not the imaginary ones which Team UPC claims to speak 'on behalf' of)
YESTERDAY we wrote about how the Chairman of the Select Committee promoted the UPC based on false claims. It turns out it wasn't a one-time thing as this document form the Central Staff Committee [PDF] contains yet another example of misleading if not false claims. The transcript in German says: "Es ist mir eine Freude, Ihnen und dem Engeren Ausschuss zum Abschluss der Verhandlungen zum Einheitlichen Patent als Vertreter des Personals gratulieren zu dürfen. Die Patentprüfer, die zukünftig das Einheitliche Patent prüfen werden, sind hervorragend ausgebildete Ingenieure und Naturwissenschaftler. Viele davon sind promoviert und haben respektable Erfahrung in Forschung und Industrie gesammelt. In ihrer Arbeit sehen sich die Kollegen streng dem EPÜ verpflichtet. Und gerade deswegen freuen wir uns, dass die Artikel 142 bis 149 EPÜ nun mit Leben gefüllt werden. Auch die IGEPA hat sich immer für das Einheitliche Patent ausgesprochen.
"It's unreasonable to expect that an Office which is run by a notorious tyrant can produce something which serves the public rather than Battistelli and his corporate ilk.""In ihrer täglichen Arbeit leben die Kolleginnen und Kollegen den europäischen Gedanken. Die Wirtschaftslandschaft in Europa ist geprägt durch kleine und mittelständische Unternehmen. Ein starkes und sorgfältig geprüftes Einheitliches Patent kann dazu beitragen, dass nicht nur die Großindustrie, sondern auch die KMUs davon profitieren. Leider müssen wir beobachten, dass für die Arbeit in den dreiköpfigen Prüfungsabteilungen kaum noch Zeit bleibt. Die Effizienzsteigerungen, von denen Ihnen hier regelmäßig berichtet wird, haben eben auch ihre Schattenseiten.
"Allerdings mag es ja durchaus in Ihrem Interesse sein, meine Damen und Herren, die Struktur des europäischen Patentsystems und der Europäischen Patentorganisation anders zu gestalten. Sie haben mit Artikel 172 EPÜ die Möglichkeit, eine Konferenz der Vertragsstaaten einzuberufen. Vielleicht genügt auch schon eine Konferenz der Minister der Vertragsstaaten nach Artikel 4a EPÜ, die eigentlich schon hätte stattfinden müssen, weil sie ja laut EPÜ mindestens alle fünf Jahre stattfinden muss. Ich kann Ihnen versichern, dass die Kolleginnen und Kollegen dann zu dem Erfolg des Einheitlichen Patents beitragen werden und spreche Ihnen abschließend meinen herzlichen Glückwunsch zu dem erreichten Abschluss aus."
Automated translations of these paragraph suggest that the above admits "the economic landscape in Europe is characterised by small- and medium-sized enterprises. A strong and carefully tested Unitary Patent can help not only the large industry, but also benefit SMEs."
However, a year later we know that nothing has changed and the UPC would harm everyone but large corporations (some of them foreign) and patent trolls.
If Team Battistelli is so eager to make the UPC a reality in spite of what the European public keeps saying, then it's clearly an antidemocratic institution whose nature we shall continue to expose. It's unreasonable to expect that an Office which is run by a notorious tyrant can produce something which serves the public rather than Battistelli and his corporate ilk. There's an emergent pattern here — one that EPO staff is too familiar with by now. If EPO becomes an instrument of domination or occupation, then it needs to be overhauled, starting from the top. █
Permalink

Send this to a friend