11.25.17
Gemini version available ♊︎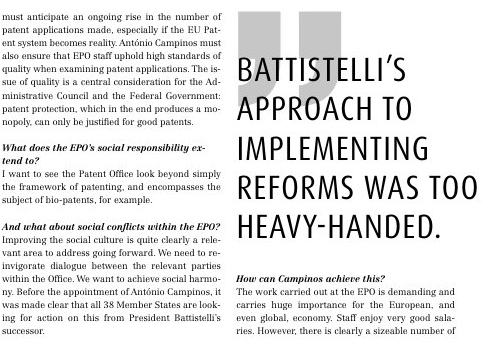 Summary: Dr. Ernst, the new Chairman of the Administrative Council (who was recently slammed for not caring enough about patent quality), has relatively harsh words about Battistelli's methods and toxic legacy; Union Syndicale Fédérale has also gotten in touch in order to raise awareness
THE EPO is mentioned a lot in Juve's November edition, which is available for free online. Benjamin Henrion said it contains a "UPC must read" — the part which we alluded to earlier this morning (death of UPC). The edition contains a 5-page article about the likely end of UPC (German impasse), another article about UPC and Brexit, and a 6-page interview with Dr. Ernst (who recently replaced Jesper Kongstad, the man who immediately entered the private sector unlike EPO employees). There is one more article there which is less relevant to us. By all means, EPO workers should consider reading Ernst's views on Battistelli. It may matter a lot in the coming months/years.
Incidentally, yesterday SUEPO published this "letter of Union Syndicale Fédérale to EPO Administrative Council on time-limited contracts" — a letter dated about a month old and titled "Position of Union Syndicale Federale (USF) on the currently discussed new "Employment Framework" at the EPO" – for the attention of the Council of the EPO." Did that have much of an impact? Only time will tell…
Sometimes it feels like Battistelli intentionally takes away holidays, various contract benefits and job security just to anger the 'expensive' EPO staff, causing such staff to leave (rather than be fired) and give way to 'cheap' staff that would not flag decline in patent quality. It's like Battistelli wants another INPI while pursuing SIPO-level patent quality.
Below is the letter from Union Syndicale Fédérale. █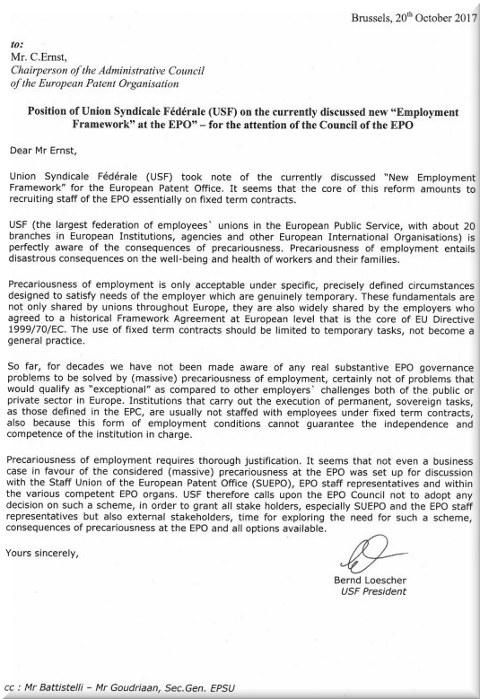 Permalink

Send this to a friend