05.24.18
Gemini version available ♊︎
Basically a type of software patents, plus the 'pop culture' hype…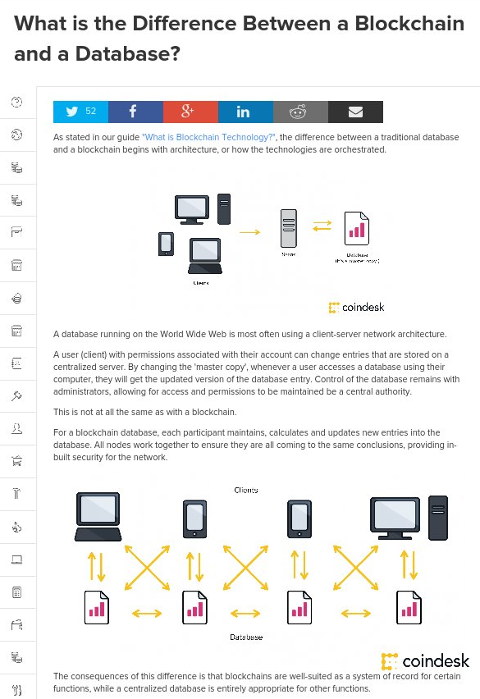 Reference: What is the Difference Between a Blockchain and a Database?
Summary: The hoarding of patents on novel-sounding code has reached ridiculous levels; very large corporations and even patent trolls arm themselves with such patents, hoping to make returns by means of litigation or an 'arms trade'
THE USPTO was quick to embrace buzzwords and hype and so was the EPO (although their choices of acronyms and words vary somewhat). Both have allowed algorithms to become patentable provided some buzzword like "AI", "cloud" or "4IR" got added.
"It means that the only real solution here is to not grant such patents in the first place (no matter who to)."Yesterday, based on the news (e.g. [1, 2, 3]), patents on surveillance from Walmart became known. They're being marketed as "Blockchain-based" although nothing there suggests that Section 101 is inapplicable. There were also a couple of articles yesterday about Bank of America (BoA) [1, 2] with its latest "Blockchain Patent". Well, as reported here a few years back, BoA is hoarding bogus software patents on blockchains (maybe an effort to sue rivals/threats to the status quo). It's not alone. Notorious patent trolls have been busy trying to lay their hands on these patents. It means that the only real solution here is to not grant such patents in the first place (no matter who to). It's a disaster in the making, just waiting to happen.
"These entities help distract and detract from actual efforts to reform the system. They even hoard software patents."Yesterday the Allied Security Trust (AST) made a rebound in the news; we had not heard from it in a long time. In fact we last wrote about it a couple of years ago and quite a bit nearly a decade ago, e.g. [1, 2]. AST is one of those 'pools' (or 'cartels') which claim to be "defensive". But there's no such thing as a "defensive" patent because patents do not work this way. Here is the press release [1, 2] just published by AST in many outlets along with very shallow coverage, e.g. [1, 2].
To quote one such 'article':
A coalition of companies, including Alphabet Inc.'s Google and Uber Technologies Inc., is getting ready to buy an array of patents to defend against potential infringement suits.

Allied Security Trust (AST), a nonprofit group that buys patents to protect its members from infringement threats, said it will hold another fixed price patent buy in July.
Like LOT Network, which we wrote about quite a lot lately, Google is a big participant. Who benefits really? This one article about it (from WIPR) speaks of "AI and blockchain" in its headline. AST claims to be a "nonprofit", but obviously there's turnover and it's connected to highly profitable companies. Like OIN, for example, AST serves to perpetuate the status quo rather than tackle it.
How about Fortress IP? A few days ago IAM said that RPX's co-founder had moved there. To quote:
According to a recent news report Fortress IP is putting together a $400 million "patent troll" fund in what looks like a significant capital raising exercise. Beyond the amount they're looking to raise, however, details in the story are relatively scant and it's not clear if the new fund signals a shift in investment strategy by the group led by RPX co-founder Eran Zur. There has been a rumour in the market for several months that Fortress IP team is looking to build its coffers to maximise opportunities to invest in and lend to patent-rich companies.
They want to "invest in and lend to patent-rich companies." In other words, very large and wealthy companies with an extensive fleet of lawyers.
What we're seeing here is a large (and growing) number of shells, led by very gigantic corporations, seeking to 'protect' members from patents by playing a shell game. These entities help distract and detract from actual efforts to reform the system. They even hoard software patents. █
Permalink

Send this to a friend