09.09.18
Gemini version available ♊︎
Working around the law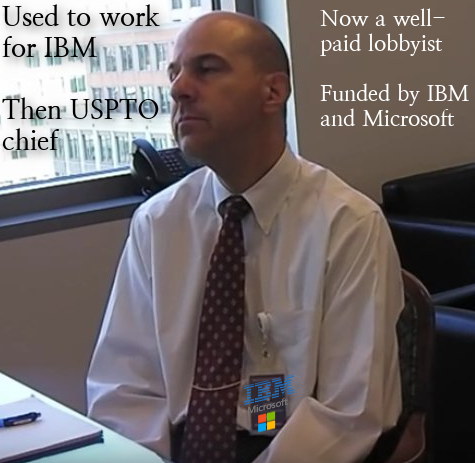 Summary: How companies continue to receive software patents from the US patent office with substitution of words and an embrace of vague/broad buzzwords
THE EPO's gross misuse of trendy new buzzwords has been covered here many times before. But what about the US?
We are sadly seeing a lot of corporate front groups leaving the door open to software patenting; they just don't say so explicitly. An example of this came less than a week ago from a patent maximalism site of ALM Media Properties, LLC. Ken Seddon, whose group is is like a wolf dressed up as a sheep, published an article titled "Why Would Big Tech Companies Give Away Free Patents? It's a loaded headline/statement. There's no such notion as "free patents". Patents represent things which were taken away and unless these patents are invalidated, they're not free. We generally cannot trust Seddon because when it comes to software patents, he's not an opponent and might even be a proponent. Never mind if software patents are not compatible with Free software. Like OIN, these people advocate solutions that aren't (except for proprietary software companies with loads of software patents of their own). "Though we live in a world where we're trained to suspect anything that's given away for free, there are valid and self-preserving reasons for tech companies to give away patents for free," Seddon wrote. If they care about freedom or even zero cost (gratis), why did they apply for these patents in the first place? The truth of the matter is, they keep these patents under their own name. Terms and conditions may apply. Some companies like Red Hat claim to support Seddon's group, but at the same time Red Hat is pursuing software patents of its own; what will happen if Red Hat gets sold this week? Those 'free' patents may suddenly become ammunition of an aggressive company like Oracle or — yet worse — sold to a patent troll.
The real solution and the only solution would be to eliminate these underlying software patents. Unfortunately, it has gotten harder to identify these because language has evolved to help dodge Section 101/Alice tests. Here's a new article titled "Some Facts of High-Tech Patenting," which says: "This study details the growth of patenting in software, cloud computing, artificial intelligence, and related technologies in the twenty-first century, and the continuing dominance of inventors in large US, Japanese, and Korean companies. Researchers still need to understand the impact of such trends on social welfare more generally."
Well, These are all software patents (call them "cloud" or "artificial intelligence" or "blockchain" of whatever). They're hence invalid or bogus (to be invalidated in courts). Sometimes we find admissions of that. Robert Harrison (his description says he's into "commercialisation focusing on matching intellectual property strategies with business success") wrote a few days ago: "Interesting twist on #blockchain #patent with Alibaba filing so many. They are difficult to get granted in some countries and so advice is crucial to avoid wasting funds. https://twitter.com/news_mainstream/status/1037490757039480845 …"
"It's about that fantasy that computers alone can manage patents, defeating the very purpose of a patent systen."He mentioned "blockchain" in relation to Alibaba because about five days ago the company made the headlines. All of these are totally bogus software patents from Alibaba, IBM and Mastercard [1, 2, 3]. IBM has been hoarding many such patents ("blockchain" as a buzz-generating term for database). Lobbyist and IBM's 'mole' David Kappos is meanwhile promoting software patents using this buzz as well. Here is an article titled "Recordals tipped to be one of blockchain's main IP uses". A few days ago it said:
Panellists including David Kappos at IP Week in Singapore agreed the most important IP use for blockchain will be to record registration in order to understand who owns patents and trade marks
This alludes to blockchain in relation to management of patent data rather than patents themselves, but still, we previously highlighted the overlap in this kind of propaganda. Janaína Simões (Brazil) published some piece last month (mentioned here last month) and it was still circulating in more sites last week ("Patent mining indicates promising routes for research"). It's about that fantasy that computers alone can manage patents, defeating the very purpose of a patent systen.
Just before the weekend RPX Corporation wrote about a new legal action in the Eastern District of Texas. To name the many companies involved/sued:
Vindolor, LLC has expanded its sole litigation campaign with new suits filed against Disney Stores (2:18-cv-00375), NTW, LLC (d/b/a National Tire and Battery) (2:18-cv-00374), and Restoration Hardware (2:18-cv-00373) in the Eastern District of Texas. The asserted patent generally relates to using biometric authentication to create an "access code" based on a resulting identification profile, with defendants throughout the campaign targeted over their use of NFC-enabled point-of-sale terminals offering contactless payments. Vindolor alleges infringement through the accused terminals' compatibility with various payment platforms, including "Microsoft Wallet, Wells Fargo Wallet, Masterpass, Samsung Pay, Android Pay, Google Pay, Google Wallet, Apple Pay, and PayPal mobile" as used with a variety of Android, iOS, and/or Windows smartphones and related mobile apps.
The 'ex' Microsoft executive, Bart Eppenauer (Shook, Hardy & Bacon L.L.P.), wrote about another such lawsuit in the Eastern District of Texas:
Two of the largest U.S. banks – Bank of America ("BofA") and Wells Fargo – were sued for patent infringement by Wapp Tech Limited Partnership and Wapp Tech Corp. in the Eastern District of Texas in July 2018. The lawsuits allege infringement of three patents relating to mobile device application development and testing systems that simulate network characteristics indicative of mobile app performance. Just two weeks before the lawsuits against BofA and Wells Fargo, Wapp Tech sued both Micro Focus and Hewlett Packard Enterprise ("HPE") on the same three patents. HPE and Micro Focus completed a spin-off and merger of HPE's software business on September 1, 2017, valued at $8.8 billion. Wapp Tech now asserts that BofA and Wells Fargo infringe its patents by using testing systems of Micro Focus (formerly offered by HPE), including the Micro Focus LoadRunner load testing software and Micro Focus Performance Center. Wapp Tech accuses both Micro Focus and HPE of infringement for selling those products as well as the StormRunner Load cloud-based load and performance testing solution and Mobile Center mobile testing solution.
These are software patents, which is why the docket in the Eastern District of Texas was chosen. Why were such patents granted at all?
We're meanwhile seeing new evidence that Google proudly hoards software patents which it calls "AI". Google is just AI-washing software patents and so does Jim Hinton, who wrote: "The race to own #MachineLearning and #AI is on! US and CN way out in front."
These are software patents i.e. invalid patents in the US (unlike in China). It is a race to the bottom, not to the front. And this cites IAM!
IAM has meanwhile published some new nonsense completely behind a paywall. It's titled "How to build an effective IP strategy for AI." (i.e. software patents that have no validity anymore).
We cannot quite rebut IAM because it's hiding from scrutiny. Many patent propaganda sites (funded quite literally by patent trolls and law firms) are going 'dark' these days (inactive or barely active), more so after the summer. Sites gone 'dark' (completely paywalled except headlines) are closed to the outside world and limit their exposure. It's quite self-defeating.
Anyway, here comes law firm Haseltine Lake, writing about software patents (bogus patents) disguised using buzzwords like "autonomous vehicles" (software). Based on their PDF newsletter, as covered by Managing IP with a partial paywall:
A newsletter published by Haseltine Lake reveals autonomous vehicle patent applications have soared since 2011, with Ford leading the way. It analyses applications and grants since 1999, filing jurisdictions, and the most active companies

A newsletter published recently by Haseltine Lake looks at patent filing data to extract information about trends in the area of autonomous vehicles.
Having worked in the field of autonomous vehicles, it's pretty clear to me that they're dealing with algorithms there. They call it "autonomous" or "smart" or "intelligence" or whatever, but it's still just a bunch of algorithms, which are of course patent-ineligible. How about "business intelligence" patents? Days ago there was this press release about US Patent 10,025,837 B2 – "Systems and Methods for Intelligent Data Preparation and Visualization" and US Patent 9,727,836 B2 – "Systems and Methods for Generating Data Visualization Dashboards" (both sound like software). On optics/computer vision there was another new press release, this one celebrating US Patent 10,042,994 – "Validation of the Right to Access an Object," US Patent 10,025,982 – "Collecting and Targeting Marketing Data and Information Based upon Iris Identification," and US Patent 10,038,691 – "Authorization of a Financial Transaction" (software).
"Financial Transaction" means it's related to business methods or the whole "blockchain" hype. We've grown used to but also tired of that. Why can't examiners understand that algorithms are being painted as "objects" or "apparatus" just for the sake of bypassing Section 101? Judging by the numbers above, these are very newly-granted patents that were quite recently submitted (the numbers exceed 10 million). There's no excuse for that after Alice. █
Permalink

Send this to a friend