09.04.22
Gemini version available ♊︎
Last week: In World's Largest Population, GNU/Linux Rises to 8% Market Share (Not Even Counting Android)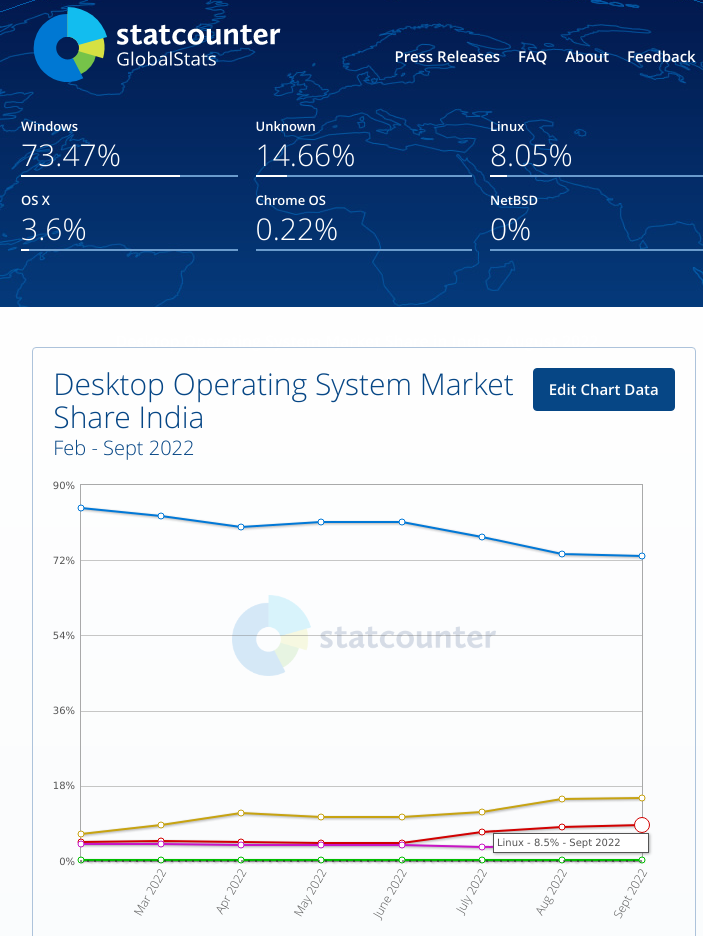 Windows is at its lowest point this year (for desktops/laptops) as GNU/Linux hovers at around 3% worldwide (not counting ChromeOS and Android, whose kernel is Linux) and in India at almost 9% right now (screenshot above)
Summary: Free Software Foundation (FSF) leadership needs to become more vocal and more visible; the world is, indeed, shifting towards Linux, but many Linux-based operating systems mean nothing to users' freedom
THE FSF has been eerily quite so far this year. It mentions meetings in IRC, it publishes summaries of these, but apart from that not much has happened. Richard Stallman lists only 2 talks that he gave this year (there are probably a few more; not all are listed in that page), but that's not enough. Some FSF supporters that we spoke to believe that the FSF should be more active and proactive. At the same time it's hard to ignore the fact that the FSF has suffered financial losses in recent years. Here is a screenshot:
It seems absurd that while billions of machines run GNU, the organisation that's its guardian barely raises a million bucks. Unlike the Linux Foundation, it doesn't pick up bribes from Linux-hostile companies.
Software Freedom is one among many objectives we have here. To the FSF, Software Freedom is the principal objective. We hope that FSF will find its rhythm back. The latest two IRS forms list "JOHN SULLIVAN (EXECUTIVE DIRECTOR)" and "JOHN HSIEH (DEPUTY DIRECTOR)" as principal staff. From what we can gather, neither is fully involved anymore. John Sullivan is now listed as "Advisor, Clerk" instead of "Outgoing". Zoë Kooyman, the new Executive Director, wrote less than a handful of blog posts this year.
Even if 100% of the world ran "Linux" (Android for instance), it would not mean that users enjoy freedom. In fact, it's very important to convey the key concepts for users to be able to grasp that. █
Permalink

Send this to a friend